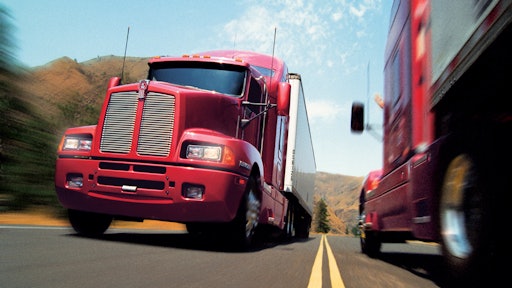 Retailers and manufacturers rushed to lock in low freight rates in the first quarter as overcapacity in the trucking industry dragged on the profits of transportation companies but bolstered profits for middlemen who arrange shipments, according to The Wall Street Journal.
C.H. Robinson Worldwide, Inc. reported Wednesday net profit of $118.9 million for the first quarter, an increase of 11.7 percent over the first quarter of last year. The company's total revenue from arranging transportation and logistics services for companies such as Walmart, Coca-Cola Co. and Dollar General Corp. fell 6.8 percent to $3.1 billion in the first quarter from the same period a year ago.
In a conference call with analysts, C.H. Robinson executives said the company received twice as many bids for freight contracts in this year's first quarter as it usually gets at the start of the year, a sign that shipping customers were trying to bring low spot-market rates into their longer-term contracts. Freight rates for these bids were flat or lower compared with last year.
"We…currently continue to see a soft market with a lot of available truckload capacity," said John Wiehoff, C.H. Robinson's chief executive. "It's a normal response that shippers would be a little more aggressive in their bid activity, and so we do see elevated levels from our standpoint across virtually all of our services."
To read more, click here.
Editors Insight: Spot market trends are favoring shippers, as are diesel fuel prices, even though diesel has shown some slight upward movement recently. These are fortuitous developments during the spring for produce shippers.
Exporters are also benefitting from the softness in global trade, pressing ocean carrier rates.
When market conditions are favorable to the bottom line, decision makers should pay extra attention to investing in new solutions that improve efficiency. Such investments will pay off when shipping rates change. 4-28-16 By Elliot Maras