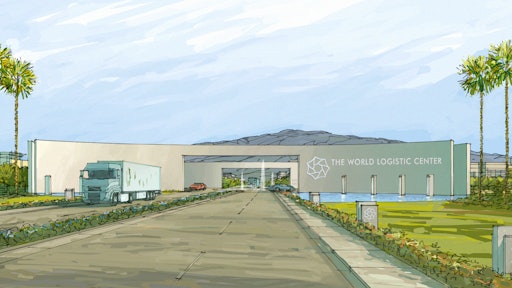 A massive logistics development proposed for the Southern California city of Moreno Valley is facing legal challenges from local government agencies, community groups and others, which claim the project falls short of environmental standards, according to The Wall Street Journal.
As of Wednesday, eight separate groups had filed lawsuits against Moreno Valley, the future site of the behemoth 2,600-acre World Logistics Center in the region east of Los Angeles known as the Inland Empire.
A large portion of the nation's imports come in through the ports of Los Angeles and Long Beach and get transported to Inland Empire warehouses in cities like Moreno Valley to be sorted and loaded onto trucks and trains destined for other parts of the country.
The city approved the $3 billion project last month, which would encompass 40.6 million square feet of warehouse space—a giant development by industry standards.
But the logistics industry faces unique challenges in Southern California, which has struggled for decades to manage extreme air pollution and related public health problems. Real estate development must satisfy requirements under a strict statewide law known as the California Environmental Quality Act, or CEQA, which requires a detailed, publicly-available report on the environmental impacts of any project. That law is behind the challenges filed in Moreno Valley.
http://www.wsj.com/articles/southern-california-logistics-project-faces-legal-challenges-1443043438?mod=djemlogistics
Editors Insight: The city should be able to work out a manageable solution to allow this important project to proceed. There are thousands of jobs at stake here and millions of potential dollars that will create even more jobs and strengthen the Inland Empire as a global trade hub.
The city has the responsibility of acting as a neutral party in this matter and so far it does not look like it is fulfilling this role. According to an article in The Press Enterprise, the mayor walked off the dais when a councilperson asked questions about the developer's track record in fulfilling promises. The mayor eventually returned and promised to provide "due process" to the developer. Walking off the dais in response to a legitimate question nonetheless harms the mayor's credibility and he should be promising "due process" to the city, not to the developer.
This situation underscores the importance of having good government at all levels. It demonstrates the need for the food supply chain to participate in the political process as much as possible so that government acts responsibly. 9-23-15 By Elliot Maras