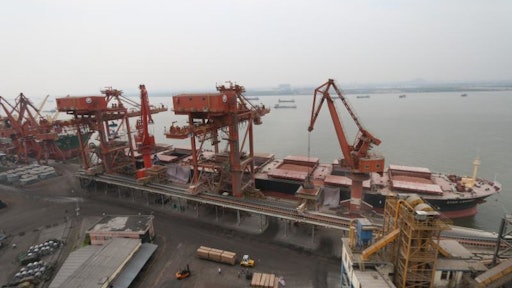 Dry-bulk shipper Global Maritime Investments Cyprus Ltd. filed for chapter 11 bankruptcy protection Tuesday in order to liquidate its business due to a continued industry downturn, according to The Wall Street Journal.
The company has lined up $2 million in bankruptcy financing, money to safeguard assets around the globe from being seized by creditors, court papers say.
The bankruptcy filing of the international shipping company came in New York, where Global Maritime has faced lawsuits. Most of the estimated $169 million in debt the company carries is unsecured, court papers say.
In 2011, Global Maritime operated as a joint venture with a physical and futures maritime freight fund managed by U.K. businessmen Stuart Rae and Stephen Rodley. In restructuring activity in 2013 and 2014, the trading book was wound-down, court papers say.
Global Maritime posted a series of losses in recent years, as it attempted to navigate a downturn in the industry cycle. Losses were $47.8 million in 2014 and about $67.6 million in fiscal year 2015, the company said.
According to Global Maritime, too many ships are chasing too little business, and the resulting volatility in charter hire rates rendered it unable to carry its debt load.
http://www.wsj.com/articles/global-maritime-investments-files-for-bankruptcy-1442405394
Editors Insight: The ocean carriers' efforts to expand capacity in recent years has in some ways helped food and beverage shippers since they have been able to take advantage of contracting rates by purchasing spot capacity through non-vessel operating common carriers. But rates will not remain low if carrier capacity suffers.
One carrier's bankruptcy may not impact rates in the short-term. Nor is it likely to crimp the continuing global trade expansion. Some shippers are still recovering from the West Coast port slowdown.
Food and beverage shippers have to keep in mind that transportation costs change based on supply and demand. The ocean carrier market has been favorable for many shippers, but Global Maritime Investments' bankruptcy signals change could be on the way. 9-17-15 By Elliot Maras