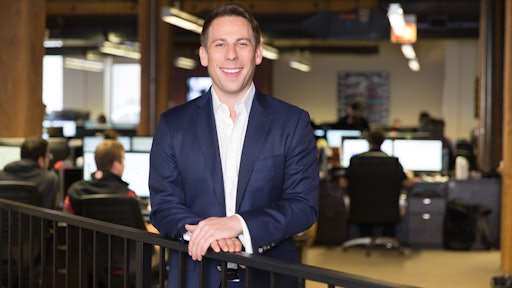 Spanish philosopher George Santayana said, "To know your future, you must know your past." The application of this adage is broad—from individuals and their personal relationships to groups to civilizations—but I believe it is especially relevant to today's third-party logistics (3PL) industry. As the technological revolution becomes increasingly pervasive, knowing our industry's past can help us better navigate the uncertainty of our future in the digital age.
If we examine some of the biggest evolutionary stages in our history, we can see that the logistics industry has improved at a gradual pace. The Industrial Revolution, for example, had a tremendous effect on technology, opening doors to the wide variety of modes, destinations, speeds, and efficiencies we enjoy today. Similarly, the passing of the Motor Carrier Act deregulated the industry and created competition for the first time in our history. These events were monumental for our industry, and the fact that they were over a century apart says much about our willingness to adopt systemic change.
Today's world is fully-digitized and hyper-connected thanks to the ubiquitous dissemination of mobile technology and subsequent birth of the Internet of Things (IoT). The 3PL is now in what some would call young adulthood, slowly evolving out of its bumbling adolescence and picking up speed towards fully formed maturity.
Looking towards our future, the burning questions are – How can our past help us navigate the impending changes in our industry? How can we survive in the 21st century?
Our history has shown us that we've been slow to adopt change. But now, with technology growing exponentially every day, the time to hesitate in the face of innovation has passed. To put it simply, those 3PLs who want to survive need to evolve with the digital age. And fast.
The Stage is Set for Disruption
Today's global trucking industry generates over $700 billion in annual revenue. The 3PL sector is made up of 12,700 companies and generates $166.5 billion in annual revenue. The biggest 3PL players are global giants like C.H. Robinson, UPS and DHL. Unlike many other industries, though, these big players don't have big market share (an ongoing mystery to economists, investors, and industry outsiders alike).
The world's top four 3PLs make up less than 15 percent of the market, with C.H. Robinson taking the biggest slice of the pie at 6.8 percent. So, what does that say about us as an industry? In the simplest terms, it says that we are fragmented and ripe for disruption.
Many believe this disruption is right around the corner. Some are even predicting that the global 3PL industry will reach $1,029.47 billion in revenue by 2024. While it remains unclear who will be the ultimate disruptor, one certainty is that that growth will not come from large legacy companies that choose to stay the course. It will be the agile, forward -thinking companies that drive the rapid evolution in the industry.
To prepare for the impending disruption, 3PLs—whether they're a small niche business or a large legacy player—must make strategic moves now or become extinct. A successful 3PL in 2017 understands that technology and service are becoming synonymous, that specialization is key to growth, and that we are living in a "nowhere to run, nowhere to hide" world in terms of service and transparency.
Embracing Technology and Changing the Customer Service Game
Everyone knows that Amazon has shifted the future of the logistics landscape. What's less obvious is that it's not their drones or smart stores that are the biggest disruptors; it is the influence they have had on customer expectations.
Consumers are now accustomed to on-demand access, choices from A to Z, lightning-fast deliveries, 100 percent order accuracy, and over-the-top customer service. Additionally, consumer behavior—from initial product research, to purchase, to post-purchase review—now takes place entirely online. This has forced manufacturers and suppliers to learn how to collect consumer data and implement machine-learning algorithms that proactively predict their needs and buying patterns—a process wildly different from the reactionary, stock and replenish models of the past.
This drastic shift in consumer behavior has caused a parallel shift in the demands on logistics companies. To satisfy manufacturers' and retailers' new expectations, 3PLs need to leverage technology and data to streamline processes, increase visibility, and provide fast, reliable service.
Successful modern 3PLs have already recognized this. They have been quick to adopt technology and leverage systems, platforms, and big data to do their job more effectively. To continue to stay ahead of the curve, they focus on innovating through the following tech initiatives:
Systems Integrations. Modern 3PLs are replacing legacy systems and EDI integrations with more dynamic technology stacks made possible through API integrations. While traditional systems have rigid deployment models and limited connectivity, integrations allow companies to build out customized end-to-end solutions, cut down on internal resource drain, and leverage real-time data for greater visibility.
Automation. Logistics automation involves reducing manual data entry and receiving real-time notifications whenever a defined milestone occurs. Why is this important for a modern 3PL? From avoiding costly order-entry errors, to providing customers with the most up-to-date service metrics, to adding scalability and speed to their operations, automation can be a crucial differentiator when it comes to efficiency, customer service, and cost savings.
Big Data Analytics. Companies throughout the supply chain collect massive amounts of data every day, but only a few know what to do with it. Consider the many ways modern 3PLs are leveraging data:
Using carrier lane history and preferences to provide highly customized, automated freight matching.
Combining market, historical and social pricing data for effective quoting and mode optimization.
Tracking carrier performance metrics like on-time deliveries, OS&D count, etc. to ensure top-notch service.
Using internal business intelligence reporting tools to benchmark productivity and growth.
Survival of the Specialized
Simply said, ours is not an industry where David prevails against Goliath. A start-up 3PL is unlikely to outpace a C.H. Robinson or XPO when directly competing for price, reach or market share. What they can do, though, is differentiate and specialize. By focusing on a more refined market segment, smaller 3PLs can target areas that are difficult for the Goliaths of our industry to handle. They can also position themselves for strategic mergers and acquisitions.
Today's freight market has made diversification extremely important for shippers. To simultaneously maintain receiver relationships and keep costs down in challenging market conditions, manufacturers have had to rethink the composition of their carrier networks. In the past, many would have said that large, asset-based 3PLs were all they needed. Now, with stricter requirements from regulatory agencies and retailers alike, shippers also need smaller, more agile partners who deeply understand their product requirements and can perform where their larger 3PL providers cannot.
This reality has made smaller, more specialized brokers highly attractive to large, international 3PLs. The "new breed" of 3PLs are specialized from top to bottom – their sales force, carrier partners, and technology are all geared toward a specific commodity, mode, region, etc. – and that makes them experts in their chosen field. Larger 3PLs see this as a prime opportunity to add value to their under-developed business units. Take XPO, for example. Their acquisition of Con-Way made them the second largest provider of LTL transportation in North America. The same thing happened with UPS and Coyote. Coyote's dominance in over-the-road full truckload shipping helped UPS grow revenues by 2 percent in the fourth quarter of 2016. By acquiring a more specialized 3PL, these larger companies could pad their operations with the expertise and operational excellence they needed to achieve immediate success.
Navigating a 'Nowhere to Run, Nowhere to Hide' Market
In today's market of constricting capacity, increasing regulation, and rigid retailer requirements, the cost of unreliable performance is greater than ever. Coupled with the omnipresence of technology, it has changed the way shippers, 3PLs, and carriers work together. For many years, business was transactional for 3PLs. They primarily worked on difficult loads that incumbent asset-based carriers couldn't cover and, in turn, they got a bad reputation for high rates and inconsistent service. Today, though, shippers are realizing the value of 3PLs and looking to create long-lasting relationships built on collaboration and transparency.
Their desire for increased transparency has led to the emergence of progressive, automation-focused technology like 10-4's visibility platform and project44's APIs, and Logistical Labs' pricing and data analytics products. These companies offer unmatched visibility and replace outdated tools like EDIs with API systems that are more dynamic, customizable, and cost effective. With shippers now looking to measure key performance indicators like tender acceptance, on-time performance, and number of driver reassignments, advanced technology is no longer a supplementary benefit 3PLs can provide; it is a necessity if they wish to succeed.
Heightened transparency is especially important with the introduction of the ELD Mandate. In the past, drivers could easily exceed legal Hours of Service limits to meet shippers' delivery requirements. With an ELD, though, HOS can no longer be "paused" like a stopwatch. An ELD works like an hourglass and keeps running throughout transit, even while loading and unloading. Every minute counts in this new "nowhere to run, nowhere to hide" world and drive r efficiency is now a shared responsibility among all parties in the supply chain. Smart 3PLs are already taking steps to facilitate a mutual understanding across their networks. Whether it's vetting shipper lanes for ELD vulnerability or deciding whether typical lengths of hauls are still possible under full compliance, they are managing expectations for both shippers and carriers to ensure a smooth transition.
The evolution of the 3PL has been a long journey, and it's far from over. In the past, our industry could hesitate in the face of change without consequence. Today, though, with the technological revolution changing the game every day, the logistics industry needs to evolve if we want to survive. Even today's "new breed" of technologically-advanced, service-oriented, and specialized 3PLs leave room for continued growth and improvement. As more 3PLs develop with the times, their next evolutionary stage will begin to take shape and we will see the real impact logistics has on technology and consumerism in the 21st century.