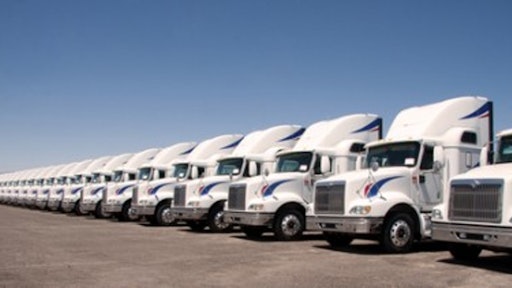 Getty Images
A recent study shows that the refrigerated trucking market is estimated to reach $15 billion by 2025. Factors driving this forecast include increased manufacturing demand, technology improvements and growing delivery requirements.
In refrigerated trucking operations, it's essential that the freight is moved using the right equipment by a team who understand the intricate details and requirements of temperature-controlled freight.
Third-party logistics (3PL) providers are a crucial part of shipping temperature-controlled freight. Their experience and vast network can make the difference between a good experience and a great one. 3PLs rely on technology and equipment to regulate and maintain exact temperatures, monitor changing conditions within reefer trucks, and ensure deliveries are made on time.
The benefits of using a modern third-party logistics partner for refrigerated trucking include increased oversight of temperature regulation, compliance and specialized freight expertise.
Temperature regulation
Refrigerated goods require specialized temperature-controlled freight carriers to ensure customers receive the freshest products. A good 3PL will have a go-to carrier network that have been carefully vetted and approved to meet the necessary requirements and have the experience to handle the specific needs of each shipment. This carrier base will utilize the most up to date technology to its fullest extent.
Refrigerated freight includes—but is not limited to—produce, seafood, frozen and fresh foods, cosmetics, beverages, medicine and even tech products. Each of these products require a specific temperature during transit. 3PLs utilize technology that ensures the reefer trailers maintain an accurate temperature to protect the freight's integrity and freshness. Experienced third-party logistics companies employ advanced technology and monitor temperatures to protect their customers' products throughout the life of each shipment.
Another area of temperature-controlled freight involves the protection of goods from extreme temperatures and fluctuating air quality conditions. While most temperature-controlled shipping focuses on refrigerated goods, seasonality can require keeping cargo above a certain temperature. In addition to maintaining required temperature, reefer trailers are also able to control humidity to avoid rust, wilt, rot and bacterial growth in sensitive products.
By maintaining a consistent temperature, reefers can control the humidity inside the trailer, further protecting products from increasing weight due to water absorption. When the humidity levels are too high in a refrigerated trailer, condensation can accumulate on the walls, ceiling, and cargo. Additional moisture in sensitive products can impact the safety of the use and consumption of the products.
When selecting a 3PL partner, it's important to select a company who is well-versed in all areas of temperature-controlled logistics. The right 3PL will ensure your needs are met, regardless of the requirements or equipment needed for the job. By choosing to work with a knowledgeable third-party logistics provider with access to a network of trusted carriers, shippers ensure their products will be well cared for from departure to destination.
2. Increased visibility for compliance
Regulatory compliance is a growing concern for shippers. The regulation of temperatures is essential for shippers to ensure that customers are receiving the highest quality of goods and to prevent temperature fluctuations in perishable products. Temperature monitoring helps save money by reducing the number of rejected deliveries.
Temperature monitoring technology equips 3PL providers with alarms that alert the drivers of failures and temperature issues. If the driver misses the alarm, headquarters is also notified as a backup and can reinforce communication of the issue to mitigate waste.
This level of visibility and traceability allows logistics providers to maintain a chain of custody to ensure the safety and compliance of temperature-controlled products. Additionally, monitoring and tracking technology helps shippers comply with regulatory requirements of the FDA and other government-mandated record keeping.
Specialized freight expertise
When choosing a 3PL provider, it's important to find a trusted partner who engages with customers in a collaborative manner, having strategic conversations regarding their specific goals for goods and services. This high level of engagement begins before the first shipment is ever tendered and continues by maintaining constant contact with the shippers' team to ensure compliance from loading to delivery on each load.
Every shipment has its own temperature requirements, so your third-party logistics partner should work with their carrier network to set expectations and protocols for how your cargo is handled from pickup to the time it is unloaded. It's important to select a 3PL provider who knows how to efficiently transport and refrigerate freight, has deep knowledge on maintaining product safety, and has access to a large network of qualified carrier partners.
Truckload shipment volume across the border to Mexico and Canada continues to increase daily. A partnership with a third-party logistics provider that has expertise in cross-border logistics is paramount for transporting temperature-sensitive products. Shippers who leverage a 3PL partnership with a company that has established relationships with customs brokers and national, regional, and local carriers will find efficient and cost-effective cross-border logistics solutions.
These established relationships along with having dedicated bilingual teams help ensure products will be delivered and transported efficiently and will not sit at customs for a lengthy amount of time.
The future of refrigerated freight
With an increase in the demand for refrigerated trucking and improvements in technology, 3PL providers are expanding and improving their network of refrigerated freight carriers. Factors driving this demand include the increased need for supply chain visibility and tracking and new markets with the need for refrigeration.
Every business has unique shipping needs, and to remain relevant for customers they need a partner that is staying ahead of trends and can provide the best solutions while cutting costs and saving time and resources.