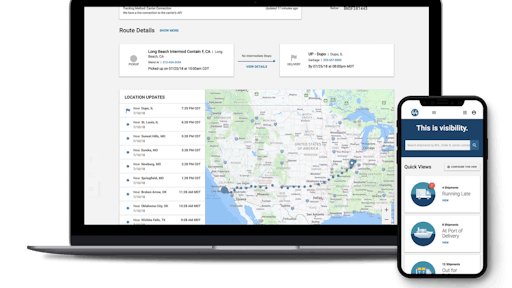 project44
The Coronavirus disease (COVID-19) has made it quite difficult for grocery stores to keep re-stocking shelves. Between long lines at the grocery store and consumers buying in bulk fused with increased operations for online ordering and curbside pickup or delivery, and every grocery retailer is feeling the impact of a stressed-out supply chain.
Even those with deep experience in food logistics are swimming in uncharted waters.
Advanced visibility platforms power supply chain resilience and agility for shippers and logistics service providers. Here's what some retailers have been experiencing behind the scenes, and what to expect moving forward.
Stockpiling in unusually high volume
Most people in the logistics industry have been a part of the logistics industry for a long, long time, yet have never encountered anything like this. That being said, truckers, food producers, packagers, distributors, retail employees and more are all sacrificing their own health and working around the clock to keep global supply chains moving, so crucial goods get to where they need to go.
Right now, it's really about supply vs. demand. Data from Chicago-based project44 shows a 21% uptick in outbound shipments in the last month. For grocery stores, this is even more dramatic (up 25% week over week as of March 14, 60% higher than normal on March 13 alone). That's because shoppers are buying massive quantities of the things they think they'll need during a shutdown.
While retailers typically keep some extra stock (roughly 5-10%) of certain items for short-term increases in demand or a late delivery, the amount on hand is based on demand during normal circumstances. But, these are not normal circumstances. Because of how quickly this all happened, there wasn't enough time to order extra stock.
The wider public doesn't likely understand that their local grocer can't just order more frozen pizzas and expect it to show up on its usual schedule. That the warehouses they order from only have so much, and every store in the country is placing refill orders. The larger public is receiving a crash course in how the larger supply chain works—that it takes a little time and team efforts across all phases in the supply chain to adjust to this new level of demand.
Helping the public get what they need
The COVID-19 situation is still developing and changing every day, but it's extremely likely that consumers will still get all their necessities, even though it might take a bit longer than usual. The good news for logistics providers is, there won't likely be continual runs on frozen pizzas, but rather people will work through their "panic-bought" supply. It's time to refrain from panic orders.
This might not extend to specialty items or specific brands, but experts remain confident there will not be an overall food shortage.
That's why now is a good time to practice actionable empathy. Keep in mind that everyone needs basic household items. It's time to practice restraint in the face of temporary consumer runs on product. We're all in this together, let's do our best to take care of each other.
Keeping things agile
There is credit to be given to those across the food supply chain and logistics operations. Producers are doing their best to keep up production of key household goods. This is, of course, is happening within the medical supply chain space as well.
Much of the world relies heavily on China for manufacturing. While many Chinese facilities are starting to return to operations as the Coronavirus slows down, here, the United States still needs to find alternatives to keep up with demand, as it takes at least 30 days for those supplies to hit U.S. stores. Some companies are even looking to places like Vietnam and Thailand for additional manufacturing support. In fact, it's smart for companies to rely less on one sole location for manufacturing, but it will take several months for this to have an impact.
project44's data also shows a more than 15% increase in dwell time at distribution centers. Keep staffing up on key logistics jobs and know there is competition—Amazon is hiring 100,000 new workers and raising pay for those jobs. Look to prioritize necessities in your distribution channels. Online retailers are sending out food and household goods before things like bacon-scented air fresheners ship. And, while there are plenty of Americans who need to find work right now, don't forget that hiring and training processes mean benefits will start to appear in roughly a month.
Follow and know the changing restrictions on driver hours of service. With truckers driving more hours in a day, more food can get to destinations faster.
Recognize that you are asking your teams in the logistics industry to work harder and longer than ever, for other Americans. Take care of them. These people are heroes.
Applying technology and data to keep supplies moving during a pandemic
It's pertinent that companies make sure their efforts have the most positive impact possible. Gain efficiency through visibility data. Track shipments in real-time to give producers, warehouse workers, truckers, retailers and end-customers a better idea of where their shipments are. When people know where their orders are and when they'll arrive, they order less and lighten the load on the supply chain. This gives retailers more time and better information for planning.
Visibility data solutions can also identify the contents of a truck and prioritize the most important items, which is especially helpful in meeting demands. Real-time visibility data provides agility during a pandemic.
In a time of uncertainty, it's important to be able to control loads, products and your company's supply chain. Keep practicing actionable empathy. Don't panic order. Take care of your logistics employees—drivers, dockworkers and more. Prioritize important deliveries to reduce the strain. We're all in this together, and we'll get through this together.