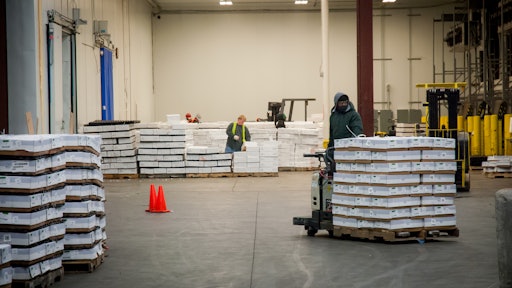 No doubt, JAXPORT and its rivals in the region are in the midst of a trade boom fuelled by rising agriculture imports/exports and domestic consumption. The pending completion of the Panama Canal expansion project is only going bring more business to ports and other logistics providers who have been making strategic infrastructure investments over the past few years.
Refrigerated cargo is an important part of the overall trade mix. JAXPORT offers more than 3 million cubic feet of on-dock refrigerated space and more than 30 million cubic feet of temperature-controlled warehouse space in northeast Florida. The Port also boasts excellent interstate and rail links (CSX, Norfolk Southern, and Florida East Coast Railway (FECR)) to get perishable cargoes moving expeditiously. Chicken, seafood, produce and juice concentrate are some of the key commodities handled at JAXPORT, which works with logistics partners to provide services including order picking, freight consolidation, blast freezing, USDA inspection, fumigation, and flexible shipping and receiving hours.
At PortMiami, the Deep Dredge project is just wrapping up. The project deepened the Port's main harbor channel from 42 feet to a depth of 50-52 feet, making it "the only major logistics hub south of Virginia capable of handling fully laden post-Panamax vessels," according to a press release.
The Port is investing over $1 billion in capital infrastructure projects to take advantage of the Panama Canal expansion. New gantry cranes are already in place to service cargo vessels up to 22 containers wide with up to nine containers above deck and 11 containers below. Other projects include a new on-dock intermodal rail service linking PortMiami to 70 percent of the U.S. population in four days or less; along with a new tunnel that connects the Port to the interstate highway system.
For refrigerated cargoes, PortMiami offers more than 1,000 reefer plugs and USDA authorization for on/off port fumigation. In addition, the Port is the only one in the nation designated by U.S. Customs and Border Patrol as a Center for Excellence and Expertise (CEE) for Agriculture and Prepared Products.
To the north, Georgia Port Authority's Port of Savannah is a leading exporter of poultry, handling 40 percent of U.S. containerized poultry exports. It is also a strategic port for Florida's citrus producers. The Port boasts 2,016 reefer rack plugged slots and 738 wheeled plugged refrigerated container slots.
The Port of Savannah also benefits from considerable off-terminal cold storage capacity, which is provided by operators such as Colton, Calif.-based Lineage Logistics, Atlanta, Ga.-based Nordic Cold Storage and Andalusia, Ala.-based Gulf States Cold Storage.
Earlier this year, Gulf States completed a 55,000-square-foot expansion to its Savannah location, which doubled its overall storage capacity to 28 million pounds of frozen cargo.
"We want to grow with the Port of Savannah," remarked John Dean, vice president of sales at Gulf States. "I think it's very important for businesses such as ours to keep up with the capacity that can be handled through the Port."
Gulf States handles the export of poultry, beef, pork and seafood, as well as some frozen vegetables—a growing business segment. Key produce imports such as onions from South America are shipped through Savannah to supply the U.S. Southeast in the winter months, due to the opposite growing season south of the equator.
FEC

Railway Whistles Dixie Egg

Shipping fresh eggs by rail may seem far-fetched, but a new venture between Florida East Coast Railway and Jacksonville, Fla.-based Dixie Egg Company is proving successful.

According to Jacques Klempf, president and CEO of Dixie Egg, he was equally skeptical when John Giles, former president and CEO of FECR, who now heads up the Central Maine and Quebec Railway, pitched the idea to him last year.

However, Klempf was agreeable to a trial that involved shipping reefer trailers on flat cars (TOFC) from Jacksonville, Fla. to Hialeah (Miami).

"The timing was good, especially with what it takes to keep a driver on the road today and the challenges associated with regulations and wear and tear on your equipment," recalls Klempf. Furthermore, truck moves between north and south Florida also face considerable congestion on I-95.

No extra packaging or dunnage is required for the reefer trailers that move via rail. "We just do our part to load the trailers properly from the start and the eggs arrive in good condition," says Klempf.

In a busy month, Dixie Egg ships about 20 to 25 reefer trailers of eggs between Jacksonville and South Florida. Typically, FECR picks up the trailers in the afternoon and they arrive in South Florida by 6 a.m. the next morning. The empty trailer is returned to Dixie Egg's Jacksonville yard by 8 a.m. the next day.

"This is a testimony to rail," says Klempf. "If FECR can go 400 miles with a trailer-load of eggs and they arrive in good condition, then they're doing something right."
For more info:
CSX, www.csx.com
Dixie Egg Co., www.dixieegg.com
FECR, www.fecrwy.com
Gulf States Cold Storage, www.gulfstatescs.com
Lineage Logistics, www.lineagelogistics.com
Nordic Cold Storage, www.nordiccold.com
Norfolk Southern, www.nscorp.com
Port of Jacksonville, www.jaxport.com
PortMiami, www.miamidade.gov/portmiami
Port of Savannah, www.gaports.com