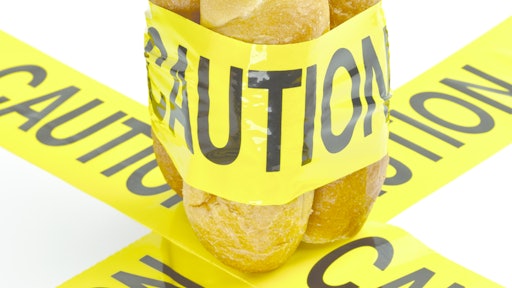 In 2011, President Obama and Congress enacted the Food Safety Modernization Act (FSMA) in an attempt to reduce the burden that foodborne illness places on the American people. According to FDA, as a result of foodborne illnesses:
one in six Americans gets sick each year
128,000 are hospitalized annually
3,000 die annually
These figures are from the FDA's Focus on Prevention, FDA Food Safety Modernization Act, for which a (Powerpoint available at FDA.gov).
FSMA legislation gave FDA explicit authority to enforce mandatory recalls if there is a reasonable probability that the food products could cause harm to humans or animals. FDA has recently begun to exercise its new authority. However, Inmar's experience is that the new law has had little impact on the number of food recalls processed through the reverse supply chain.
Historically, FDA has used a voluntary recall system to manage food risks to humans and animals. Mandatory recalls are processed in the reverse supply chain using processes similar to those used for voluntary recalls.
Removing compromised food from the supply chain is a priority for both retailers and manufacturers and it's Inmar's experience that the food industry is largely compliant with FDA and its requests for voluntary recalls.
The new FSMA law has placed additional burdens on food companies. Food distribution facilities must have written preventative control plans to proactively manage possible food safety issues. These facilities should also have written recall procedures to manage potential recalls efficiently and effectively.
The reverse distributor is an important element in this process. It is critical for retailers to be assured that, when any manufacturer or government-mandated safety recall occurs, the recalled product can be removed quickly from the retail shelves and if necessary, from consumers.
To help manufacturers in preparing recall procedures, Inmar created the following product recall best practices:
A detailed recall management plan or protocol, which includes mock recalls, will ensure that an actual recall event is handled with the best interests of your customers and your company in mind.
A recall "point person" and recall team should be established prior to the recall event. Cell phone numbers and back-up personnel should be included in the recall team roster.
Notification to customers and consumers must be clear and concise and should communicate the seriousness of the recall. Industry notification to all distribution channels should occur simultaneously. Notification templates can help speed the notification process.
Business response forms are a highly effective means of documenting receipt of notification.
Call center staff must be trained quickly to field inquiries appropriately from customers and consumers.
Product retrieval should be executed in a manner that has minimal impact on stores, distribution centers and consumers. Dedicated resources should be used if product is being removed from store shelves. In most cases, use of a third party rather than broker network ensures the most expedient execution.
Payment/credit should be issued quickly and accurately. (Establish upfront whether the payment/credit will be based upon claims or actual product received.)
Replacement product must be available to customers immediately. Often, a coupon for free or reduced-cost product helps retain customer loyalty/confidence.
Product disposition should be managed by a reverse logistics facility equipped with an automated processing system. Product destruction must be handled in a cost effective and regulatory compliant manner.
Reporting must be accessible and updated on a daily basis, preferably web-based.
Inmar's recall and regulatory compliance experts help companies comply with FSMA laws regarding recall process planning. Inmar also provides recall execution services, whether a recall is voluntary or government mandated.
The bottom line is that whether the recall is mandatory or voluntary, these practices are necessary to manage the difficult issues associated with a safety recall. To assist industry in this challenging area, Inmar has partnered with the Grocery Manufacturer's Association (GMA) to develop a training program titled "Efficient and Effective Product Recall Management," which will be held in San Diego this September. Training will focus on the end-to-end recall management process, beginning with a review of the critical components of recall preparedness and flowing through to notification using Rapid Recall Exchange®, compliance reporting and reverse logistics. Those interested can learn more on the GMA website (www.gmaonline.org).