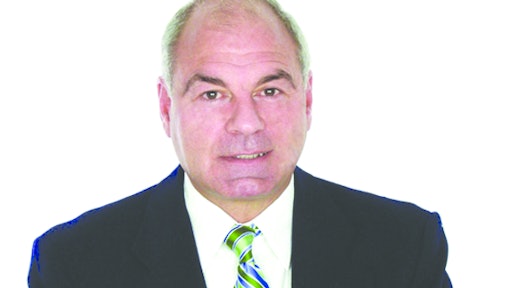 As the ancient Chinese philosopher Lao Tzu once said, "If you do not change direction, you may end up where you are heading." As a nation we are heading toward gridlock. Our highways are facing maintenance issues and budgetary problems while indirectly contributing to pollution and deepening our dependence on oil. According to the U.S. Department of Transportation, $100 billion annually is needed for the next 20 years to meet infrastructure needs.
Moreover, a recent American Trucking Associations (ATA) report, Trends for Eventual Tightening, indicates more uncertainty and pressure on commercial truckers. The most pressing issues include government regulations that raise barriers of entry to the sector; high fuel prices coupled with price volatility; and capacity and driver shortages.
Derek Leathers, president and COO of Werner Enterprises, believes the industry is heading in a direction that will require more efficient and cost-effective solutions for moving less loads on the highways. Fortunately, rail intermodal provides the biggest opportunity for motor carriers to do just that for their customers.
The predominant share of freight that moves by truck today (77 percent) is freight that cannot be converted to rail intermodal, added Leathers. Freight that is still competitive for conversion from truck-to-rail and vice versa is about 8 percent.
While this isn't the worst news for shippers and motor carriers, it's not quite a rosy outlook either. The upshot is there is a secular growth story developing. A secular growth cycle has a long-term time frame, usually at least 10 years. Secular growth is an important criterion for firms and investors interested in longer term success rather than a reliance on short-term trends.
Emerging trends indicate that for the 1,000-1,499 mile trade lanes, intermodal rail is poised to expand its marketshare from 21 percent to nearly 50 percent by 2035. At the same time, the need to transport perishable foods by rail is also increasing in urgency as reefer capacity continues to tighten.
Indeed, rail transport is becoming a new strategic capability for perishable foods growers, processors, distributors and retailers, offering cost competitiveness, social and environmental responsibility, and reliability. On the import side, the U.S. consumes more than 60 percent of fresh fruit and vegetables from imports, with most of these coming from Latin America. In addition, the expansion of the Panama Canal has put a new emphasis on trade with Latin America and sparked an evaluation of a more efficient rail network to transport perishable products.
Aditionally, food safety regulations are also driving changes in transportation modes for the food supply chain with the emphasis now on creating more standardized food distribution networks, consolidation of volume, and ease and predictability of reliable transport.
Simply put, given the complexity of global food supply chains there is significant opportunity for rail-oriented models to leverage consolidation models and integrated value chains. And, because many importers are small- to medium-sized enterprises (SME), the need for a consolidation model is especially critical for success.
One new service addressing these challenges is Green Express (GX). GX is a dedicated unit train that will run between southern Florida and the Inland Logistics Park at Kingsbury, IN. It will leverage its service platform in amassing SMEs with standardization and integration of processes to meet U.S. import regulations in a structured and consistent method, while taking advantage of economies of scale.
As refrigerated rail services expand in nearly every quadrant of the U.S., it is imperative that systems and processes allow foreign exporters to participate in safe and secure food chains. Due to the Global Food Safety Initiative (GFSI), processes are becoming standardized and documented so that each participant can satisfy the regulatory requirements and efficiently move the product through the supply chain with as little effort and cost as possible.
By carefully engineering these systems and processes, the burden on individual participants will be dramatically reduced because each participant will not have to develop their own custom system, while modern computing services can be employed to substantially decrease the cost of ownership as well as leverage transportation spend among all participants.
The GX and other food rail programs will improve the competitive position of SMEs, giving them the same level and quality of information as their bigger competitors and perhaps even the same competitive transportation cost structure as well. Merging food logistics with innovative rail strategies will provide operational efficiencies and economies of scale that otherwise would not be obtainable by individual participants.
It is time to change direction in leveraging the once contrarian notion of moving perishable foods on rail. ?