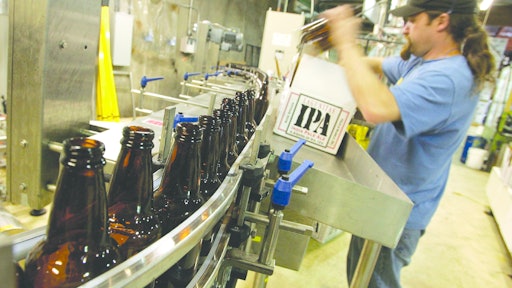 In the fast moving world of food and beverage warehouses, reducing spoilage and improving order and shipment accuracy is essential for business. Utilizing the latest warehouse management systems (WMS) can assist warehouse managers towards that goal.
Industry drivers
Recent government regulations coupled with the need to manage and increase warehouse velocity and throughput is driving food and beverage companies to implement and upgrade warehouse management systems.
Earlier this year, the FDA rolled out the Preventative Controls rule, part of the larger Food Safety Modernization Act (FSMA) legislation. The proposed regulation will affect food facilities that manufacture, process, pack and/or hold food products. Additionally, a food facility will be required to have a written food safety plan that monitors and prevents food contamination issues. Product traceability and responsiveness to product recalls are also big drivers to using WMS.
Growing companies are also attracted to the benefits of WMS. According to Chad Collins, chief marketing officer and SVP of Colorado Springs, Colorado-based Accellos, emerging niche food companies that are experiencing rapid growth are often hindered by their manual or paper-based processes.
WMS not only alleviates this challenge, but also provides many other advantages for food and beverage companies.
The top 6 benefits
Keeping the various driving factors in mind, along with the rising demands of the fast paced food and beverage industry, there are various gains associated with implementing software solutions such as warehouse management systems.
Below are the top six ways WMS can improve operations:
1. Traceability: Food and beverage customers are looking for ways to keep track of the freshness of their products from a food safety perspective and an efficiency perspective. Warehouse management systems give food and beverage managers a closer look into their products and help them determine what shipments need to ship first due to time constraints.
"Traceability has been a big initiative for a lot of food distributors because of the obvious perishability of the products and the management of expiration dates," says Rik Schrader, EVP of sales for Plano, Texas-based Retalix. "The ability to be very proactive in terms of making decisions as well as making sure that mistakes are not repeatable, it's really important to these type of operations."
Additionally, in the event of a recall, a company can effectively locate and assess what products are potentially contaminated and where they were sent.
2. Accuracy and Visibility: Warehouse management systems offer better visibility into the warehouse along with a boost in order and shipment accuracy. Through a centralized software system, managers are able to view the movement of their inventory and ascertain the accuracy of the shipments.
3. Increased Throughput With Integration: Integration with other software solutions and automation systems helps boost throughput in the warehouse.
"What we're seen in both food and beverage is they're very focused on speed," says Eric Lamphier, senior director of product management, for Atlanta, Georgia-based Manhattan Associates. "You'll go into a very high-end fresh operation and they're moving fresh fruits and vegetables and other fresh products through that facility in just a couple of hours." WMS provides optimized functionality to handle high levels of complexity and volume throughput.
4. Improved Labor Productivity: Warehouse management systems can also leverage the power of labor management solutions. These solutions can track warehouse workers' day-to-day activities, including the work they complete.
"We can understand what their expected time is for what they're asked to do [versus] the actual time," says Lamphier. "Then we can compare them and rate them based on their work for the day and have a really nice understanding of how the workforce is performing. You have associates that will hustle and really make some incremental pay based on working harder against the standards that have been outlined."
5. Reduced Paperwork: As mentioned earlier, food and beverage companies can be hindered by their manual or paper-based processes. Reports that were prepared manually can now be managed electronically.
According to Dan Radunz, senior vice president of product development for Minneapolis, Minnesota-based HighJump, a WMS can "significantly reduce the paperwork traditionally associated with warehouse operations, as well as ensure timely and accurate flow of inventory and information."
Additionally, creating electronic reports will boost a company's sustainability efforts, by creating a greener footprint and lessening the need for paper.
6. Better Space Utilization: Food and beverage warehouses can improve space utilization due to a speedier fulfillment process with the use of WMS. With less inventory in the warehouse, holding costs will decrease drastically.
"Space utilization can help with ensuring that we optimally use the space in the facility, which can eliminate their need to buy more facility space," says Tom Kozenski, VP industry strategy of Scottsdale, Arizona-based JDA Software (formerly RedPrairie).
Customer success stories
Republic National Distributing Company (RNDC), the second largest alcohol beverage distributor in the U.S., uses Manhattan Associates' warehouse management solutions in their operations. According to Stefan Kirshenbaum, VP and director of distribution and logistics at RNDC, there were some challenges during the initial implementation that took place in Denver, CO.
"The learning curve was a challenge," says Kirshenbaum. However, "Manhattan provided complete assistance from the beginning to the end of that initial implementation of WMS."
One of the biggest advantages Manhattan Associates' WMS offers to RNDC is absolute inventory control along with greater space utilization. RNDC is able to efficiently replenish products, which results in improved productivity for the warehouse crew.
"The ability to do cycle counting rather than wall-to-wall inventory" is also essential for inventory management, Kirshenbaum adds.
RNDC will be starting their ninth installation of Manhattan's WMS, going live in February in Louisville, KY. After their ninth installation, the company has future plans to install the WMS in another eight locations.
"Our company has a reputation of being at the forefront of technology and we're proud of our operations throughout our chain and Manhattan has been a great partner in providing a continued effort on our part to be the best in class distribution network within our industry," says Kirshenbaum.
Cloverleaf Cold Storage, a Sioux City, Iowa-based, refrigerated warehouse firm, has relied on AccellosOne Enterprise 3PL third-party logistics management software since 2004 to maintain high levels of productivity and increase profits.
"Accellos' concentration on the 3PL cold storage market has given them an extraordinary, in-depth awareness of the field and its challenges, and that is one of the primary reasons we selected them as our 3PL management solution," said Curtis Mastbergen, vice president of administration and finance for Cloverleaf Cold Storage in a case study. "We wanted an expert in our field, not a vendor to whom cold storage was a sideline."
Since implementing the Accellos software in many Cloverleaf Cold Storage facilities over the course of almost 10 years, Mastbergen noted the software has helped them to serve their clients both accurately and efficiently.
"We win a lot of customers with needs that our competitors can't handle," Mastbergen mentioned. "AccellosOne Enterprise 3PL is a big part of that."
Philadelphia, Pennsylvania-based Frankford Candy, a privately owned candy manufacturer in the U.S., also utilizes Accellos' management software. The candy company was looking to advance their electronic data interchange (EDI) capabilities to seamlessly work with trading partners.
"We can bring up a new trading partner in minutes, where before, it could involve weeks of frustrating back-and-forth among us, our EDI vendor and our trading partners," said executive vice president of Frankford Candy, Nathan Hoffman in a press release. "Major retailers have very specific ways of doing things, and Accellos' EDI for Dynamics AX accommodates them all very nicely."
Since Frankford Candy has implemented Accellos One Pinpoint EDI for AX, Hoffman prefers to rely solely on the resources provided by the ERP solution.
"The most painful time in any new technology relationship is at go-live," said Hoffman. "With the Accellos EDI solution, it was totally pain-free. There were no lost orders and no lost invoices—and so no lost revenue."
Brooklyn and Astoria, New York-based Empire Merchants, LLC, a distributor of fine wines and spirits, is the largest wine distributor in metropolitan New York. The company ships approximately 10,000,000 units per year. With a high order volume along with storage capacity concerns, Empire Merchants turned to CIBER, an integration company, to better identify what warehouse management system would suit their needs.
Empire's Brooklyn facility had installed HighJump's Warehouse Advantage system, which handles receiving, returns, inventory and replenishment.
"We chose HighJump Warehouse Advantage as our warehouse management system and CIBER as our integration partner based on their previous successful implementations with other wine and spirits distributors," said Tony Magliocco, COO, of Empire Merchants, in a press release.
This system replaced a paper-based replenishment method while improving inventory accuracy.
"We couldn't have picked a better software package and implementation partner than HighJump warehouse advantage and CIBER," said Magliocco. "The software is working as the project team designed it. As a result, our fill rates have increased and our distribution costs have decreased dramatically."
What lies ahead?
Moving forward, industry experts are expecting to see a shifting demand for cloud-based WMS along with other types of application software. One of the pros of using a cloud-based WMS is the ability to free up food and beverage managers from worrying about servers.
"The market is more open to cloud-based solutions now more than ever," says HighJump's Radunz. "This is primarily driven by the desire to focus more IT resources on core competencies related to serving customers better, rather than managing an IT infrastructure."
Further enhancements with supply chain tracking and tracing will continue to be a future trend in the industry. With more stringent food safety standards on the way, the ability to seamlessly identify and track all food and beverage items will assist with staying compliant.
Furthermore, the need for radio frequency identification (RFID) systems will continue to rise. An RFID system increases automation and generates accurate visibility in the warehouse while concurrently lessening misplaced food or beverage products.
"As products move through the facility, we're not going to require the manual intervention of actually scanning barcodes or entering information into a mobile computer," says Accellos' Collins. "A lot of that information will be automatically fed into the warehouse management system via sensors and other technologies.
Tony's Fine Foods: Stepping Up With Retalix's WMS
Tony's Fine Foods, located in West Sacramento, California, has been utilizing Retalix's WMS solutions since 2003. Before deploying Retalix's WMS solutions, the company used their own in-house WMS. As with most new software installations, Tony's Fine Foods encountered a few challenges during the switch to Retalix's WMS.
"The hardest challenge with anything is that you're dealing with a partner that doesn't work for you," says Mark Geery, CIO of Tony's Fine Foods. "You have to really stand up for yourself and make sure you cover all the areas that you need to cover. There were certain parts of the software that we had customized and made unique for our needs in our prior in-house WMS, [so] we had to take a little bit of a step backwards in those areas, but the gains of having a robust system with a company that can support it offset that."
Warehouse managers at Tony's Fine Foods, like Pete Moody, see the upside to working with Retalix's WMS software. They are able to seamlessly manage their business and identify potential sources of problems in the warehouse. Additionally, the software helps to properly manage warehouse employees by measuring workers' productivity and accuracy. The WMS becomes "an extension of them," says Geery.
Another benefit for Tony's Fine Foods is having a system with real time inventory and traceability. Previously, the company would wait for invoices to post before the inventory would get updated.
"The fact that we've been able to double the size of our business in almost the 10 years that we've been on this WMS is a testimony that the software's been a success," says Geery.
Companies in this article