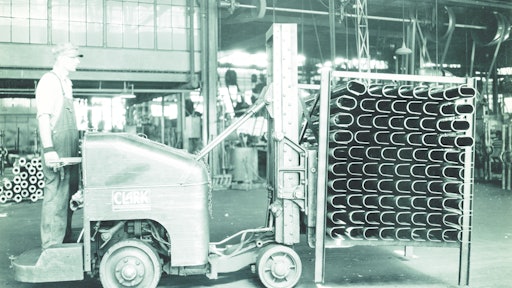 Lift truck equipment is an essential part of creating a productive and efficient warehouse operation. Every year, lift truck manufacturers look for ways to increase productivity, decrease pollutants and deliver durable equipment for their customers.
To fully appreciate the equipment on the market today, one needs to consider where it all started.
One of the earliest designs came out of Buchanan, Michigan in 1917. The CLARK Material Handling Company created the first internal combustion powered industrial truck, which was called the Tructractor. The Tructractor design resembled a modified tractor that was constructed with a flatbed for manual loading and unloading.
CLARK's concept was originally conceived to haul materials between various departments of their company.
The Tructractor inspired subsequent designs like the Tructier, which was created in 1928. The Tructier was also an internal combustion powered lift truck that featured hydraulics to elevate a load as well as front-wheel drive.
The early concepts of lift truck technology have come a long way compared to today's equipment.
The latest and greatest
Today's lift truck equipment is constantly evolving. Companies today are looking for ways to automate manual tasks to help reduce operator fatigue.
"Trends are always towards making the operation of the trucks easier and more efficient for the operator," says Jeff Bowles, product line manager of Houston, Texas-based Mitsubishi Caterpillar Forklift America Inc. (MCFA). "That's really a focus for us in our design efforts."
Meanwhile, another trend is recording data electronically for both equipment management and labor management. Electronic data can help a food or beverage manager easily increase their visibility into the warehouse operations. This can improve productivity by disclosing important information such as current battery life.
"Every time you change a battery, you probably lose about 20 minutes of operating time," says Joe LaFergola, manager of business and information solutions of Greene, New York-based Raymond. "Twenty minutes of downtime is equivalent to 4.2 percent of productivity loss."
There are various tools managers can use in order to increase their efficiency in the warehouse, some of which include iBattery and InfoLink.
Raymond's iBattery module, which is a part of their iWarehouse System, can prolong the life of a lift truck battery to its maximum potential. Some of the information iBattery collects include battery specifications, current battery temperature, battery weight, state of charge, and battery capacity.
Knowing the status of a lift truck's battery can help prevent unnecessary downtime and increase the hours of operation.
In addition, New Bremen, Ohio-based Crown Equipment has a wireless fleet and operator management system called InfoLink, which essentially lets a manager know whether or not lift truck equipment is ready to work or not.
From a compliance perspective, InfoLink can also improve safety by creating a checklist to ensure that the forklift equipment is safe to use and is compliant with OSHA's regulations.
A company's operating procedures certainly help maintain compliance, but there are other tools available too, explains Jim Gaskell, director of global Insite products at Crown. Specifically, "They seek other technology products to help solve these problems (of maintaining compliance), and that's a trend that we're seeing a lot right now," he says.
InfoLink can also make sure that only certified operators are allowed on the equipment.
For instance, OSHA's regulation 1910.178, which discusses proper maintenance and safety requirements of the lift truck equipment, can be effortlessly followed and ensured by creating electronic paperwork versus standard paperwork.
Smarter equipment
Forklifts are becoming more intelligent in design, too. For example, one of the latest advancements in lift truck technology is a warehouse navigation system. A warehouse navigation system helps eliminate any operator guesswork by having the lift truck choose the most efficient path to get to the next location. An operator can program all of the pick locations in the warehouse and let the truck take care of the navigation.
Currently, a warehouse navigation system is featured on MCFA's equipment and according to Bowles, it is "one of the most unique and exclusive features" on their warehouse products.
Today, electric lift trucks are manufactured with AC (alternating current) motors. Allen Polk, national accounts sales manager for Chattanooga, Tennessee-based Kenco Fleet Services, says that AC lift trucks are more efficient consumers of battery power, which leads to longer battery run times and less maintenance costs.
In the meantime, a number of lift truck manufacturers are paying more attention to the ergonomics of masts. The mast, which raises and lowers the load hydraulically, is designed with the operator in mind. "Masts with improved visibility and smoother operation improves productivity and reduces stress during operation," notes Allen Trego, director of product engineering for Marengo, Illinois-based Nissan Forklift.
There is also a focus on prolonging the life of the lift truck. A few years back, Raymond started to use stainless steel axels in their load wheels. Warehousing customers with large fleets can save thousands of dollars when utilizing stainless steel axels. Furthermore, stainless steel axels are particularly well suited for food and beverage applications since they resist corrosion.
Raymond has also updated the materials used to make the undercarriage of the forklift.
"On our undercarriage, we have moved to materials like ductile iron," says Susan Rice, product manager of pallet trucks and stackers for Raymond. "Ductile iron infuses magnesium into metal, which forms a honeycombing. This honeycombing structure makes the material much more resilient to impact—it's almost 30 percent stronger than steel."
Additionally, electric fuel cell technology is an emerging technology. Although electronic fuel cell technology has not really caught on because of the initial cost, according to Raymond's LaFergola, there are government programs that can help offset some of the costs to fuel cell technology and the hydrogen infrastructure that goes along with it.
"Cool" features
The ability for equipment to handle harsh environments associated with refrigerated and freezer applications is a requirement for food and beverage companies.
MCFA offers a full corrosion protection package, which includes a fully galvanized truck frame with stainless steel hardware and pins as well as fully sealed electrical components. Lift trucks featuring fully sealed electrical components that are designed to withstand harsh, wet conditions are extremely attractive, as are lift trucks that are constructed to endure toxic spray downs.
"We equip all walkie end-riders with foodservice grade grease," says MCFA's Bowles. Foodservice grade grease provides protection against friction as well as corrosion and oxidation. It also helps to dispel heat buildup in warmer environments and increase a lift truck's durability.
Similarly, Raymond also offers a package called Extreme Environment Corrosion Protection. With this, a lift truck is equipped with stainless pins and the entire frame and fork assemblies are galvanized to further protect the equipment from corrosion.
Tires have also come a long way in the industry. In challenging environments, tires can assure good traction and a smoother ride to reduce stress during operation. Grooved tires help to stand up to moisture that occurs in changing temperatures, says Kenco's Polk.
Raymond uses Smoothy polyurethane tires for their electric lift trucks. Smoothy Tires are constructed to manage the high speeds of AC lift trucks and help to reduce heat buildup. "It is perfectly round and it gives you a much nicer ride quality," notes Raymond's Rice.
For Small-sized Jobs
If you ship out only a few semitrailer loads a week, a lower cost walkie or walkie end-rider could be the right equipment for your job, particularly if:
• A 4,500 to 6,000 pound capacity is satisfactory.
• You don't need to stack loads inside the trailer.
• The transition from dock floor to dock leveler isn't too jarring to the operator.
• Your shipping department is constantly loading trailers, a stand-up end control would be preferable over a walkie or walkie-rider. These battery-powered forklifts fit nicely into a standard 108-inch trailer door and their masts allow in-trailer stacking.
Source: MCFA
Companies in this article