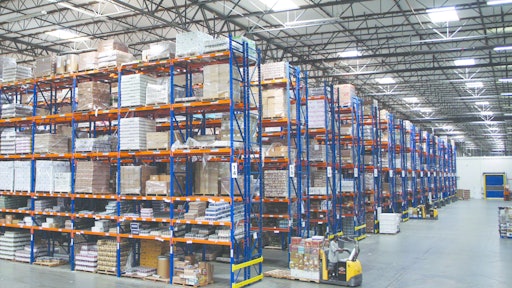 The organic, natural and specialty foods segments have experienced phenomenal growth in recent years, which in turn has opened up a new customer base for transportation and logistics providers who are able to meet the high-level demands associated with this niche.
While some mainstream logistics service providers have created specific business units to handle organic and specialty products, other companies are entirely devoted to the space.
Distribution 2000, based in Romeoville, IL, is one example. The company started in 1995 with 3PL and public warehousing services, says president Marc Risser. At the time, "we were trying to be everything to everyone," he says, which wasn't a sustainable business model in such an extremely competitive market.
Fortunately, the company had some "early success" with several food customers, which was instrumental in helping Distribution 2000 "grow and mature as a business," says Risser. Then in 2004, the company made a strategic decision to go after more food customers "and never turned back," he adds.
To meet the needs of its organic and specialty food customers, Distribution 2000 operates an FDA-registered food grade warehouse that is USDA National Organic Program (NOP) compliance audited by Oregon Tilth Certified Organic (OTCO). The 3PL is also a member of the Organic Trade Association, says Risser.
"We maintain a very safe environment for our customers' products," Risser emphasizes, including the avoidance of fumigants, sanitizers, and caustic solutions, which in a food environment can be challenging. The key is prevention—keeping insects and rodents outside of the facility to begin with, he explains.
Under the USDA's National Organic Program, certified handlers are also required to prevent the commingling of organic with non-organic products and protect organic products from contact with prohibited substances.
All of these extra steps are very important to Distribution 2000's customers. "If a company is involved with certified organic products, it stands to reason that they would partner with a certified organic warehouse to make sure that the last mile in the supply chain is not going to undermine the integrity of their product," says Risser. "These companies hold themselves to a higher standard" and they expect the same from their logistics and distribution partners.
Likewise, it takes commitment on the part of a logistics partner to target the organic and specialty foods segments. "Overall, organics are still a relatively small segment," notes Risser. "A lot of the bigger 3PLs really don't understand it and perhaps aren't even interested in it. When you can fill up 20 warehouses around the country with a customer like Unilever, why would a 3PL want to service a small organics customer whose sales are only $50 million annually?"
In fact, when it comes to providing transportation and logistics services to the organics and specialty foods segments, "You really have to have passion to do this," concedes Brian McCarthy, senior vice president of operations at Nature's Best, the largest privately-owned wholesaler-distributor of organic and natural products in the U.S. He agrees that the extra steps—and investments—required to serve this segment well are a genuine barrier to a lot of other distribution organizations.
It's not sexy; it's inventory management
In McCarthy's opinion, the key to success comes down to one thing, and that's "inventory management." Unlike so many other food products that are engineered for an extended shelf life, organic and natural foods have a very limited window of optimum freshness.
"For companies like Nature's Best, it means having systems and controls in place to move organic and natural inventory through the supply chain in a manner that ensures food stays safe and fresh," he says.
The impact and application of technology is evident in a number of ways at Nature's Best, starting with real supply chain visibility from the food manufacturer all the way through to the retailers' shelves. "As the distributor, or the folks in the middle, we have to tie ourselves in to both ends," explains McCarthy. For example, "We need to know what's happening on the retail side of the business so that we can plan our inventory positions that help accentuate the movement of fresh product."
In addition to monitoring sales on the retail side, Nature's Best has programs designed to help make sure that the end consumer is also getting the freshest products available. "If you're a small retailer and you want to order supplements that have a shorter life, for example, you don't have to order the case, you can order eaches," says McCarthy. "We help our customers rotate their own shelves, just like we do with ours, which means they're always assured of the freshest inventory."
Furthermore, "Our technology allows us to do both case and each pick and amalgamate that onto one deliverable pallet. We're able to give our customers the ability to control their freshness by ordering less inventory and keeping it on our shelves. It's really about going up the supply chain—if we turn our inventory correctly, then it becomes a winning strategy for our retail customers downstream."
Seven years ago, Nature's Best set out to reinvent its supply chain, says McCarthy, which included "going through a major warehouse management system (WMS) and technology vendor selection process." Several vendors were vetted before the company decided to go with Manhattan Associates. "We were looking for tools that could help us increase our visibility, make us more productive, and deliver the same impact for the long haul. And, we didn't want to start out using 85 percent of a system's capacity, we wanted to grow into it and have a tool that would work for us today and in the future as our needs and the marketplace changed."
The decision has paid off for Nature's Best, which has experienced a 60 percent accuracy boost from its deployment of Manhattan Associates' WMS integrated with Vocollect Voice.
Aside from sophisticated technology, McCarthy says personnel also need to be equally sophisticated. "You can have all the best technology in the world, but if you don't have adequately trained, dedicated and passionate people managing the data, you won't be able to really produce results.
This is the age of pulling information in," he continues. "Whether we're talking about a really good procurement tool, or WMS tool, even though the information may be there, it ultimately requires trained personnel who are passionate enough about pulling the information in and doing something with it."
Nature's Best uses technology to manage product at the SKU level, "rather than the global level," says McCarthy. "Each one of those SKUs tells a story from the point of purchase to the point of distribution."
Product temperature is also monitored in the freezer, cooler and dry areas of the distribution center. "We look at inventory turns across all three of our temperature zones because each of those needs to be managed a little bit differently. Our trucks are three-department loaded, too. Some guys take a short cut and they'll just put one big reefer on a truck, open up the bulkhead a little to let some cool air in and hope it keeps the product chilled. But in the organic and natural products market, you can't do that," he says.
This is just one more way that handling organic and natural products differs from conventional grocery. "Because our trailers have two or three temperature zones, the maintenance costs are also higher compared to the guy who is operating just one refrigeration unit," McCarthy says.
There are more risks and costs involved with organic and natural products as well, he says. "We have to spend a lot more on resources and technology. That's a deterrent to many other logistics providers and distributors. But, we really care about health and wellness. It's worth it to us. It has and will be about our products. That is what our supply chain serves!"
Without a doubt, others do too. "The SKU base for natural and organic products is growing tremendously," McCarthy points out. "Consumer demand is high and most of us operating in this space are doing well." Even the recession over the past four years hasn't derailed growth in the sector, he adds. "People want their natural and organic lifestyles."
Indeed, business is good for Nature's Best. The company opened its newest distribution center opened this past spring in Flower Mound, TX, outside of Dallas. Together with their California facility, Nature's Best delivers refrigerated, bulk, supplements, personal care, herbs, medicinal, pet, and other products to 11 western states.
Meanwhile, the future remains bright for the U.S. organic industry. A recent study by the Organic Trade Association shows that U.S. sales hit a new high of $31.5 billion in 2011, with $29.22 billion comprised of organic food and beverage sales and $2.2 billion made up of organic non-food product sales.
According to the industry group, the easing of the recession, consumer price inflation due to input price increases, and consumers' increasing desire for convenience products were all factors that helped drive growth last year. The fastest growing segment in the organic food sector was the meat, fish, and poultry category, which posted a 13 percent gain over 2010 sales.
"Consumers are increasingly engaged and discerning when they shop, making decisions based on their values and awareness about health and environmental concerns," commented Christine Bushway, executive director and CEO of the Organic Trade Association. "For them, it matters whether foods are genetically engineered, or produced using practices that are good for their families. Price is still an issue, but with the wide availability of private label products and many venues for organic products, they have many choices for where to shop and a variety of products from which to choose."
Organic food sales now represent 4.2 percent of all U.S. food sales, up from 4 percent in 2010. The Organic Trade Association forecasts that organic food and nonfood sales will continue to sustain growth of 9 percent or higher.
FAQs from the National Organic Program
What is Organic?
Organic is a labeling term that indicates that the food or other agricultural product has been produced through approved methods. These methods integrate cultural, biological, and mechanical practices that foster cycling of resources, promote ecological balance, and conserve biodiversity. Synthetic fertilizers, sewage sludge, irradiation, and genetic engineering may not be used.
How Are Organic Products Overseen?
The National Organic Program regulates all organic crops, livestock, and agricultural products certified to the United States Department of Agriculture (USDA) organic standards. Organic certification agencies inspect and verify that organic farmers, ranchers, distributors, processors, and traders are complying with the USDA organic regulations.
USDA conducts audits and ensures that the more than 90 organic certification agencies operating around the world are properly certifying organic products. In addition, USDA conducts investigations and conducts enforcement activities to ensure all products labeled as organic meet the USDA organic regulations. In order to sell, label, or represent their products as organic, operations must follow all of the specifications set out by the USDA organic regulations.
How Do I Know if Food Is Organic?
Look at the label. If you see the USDA organic seal, the product is certified organic and has 95 percent or more organic content. For multi-ingredient products such as bread or soup, if the label claims that it is made with specified organic ingredients, you can be confident that those specific ingredients have been certified organic.