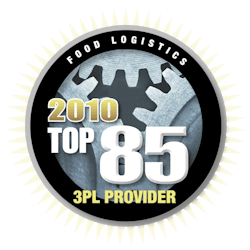 For the fifth year in a row, Food Logistics has identified the leading third-party logistics providers to the food industry.
These 3PLs are helping food companies optimize their warehousing and transportation operations. They offer a broad scope of services and capabilities that enable companies to reduce costs, increase flexibility and improve service levels.
Find out what types of services they're offering to help you better manage your supply chain. This year, we added 15 new companies to the list, for a total of 85 service providers.
Our editorial team selected these companies based on the information supplied on their submission forms, as well as through research, talking with industry analysts and reader input.
All 3PLs provided a food customer reference list, which has been kept confidential.
To make the Top 85 3PL listing useful, we've included background information on each company, including the types of services they provide, area served and their web address.
Today, many food companies are outsourcing various supply chain activities to gain a competitive advantage. Selecting the right 3PL is vital to the success of a company's overall operations—it's a long-term commitment. Companies need to have an organized process for selecting and working with a potential 3PL as well as a list of appropriate candidates.
The Top 85 3PL listing is a great place to start. It can help you find the right partner for your specific needs.
Have Realistic Expectations
It doesn't come as a surprise that poor service is the leading reason why companies do not renew contracts with their third-party logistics providers, but many 3PLs believe that their customers have unrealistic expectations.
That's why you need to do your homework before you choose a 3PL and come up with realistic goals. Accessing, selecting and negotiating with a 3PL is a time consuming process—but well worth it, because, like a marriage, switching partners is easier said than done.
Communication between both parties is key, as is establishing mutual expectations, but it's important to give your prospective 3PL an accurate profile of your business, including product lines and volumes, as well as pallet and/or case picking requirements.
You also need to determine if the 3PL is flexible enough to handle surges and special promotions. Work with your 3PL to reap the benefits of the relationship.
To nominate your company for FL's Top 3PL listing, go to our website at www.foodlogistics.com. We will start accepting submissions in early 2011.
Companies in this article