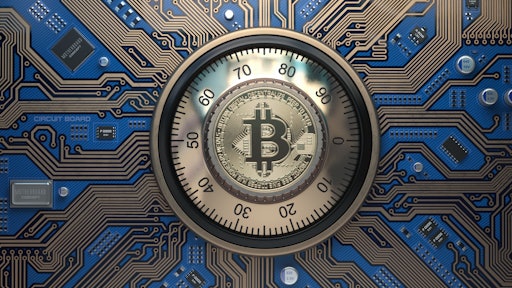 Getty Images
In a growing global economy, logistics plays a central and essential role in the movement of food goods. Like other types of freight transportation operations, food logistics requires the application of business processes that address the need for efficiency, productivity, visibility, transparency and security.
At dexFreight, we've taken a giant step toward addressing those needs by applying blockchain technology in food logistics.
What I'm referring to took place last fall when smart contracts and a decentralized blockchain logistics platform were used successfully to manage a 5,320-lb frozen food shipment. Arel Trucking hauled the load for seafood wholesaler Netuno USA from Preferred Freezer Services in Medley, Florida, to Manny's Enterprises, Inc, in Sunrise, Florida.
The shipment was managed on a smart contract platform from RSK secured by bitcoin. Funds for the transaction were held in escrow on the platform and were automatically released to the carrier upon delivery.
On the scale with which food is transported, this was a small step, but it served to showcase the technological leap that blockchain-based shipments represent, and more importantly their benefits. With the use of smart contracts, shippers and receivers of food loads can connect, negotiate rates, and schedule pickups and deliveries more efficiently, transparently and securely, as well as transfer value and assets.
Smart contracts are a core component of logistics blockchain solutions. On average, companies spend over three hours manually processing a single shipment, which also increases the risk of error. Using smart contracts, logistics operations can use unified records of every single aspect of a shipment's transactions.
Agreement terms including rate, location, time, equipment and payment are recorded in smart contracts, facilitating faster settlements and transactions among multiple users. And the smart contract is only created after both parties accept the shipment terms. The only way to modify it is if all the parties involved agree to do so.
Blockchain platforms will also integrate with smart bill of lading solutions to provide shippers, carriers, consignees and other supply chain stakeholders with a digital replacement for paper documents. The fast, safe, reliable, and cost-effective way to process bills of lading will reduce the total time needed to transfer cargo ownership rights from days to seconds.
Blockchain platforms also help overcome supply chain management issues. With a defined set of rules, blockchain delivers unprecedented accountability and trust and solves the problems of invoicing errors and false documentation. Without the need for a large enterprise management infrastructure, it can remove data silos and allow integrations with other systems, and lower administrative time and costs.
With growth in food logistics, comes the need for a new way of managing a complex set of business processes. It also requires relationships built on trust between stakeholders, including shippers, carriers and receivers.
Unleashing the power of blockchain technology will improve planning, coordination and communication through full visibility over the entire process to the benefit of food logistics services providers around the world.  
Rajat Rajbhandari, Ph.D., is the co-founder of dexFreight, the provider of a decentralized, blockchain-based logistics platform. He is a recognized expert in blockchain use in logistics and supply chain transportation planning and systems engineering.