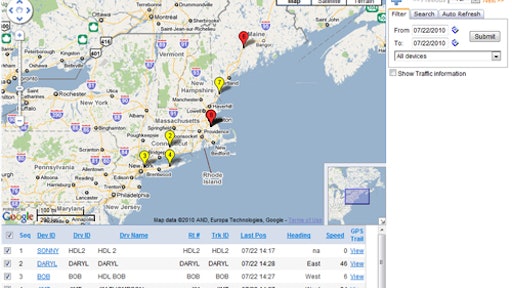 Web Reporting, GPS Tracking, and Account History

DRTrack posts fleet routing data from Direct Route to the web and provides online access to route schedules, real-time GPS tracking, and historical reporting.  The system provides companies with many benefits including:
Planned Versus Actual Hours, Miles, and Times
Real-Time Route Progress Tracking
Historical Performance Reports
Time Per Stop Data
Truck Speed Mapping
Online Delivery Schedules
Geographic Volume Reports

Summary and Detailed Fleet Route Reports
Planned Versus Actual Driven Paths
Driver Performance Reports
Out-Of-Route Mileage Tracking
Account History Reports
Custom Database Queries
Miles by State Reporting
Historical Data
How many hours and miles were needed for deliveries today and how many deliveries were behind schedule? How much volume was delivered to a specific region for the past month?  DRTrack provides this type of information and allows management to make informed decisions regarding fleet operations.  Maybe you need to see how many partial truckloads were dispatched to a region last week or how many routes were needed in order to meet current delivery time parameters.  With DRTrack, this data is simply a click away.  The system incorporates a comprehensive database with web-based access to reports, queries, and historical data.  This combination allows companies to access vital fleet routing information and streamline operations based on meaningful data rather than conjecture or estimates.

Company Branding
DRTrack incorporates your company's unique graphics and provides consistent branding to clients and internal personnel.  Customers can view their scheduled delivery time online and experience the same look and feel as other company correspondence. Outside facilities and fleet personnel can also access route information without being physically located next to route planning or being in constant communication.  The system provides a hands-off way of storing and retrieving route data while incorporating your unique branding.