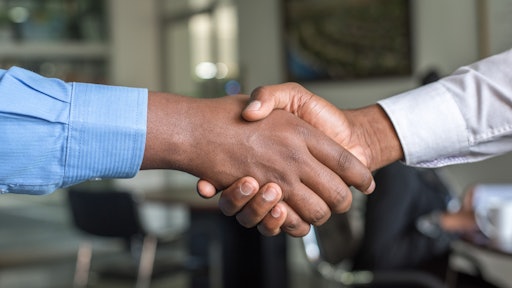 Photo by Cytonn Photography on Unsplash
WESCO International Inc. and Anixter International Inc. announced that their boards of directors have unanimously approved a definitive merger agreement under which WESCO will acquire Anixter in a transaction valued at approximately $4.5 billion. Anixter's prior agreement to be acquired by Clayton, Dubilier & Rice, LLC has been terminated, following CD&R's waiver of its matching rights under the agreement.
Under the terms of the agreement, each share of Anixter common stock will be converted into the right to receive $70.00 in cash (subject to increase as described below), 0.2397 shares of WESCO common stock and preferred stock consideration valued at $15.89, based on the value of its liquidation preference. Based on the closing price of WESCO's common stock on January 10, 2020 and the liquidation preference of the WESCO preferred stock consideration, the total consideration represents approximately $100 per Anixter share, giving effect to the downside protection described below. Based on transaction structure and the number of shares of WESCO and Anixter common stock currently outstanding, it is anticipated that WESCO stockholders will own 84%, and Anixter stockholders 16%, of the combined company.
"The transformational combination of WESCO and Anixter will create a premier electrical and data communications distribution and supply chain services company. With increased scale and complementary capabilities, we will be ideally positioned to digitize our business, expand our extensive services portfolio and supply chain offerings, and deliver solutions to our customers whenever and wherever they need them around the globe. Given the enhanced strategic profile and competitiveness of the combined company, we are confident we will deliver improved growth and earnings, and exceptional cash flow generation. We look forward to welcoming Anixter's talented associates to the WESCO team as we embark on this next chapter and create substantial value for our stockholders, customers, suppliers, and people," John J. Engel, WESCO's chairman, president and chief executive officer says.
"Today's announcement is the culmination of a comprehensive process that showed, from the start, what a strong business the team at Anixter has built," says Sam Zell, chairman of the Anixter board of directors. "The agreement with WESCO is a great result for our stockholders who will receive significant near-term value and stand to benefit from the combined company's growth and prospects."
"This is the result of a very thorough process to determine the value of our company," says Bill Galvin, Anixter's president and chief executive officer. "It's also a recognition of the enormous value created by our talented people, Anixter's deep industry relationships, innovative technology solutions, and global reach. Looking ahead, the combination with WESCO will allow the combined company to build on our complementary capabilities and create new ways to serve customers and partners."
Compelling Strategic and Financial Rationale
Enhances Scale and Global Position. The combined company will have pro forma 2019E revenues of approximately $17 billion and will be a leading electrical and data communications distributor in North America. With an extensive global reach and increased international exposure, approximately 12% of revenues will be generated outside of North America. The increased scale will enable the combined company to accelerate digitization strategies and provide a platform for growth in attractive emerging markets.
Broadens and Diversifies Product and Services Portfolio. The combined company will have a comprehensive and balanced portfolio that unites WESCO's capabilities in industrial, construction, and utility with Anixter's expertise in data communications, security, and wire and cable. Bringing together the companies' complementary products, services, technologies, and solutions is expected to create significant cross-selling opportunities, strengthening the combined company's customer value proposition and supplier relationships.
Delivers Substantial Synergies. WESCO expects to realize annualized run-rate cost synergies of over $200 million by the end of year three through efficiencies in corporate and regional overhead, including duplicative public company costs, branch and distribution center optimization, and productivity in procurement, field operations, and supply chain. In addition, WESCO expects incremental sales growth opportunities to result by cross-selling the companies' complementary product and services offerings to an expanded customer base and capitalizing on the enhanced capabilities across both networks.
Provides Immediate Earnings Accretion and Significant Free Cash Flow Generation. The combination is expected to be accretive to WESCO's earnings in the first full year of ownership and, with the realization of synergies, substantially accretive thereafter. WESCO also expects the transaction to generate significant margin expansion and EPS growth. The combined company will have strong free cash flow generation, supporting continued investments in the business and enabling a return of capital to stockholders in the future.
Ability to Rapidly De-Lever. At closing, WESCO estimates that its pro forma leverage on a net debt to EBITDA basis will be approximately 4.5x. WESCO intends to utilize the strength of the combined company's cash flows, including significant synergies, to reduce its leverage quickly and ultimately intends to be within its long-term target leverage range of 2.0x to 3.5x within 24 months post-close.