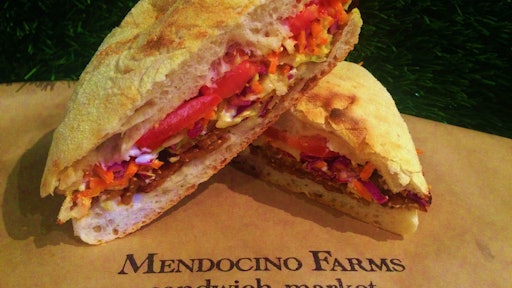 Whole Foods Market Inc. has made a minority investment in Mendocino Farms, an 11-unit, upscale sandwich chain known for its indulgent sandwiches and salads made from ingredients such as humanely raised, antibiotic-free pork, according to Reuters.
Whole Foods declined to disclose the size of its investment in the popular Los Angeles-based chain or other details related to the partnership.
Mendocino Farms said the partnership will include testing Mendocino Farms venues inside select Whole Foods Market stores and new value-priced 365 by Whole Foods Market stores in California, as well as using the proceeds to prepare for its expansion into the San Diego and San Francisco Bay Area markets in late 2016.
Whole Foods last month said it would reduce staff by 1,500 employees, or 1.6 percent, as it works to lower prices and better compete with mainstream retailers that are making aggressive moves into the natural and organic niche it pioneered.
Profit-hungry investors, eyeing big gains like those seen at so-called fast casual chains like Chipotle Mexican Grill and Shake Shack are closely monitoring a new crop of similar chains, including Mendocino Farms.
Mendocino Farms describes itself as a family business co-founded by the husband-and-wife team of Mario Del Pero and Ellen Chen.
To read more, click HERE.