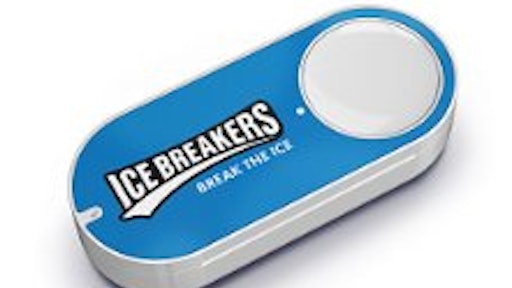 The Hershey Co, announced that its Ice Breakers brand is now available with Amazon Dash Button, a way for consumers to re-order. Amazon Prime members can purchase Dash Buttons for Ice Breakers, making re-ordering as easy as hitting a button. The company expects online grocery sales to surpass $80 billion by 2020.
"Ice Breakers is excited to team up with Amazon to provide our millennial fans this new in-home, e-commerce experience," said Bill Blubaugh, senior director of sweets and refreshments, at The Hershey Co.
Ice Breakers, Hershey's second best-selling brand through Amazon. Ice Breakers brand sales on Amazon.com are up 70 percent year over year, which is growing twice as fast as the U.S. candy, mint and gum category. Additionally, the repeat order rate is 31 percent, more than double the average of other Hershey brands on Amazon.com.
"Having a strong relationship with Amazon has given us the opportunity to participate in their most innovative initiatives, and we are thrilled to be among the brands available through the new Dash Button," said Denise Vivas, director of e-commerce, The Hershey Co. "We continue to expand our partnership with Amazon as the opportunity for confection and snacks in the e-commerce channel grows exponentially – we expect online grocery sales to surpass $80 billion by 2020. It's exciting to be at the forefront of delivering beloved treats to consumers online."
According to Nielsen, more than half of global consumers are willing to buy groceries online, and one-quarter are already doing so. Millennials are most likely to be shopping online today and to use future e-commerce options due to a high comfort level with technology. Most are early in their careers and establishing households, making them an important demographic to reach with innovative e-commerce solutions.