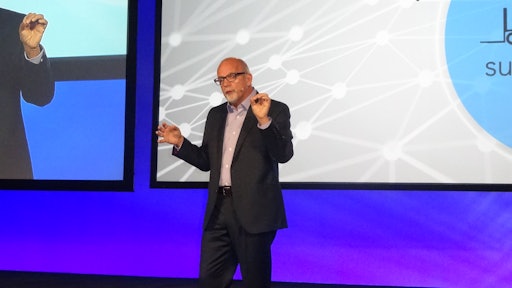 Eddie Capel, CEO and president of Manhattan Associates, made it clear at the outset of Momentum 2015 what his company's goal is in its 25th year. Preparing for the commerce-ready enterprise. In welcoming attendees to the three-day Momentum conference at the JW Marriott Phoenix Desert Ridge this week, Capel took the stage for the general session and gave an overview of the supply chain industry's challenges.
Capel didn't to talk about the millennials or the "Internet of Things" or any of the other clichés that people typically hear about at supply chain conferences. The pressing goal for the supply chain is to become "commerce ready." Capel defines such an enterprise as "a business designed to anticipate and deliver the best customer experience possible."
To this end, Manhattan Associates has invested $50 million in research and development. In the past year, the company has hired 250 employees.
Capel told his listeners – who numbered close to 1,200 – that they represent aggregate revenue of $3.2 trillion. "You're leading the world's economy from this room," he said.
The commerce-ready enterprise depends on three key pillars – inventory, supply chain and the omnichannel. "Products, execution and customer experience," was how Capel summed up these three elements.
A successful commerce-ready enterprise needs two types of management tools: inventory optimization and transportation management, Capel said. He offered an example of a Manhattan Associates customer that has tripled in size in the last decade by harnessing these key tools: United Natural Foods Inc. (UNFI).
He noted that Steve Spinner, president and CEO of UNFI, told the media that inventory optimization was the single most important tool. Inventory optimization allowed the company to increase its inventory purchases which allowed it to meet increasing orders successfully.
Inventory optimization allows a company to improve customer service, Capel emphasized.
Warehouse management systems and transportation management systems (TMS) are also important, he said.
One Manhattan Associates customer benefitted by bringing its TMS function inhouse, Capel said. The company was able to reduce its freight costs. More importantly, they can better assure customers they will honor their transportation commitments. "They're back in control of their own destiny," Capel said of the company.
An important innovation that is giving companies more insights faster is the Internet cloud.
"Cloud technology is going to bring us terrific benefits," Capel said. He said the cloud is allowing companies to gain more insights about their operations.
Call centers will benefit in a big way, he said, which is important given the role that call centers play in customer service. Call centers will have a single view of customer activity across all channels. This will strengthen the call center's ability to provide good customer service.
Store associates will also be empowered with more information that will allow them to provide better customer service. "The poor store associates have largely been left behind," Capel said.
Store associates of the future will be fulfillment experts. They will have access to pricing, promotions, payment options, taxes, and inventory availability across all sales channels. With a full view of the customer across all sales channels, the store associate will be able to provide a more personalized customer service.
Some companies have been able to glean important insights about customer behavior from social media outlets such as Twitter, Instagram and YouTube, Capel noted. Companies have been able to forecast customer needs based on "real-time shifting sentiments," he said.
Mobile technology is another emerging factor in improving a company's ability to provide better service. Mobile tools allow distribution center managers to be more involved with their employees individually. Mobile tools are giving managers a way to be on the floor where important decisions are made. "You ditch that desk," Capel said.
Companies in this article