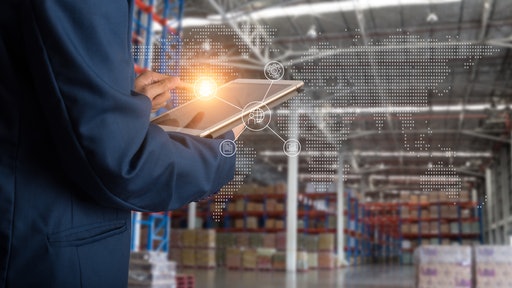 Getty Images
Nearly two years into a pandemic, innovation has proven vital in any business sector, particularly in the industries that keep the supply chain moving. This is because the supply chain industry has complex and unique challenges driven by an ongoing pandemic, but also compounded by an influx of holiday demand and a shortage of workers, equipment and capacity. For the cold and beverage supply chain – one with a critical need for speed, efficiency and safety – these challenges must be addressed as quickly as possible.
That's where technology comes in. It would be easy to feel discouraged during a challenging time in the industry. However, as we work together to solve today's pressing issues, we can and should feel encouraged about the ongoing innovation taking place. And as we look to 2022, there are 10 key technologies driving a safe, efficient and reliable global cold and beverage supply chain.
1. Payments automation
By and large, a majority of supply chain payments and invoices are made on paper, which can be inefficient, error- and fraud-prone. Automated, modernized and contactless payment solutions emerged with new importance during the pandemic as they allow users to get paid quickly while maintaining social distance. These technologies enable safe and efficient transactions and provide visibility into the payments process that the industry needs to maximize revenue. In the cold chain ecosystem, efficiency is the priority. With solutions emerging that closely mirror consumer payment experiences, drivers and warehouse workers will benefit from time and money saved.
2. Warehouse and distribution center automation
Warehouse and distribution center automation encompasses a wide range of technologies – from mobile tablets and smartphones to software applications, APIs and cloud databases. The goal of leveraging these technologies is to eliminate the repetitive, process-oriented tasks taking time away from warehouse employees and automate them to increase productivity and efficiency. Technology-driven automation in cold chain warehouses drives fulfillment, picking accuracy and helps get food and beverage into the hands of consumers faster.
3. Robotics technology
Along with software innovation for warehouse automation, robotics technology will continue to drive the cold chain into 2022. In fact, the robotics market is expected to grow at a compound annual growth rate of 10%, reaching almost 70.6 billion U.S. dollars by 2028. Robots can prove incredibly helpful in managing inventory from the warehouse to the shipping zone, improving the efficiency, speed, reliability and accuracy of moving products.
4. Packaging innovation
The process of cold chain packaging is vital in maintaining a consistent product temperature. Even a slight temperature variation can render a perishable product unsafe for consumption. From a consumer standpoint, 31% of U.S. households now use an online grocery pick-up or delivery service in response to social distancing protocols. The past year has also seen new demand for prescription drugs and vaccines to be dispersed to a wider-ranging population, requiring innovation in cold chain packaging. As we think about trends driving the cold chain in 2022, it's worth keeping tabs on how perishable products are prepared for transport.
5. Internet of Things (IoT)
Until recently, cold storage managers and operators had to be physically present inside a cold storage facility to monitor product. Today, IoT has an important role in the cold chain system, creating the ability to monitor devices and provide live data about product temperature and location. The cold chain also requires a high level of maintenance – from warehouse refrigeration systems to frozen distribution centers. IoT presents an opportunity for a higher level of analysis and decision making, effectively boosting efficiency.
6. Artificial intelligence and machine learning
Machine learning and artificial intelligence (AI) technologies provide holistic visibility into the cold chain process by processing large volumes of real-time data. This data then drives improved decision-making. Challenges like inventory management, quality and safety, pricing and cost inefficiency can all be addressed while optimizations in predictive analytics, error reduction, fraud prevention and warehouse management can be realized. For example, traditional metrics such as incident rate in a warehouse only track issues after they've occurred. Predictive analytics from AI and machine learning can track safety using data, preventing dangerous incidents altogether. The supply chain use cases for AI and machine learning are numerous and will only continue into 2022 as we address pandemic-related challenges.
7. E-commerce platforms
After the onset of the pandemic, many grocery shoppers pivoted to digital shopping habits, opting to have groceries and pharmaceuticals delivered directly to their doorstep. As retailers continue meeting increased digital shopping demand, the cold chain plays a crucial role in fulfillment. Beyond pandemic buying behavior, consumer e-commerce platforms will continue impacting the cold chain industry and force necessary upgrades for the sake of fulfillment.
8. Onboarding solutions
In the United States, there's a drastic labor shortage impacting businesses in every sector. From a supply chain perspective, there's a lot of visibility into ongoing driver shortages, but there's less emphasis on the labor challenges felt at other points of the logistics and transportation supply chain process. Warehouse workers, inventory controllers, transport administrators and logistics managers are all crucial to a seamless cold chain. With today's labor shortages, businesses need to onboard new staff quickly and effectively. Solutions that support an expedited onboarding process make sure employees are equipped to hit the ground running and keep the cold chain moving. Additionally, a proper onboarding experience supported by technology increases the likelihood that 69% of employees stick with the business for three years.
9. Training and professional development solutions
On the flip side of onboarding, businesses in the cold chain need to invest in ongoing training and professional development solutions to retain their staff. Coined "The Great Resignation," the pandemic ushered in a widespread trend of a significant number of workers leaving their jobs. This is happening for a few different reasons, including lack of flexibility, instances of discrimination, not feeling valued, insufficient benefits and a lack of support for wellbeing. As cold chain organizations work to attract top talent, innovative technologies that help maintain a steady workforce will always be necessary.
10. Cybersecurity
Of the many lessons we could take from the last two years, the need to strengthen cybersecurity ranks high. The supply chain depends upon networks of digital systems and are embedded in nearly every aspect of the supply chain process. Technologies that mitigate risk will be increasingly prominent in the industry, impacting how we think about these systems, employ them and monitor them for anomalies. As we live, work and operate in an increasingly digital world, expect to see an increase in dedicated resources to security.
A seamless supply chain powered by innovation
In an industry historically technologically underserved, the future of the cold supply chain is undoubtedly marked by innovation and industry collaboration. The ecosystem is ripe for change, eager to create new efficiencies, uphold safety demands and increase profitability. While this list of ten technologies is by no means exhaustive, they have and will continue to drive the cold chain forward.