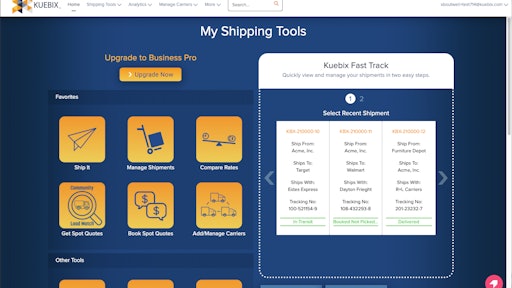 Kuebix
Transportation management systems (TMS) have been changing the cold chain landscape for quite some time. From tracking and tracing shipments to providing real-time transparency, the flourishing e-commerce industry, availability of the Internet of Things (IoT)-enabled solutions and the simplifying of supply chain processes continue to escalate the demand for TMS systems, according to IMARC Group.
Case in point: The North American TMS market is poised to grow by $1.62 billion during 2020-2024, progressing at a CAGR of 9% during the forecast period, according to a Technavio report.
And, research from Odyssey Logistics & Technology shows TMS plays a critical role in increasing shipping transparency, improving risk mitigation, automating cost management, closing the customer communication gap and maintaining remote work capabilities during and after the Coronavirus disease (COVID-19) pandemic.
As a whole, the research anticipates shippers spending an average of $60 million on domestic freight in 2020. Respondents said that accessing shipment status information (81%) and transportation cost analysis by lane and mode (70%) were highly important for their shipping operations, and their top major challenges were visibility, track and trace (42%) and communication with customers and carriers (37%).
"A TMS acts as the nerve center in food logistics, as it offers both the shipper and receiver clear visibility across the full lifecycle of an order," says Mike Kukiela, vice president and general manager, supply chain management for Schneider. "Based on wide-ranging variables, a TMS selects the best carrier at the optimal rate. It also provides the additional benefit of managing metrics and KPIs, as well as producing data for analytics and reporting that is critical for continuous improvement initiatives. With streamlined visibility, a well-developed and connected TMS keeps everyone's food delivered on time and safely."
Today's food and beverage companies have some of the most complicated supply chains, according to Dan Clark, founder of Kuebix and vice president of product innovation and strategy for Trimble Transportation.
"They have many unique characteristics like tight margins, fresh produce that can spoil, expiration dates that need to be monitored, complicated inbound requirements and so much more," he adds. "Getting the right volume of products at the right time and at the right location is no easy task. Visibility into and control of supply chain processes allow food and beverage businesses to address these challenges while meeting business goals. Without a TMS in place, many food and beverage companies would find their operations grinding to a halt or freight spend skyrocketing. Technology is essential for an industry that measures margins by the penny per case."
For its part, Kuebix developed Community Load Match, which connects shippers with Trimble's network to meet truckload needs in one platform. [Trimble Transportation acquired Kuebix earlier this year].
"Visibility tools are becoming more user-friendly and accessible, helping to connect shippers with carriers and any stakeholder that touches a shipment," says Clark. "Now, a food or beverage shipper can track their orders in real time by connecting their TMS with their fleet or carriers' on-board GPS or ELD systems. Logistics professionals can even monitor on-board temperatures in real time via their TMS with this type of advanced technology. And, if a carrier doesn't have an onboard tracking device that can ping the TMS with tracking data at pre-determined milestones, drivers can access mobile apps from their phones to make delivery status updates and even send pictures or claims back to the shipping clerk in real time."
Earlier this year, Schneider collaborated with Blue Yonder to deliver a new carrier marketplace within the Blue Yonder TMS that pairs the power of dynamic pricing and visibility with the reliable, comprehensive solutions of Schneider's portfolio. The frictionless digital experience also improves overall performance and speeds up the management of operations (e.g., booking and tracking loads).
"Leaders in food logistics are looking for the ability to redesign networks on the fly," says Kukiela. "The flexibility to shift a supply chain at a moment's notice to meet any disruption allows for a more dynamic distribution model – delivering better results and exceeding customer expectations. TMS-enabled visibility not only tracks and traces freight, but also monitors the temperature and minimizes the risks of each load in transit."
A global survey by Smeal College of Business at Pennsylvania State University reveals that 38% of shippers and 67% of third-party logistics providers were investing in a transportation management system in 2018. That was two years ago.
Fast forward to present day and imagine automatic data-sharing between enterprise resource planning systems, warehouse management systems, electronic logging devices and mobile devices.
"Future TMS technology will fully integrate predictive analytics and big data to deliver superior optimization and inventory management," says Kukiela. "The ability to connect multiple networks via blockchain-enabled technology gives food shippers an advantage in delivering their products in a diverse and shifting marketplace. TMS technology will continue to improve the customer experience through voice-enabled functionality, giving shippers and customers the ability to manage on the move. TMS applications will include modular components that are unique to each supply chain, giving end users the ability to design from the ground up and expand their connectivity and use cases."
The future of TMS involves TMS connecting everything with everything, says Clark.
"Think of the IoT, but just for the supply chain. Imagine direct connections being forged between shippers, carriers, brokers, 3PLs and digital freight marketplaces all while still maintaining those crucial personal connections. This kind of connectivity will lead to optimal asset utilization and transportation efficiency," he adds. "In this highly connected future, food and beverage companies will be able to communicate with key stakeholders at a moment's notice or even ahead of time with predictive analytics. When all stakeholders in the food and beverage supply chain are connected and work together, everyone will win."
Companies in this article