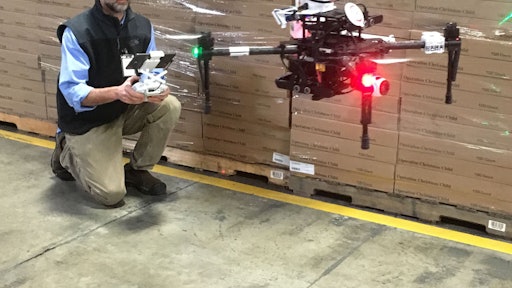 Supply chain innovation has always been a thought-provoking topic, but even more so in today's technology-driven environment. From drone delivery to driverless trucks, we see these emerging technologies taking over the headlines and making waves across the industry. This is an exciting time where the "innovations of the future" are becoming reality—and as supply chain leaders, we're excited to see where they will take us. They have the potential to address and solve the complex logistics issues of today. This is especially true in food logistics, as factors such as operating temperatures, expiration constraints, and product safety compound the complicated supply chain management landscape.
Despite the exciting technologies that are on the horizon, supply chain leaders cannot lose sight of what's important for their company's needs right now. For all the attention they're getting, how many supply chain leaders are actually using these new technologies at this exact moment? And how are they ensuring they remain on the forefront of innovation? Partnering with a forward-thinking third-party logistics provider (3PL) is an important step in monitoring the pulse of innovation.
For 3PL providers, it's critical to understand what supply chain leaders are looking to invest in—and how to be prepared for innovation as it continues to evolve. Gaining a deeper understanding of how supply chain leaders define innovation, which technologies they think will be most impactful, and what their plans are for the future is essential for the food logistics industry to remain on top of the innovations of today and tomorrow.
It's clear supply chain leaders are currently taking a more measured approach in adopting new solutions for their supply chain. According to a recent survey on the State of 3PL Innovation, when asked which areas leaders are planning to invest in, the top three areas of interest are:
Supply chain visibility.
Robotics and automation.
Sensors/Internet of Things (IoT).
Supply Chain Visibility
The supply chain is complex, and it's imperative to have true insight at every step of the way. This is especially critical in food logistics. From understanding real-time location of cargo to ensuring temperature tolerances are met in transit, getting the product to consumers in an optimum state is paramount. According to the Centers for Disease Control (CDC), one in six Americans get sick due to food safety contamination annually. Food supply chain leaders must have better visibility to key touchpoints in the transfer of inventory to combat this.
Interactivity in the supply chain is a must. There is a wave of new startup software companies that provide platform connectivity for supply chain execution software, to connect the data points and provide a seamless flow of shipment information across multiple vendors and systems. Looking ahead, there is promise with blockchain to provide authoritative control point capture of data at each critical handoff of the food product in the supply chain, while also reducing fraud.
Robotics and Automation in the Food Chain
Automation can positively impact food safety and reduce recalls, where higher accuracy in track-and-trace will more quickly identify potential problems. Automation also can improve the on-going issue of SKU proliferation, as it's driving up costs with increased complexity on traditional labor.
Robotics and automation involved with the contact of food handling also is safer, as human interaction has a higher rate of error and chance of contamination. With the ability for robotics to work both consistently and quickly inside of freezers and clean rooms around the clock, operations will improve efficiencies in the food supply chain.
The highest rate of success when implementing automation solutions comes with installing a Tier 1 warehouse control system. This can maximize storage capacity, reduce labor requirements, improve inventory accuracy, and enable high volume first-in first-out (FIFO) rotation.
Implementation of IoT and Sensors
The advent of IoT and the deployment of sensor technology has the potential to provide more data at key touchpoints and milestone transactions that impact food safety. Sensors can capture and transmit data in near real-time for anytime, anywhere access. Supply chain leaders should use these technologies to monitor, until the exception occurs—then they have the ability to make smart, fast, decisions to take corrective action.
Up to 32 percent of food is a loss in the United States alone; reducing this number with environmental tracking and prevention could save millions—and IoT and sensors can help do so. The key to success is choosing a reputable company, setting proper standards and installing a platform for connectivity of all systems. Companies must also have the means to take the millions of subsequent data records and consolidate those into actionable decision points.
The Future of Innovation
By defining the key challenges and testing to determine the impact of evolving innovation, organizations in the food logistics industry will be able to transform existing processes into more efficient operations. It's essential for 3PL providers to be aware of and develop knowledge on both innovations for today, and of tomorrow, and provide prototyping opportunities for their customers to prove value. Ninety-four percent of the State of 3PL Innovation respondents felt it's important for their 3PL provider to have a competency in technology and innovation, and more than half expect their 3PL provider to be investing in innovative technologies.
Supply chain leaders are looking to their 3PL to be thought leaders on emerging technologies and educate them on growing industry trends, such as automation and robotics, for safer food handling or the automated palletizing of mixed cases.
As 3PL providers, it's essential to not only research and pilot these innovations, but also have the information needed to share recommendations for customers and answer any questions that might come up. Customers and other supply chain leaders will look to their 3PL provider for insight and education on what makes sense for their organization in that moment, and what emerging technologies they should consider down the line. Be their voice of reason, and be ready to provide expertise on supply chain impact.