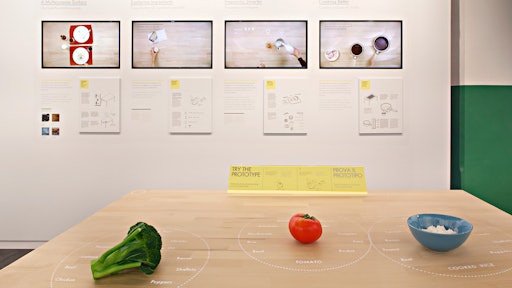 It's dinner time at Jane Q Consumer's house. She takes a leftover roasted chicken and a tub of leftover peas from the refrigerator and sets them on the kitchen counter. A camera imbedded in the wall scans the food and within minutes, four recipe options appear on a countertop touchscreen, each designating the required prep time. She selects the Mongolian "hot pot" and a recipe appears with cooking instructions.
As she busies herself preparing a Thursday night meal, the touchscreen quietly sends an updated inventory of her refrigerator to a central server in the Internet cloud. Later that evening, she notices a text message alerting her to coupons to consider for his weekly home food delivery.
By Friday morning, Jane Q has sent in her weekly shopping list on her grocery app. Her poultry order goes to a local butcher. Her vegetables, beverages and frozen food requests go to a supermarket. Her espresso order goes to a specialty coffee roaster two states away.
Up in the cloud, a host of grocery brands update Jane Q's personal profile and send the information to various databases. Grocery marketers who subscribe to these databases download reports periodically for marketing and product development.
Visions of the future? The scenario described reflects only some of the changes the Internet of Things (IoT) is bringing to the food and beverage (f&b) supply chain.
By 2020, the "connected kitchen" will leverage analytics from sensor-based data and save at least 15 percent of the world's food and beverage costs, according to Gartner Research, the Stamford, Conn.-based research firm.
"The connected kitchen creates digital business opportunities at several levels in the food supply chain and retail food service," says Satish R.M, a Gartner principal research analyst. "A real-time inventory data collection from sensors related to kitchen ingredients enables automated generation and ordering of shopping lists, resulting in a streamlined and efficient inventory and optimized supply chain management."
Earlier this year, a fast food chain overseas used the connected kitchen concept to deliver consistent quality across its restaurants. Sensors were imbedded in food preparation equipment to monitor the french fryer oil temperature, cooking time and drain time. The solution reduced wait times for customers and delivered higher throughput at the restaurants. Revenue increased and return on assets improved.
The restaurant did not supply the data to its supply chain, but this would be a logical continuation, notes Ralph Rio, research director at Dedham, Mass.-based ARC Advisory Group who is familiar with the case study. The sensor-based data could be used to program a replenishment order once potatoes go into the fryer.
"That would be an interesting enhancement; they certainly have the capability to do it," Rio says.
Welcome to IoT, an environment where smart sensors imbedded in various tools – appliances, vehicles, pallets, cases and even individual products – enable sensors to share information with each other and to a back office over the Internet. This data can provide intelligence to make better business decisions on farms, on factory production lines, in warehouses, in retail outlets and even in the home.
The capabilities being unleashed are still in their infancy. The McKinsey Global Institute's recent report, "The Internet Of Things: Mapping The Value Beyond the Hype," notes that most IoT data currently in use is for security alarms and monitoring devices. But in the near future, IoT will improve order optimization for retailers, wholesalers and manufacturers. And where much of the current IoT use is for consumer applications, business-to-business applications will more than double consumer use.
The promise of IoT – which New York City-based McKinsey defines as sensors and actuators connected by networks to computing systems – is already taking hold in the food and beverage (f&b) industry. According to ARC, f&b leads all industry sectors in global warehouse robot market revenue since 2014 and will continue to do so through 2020. (See chart on page XX.)
For retail, the two biggest drivers of IoT are the "connected consumer" as described above, and operational analytics, according to Michael Day, retail global program director for industry marketing solutions at Teradata, the Dayton, Ohio-based analytics provider.
Data analytics, in combination with mobile apps, can guide consumers to an item they find online and text a coupon for them to redeem at a physical store.
The technology can also generate data to improve store layouts, allow fully-automated store checkout, and fine-tune inventory using automated shelf replenishment and real-time inventory monitoring. Sensors can track the weight or height of items in inventory and trigger automatic reordering based on specific conditions.
Most Significant: Equipment Maintenance
One of the most significant changes ahead for the retail supply chain is predictive maintenance of equipment, says Scott Collen, Teradata's senior business consultant for transportation and logistics. Warehouses in particular will glean measurable data from automated cranes, conveyors, sorters and lift trucks.
Route optimization is another area where sensor technology will yield major dividends, Collen says. Electronic on-board recorders (EOBRs) and sensors will deliver savings for truck fleets in improved routing, reduced idling, improved maintenance, fewer accidents and better fuel management.
For Collen, the most interesting aspect for fleet optimization is personalized estimated time of arrival (ETA). He says UPS is already using an integrated routing system that offers ETA.
Data analytics will also help rail carriers comply with the government-mandated Positive Train Control (PTC), a system of controlling train movements to prevent accidents. "Analytics can help pay for the PTC mandated investment," he says.
Sensors will eventually be imbedded in all trucking fleets, at the warehouses and in stores. When coupled with other data, like weather, supply chain execution decisions will become more accurate. Deliveries will be improved and customers alerted to order changes immediately.
Collen cited a study that estimates IoT analytics in the logistics industry will deliver the following savings through 2025: $460 billion in routing, $50 billion in driverless vehicles, $131 billion in predictive maintenance, and $46 billion in productivity.
Data analytics to enhance many areas
"The science of (inventory) assortment is still evolving," says David Ciancio, senior customer strategist at Dunnhumby, a North American-based customer science company.
Ciancio is one of many observers who thinks data analytics will make the biggest difference in improving customer experience. But this is not divorced from inventory assortment, which relies on the supply chain.
One goal of the Food Marketing Institute's "Collaboration 2.0" project is to unify the supply chain to "close the loop" on out of stocks, overstocks, distribution voids and supply chain disruptions. A key step for retailers and suppliers alike is to get a unified view of distribution and use analytics to identify inefficiencies.
Ciancio, formerly corporate vice president of loyalty at Cincinnati, Ohio-based Kroger Co., says suppliers need an accurate view of inventory throughout their supply chains in order to make use of the more sophisticated shopper level insights that data analytics provides.
One of the best examples of how IoT directs the supply chain to support a customer engagement initiative was the Pepsi Frozen Face Off Promotion last year in the Twin Cities. Pepsi Bottling in Burnsville, Minn. equipped its entire fleet of 2-liter shells with Rehrig Pacific Co.'s engagement-enabled shells. Pepsi promoted the mobile offer for discount hockey tickets on Pepsi-branded shells in Target stores.
Rehrig Pacific, based in Los Angeles, Calif., managed the customer data and delivered the content. The company combined 2-dimensional QR barcode and NFC-enabled shells. The customer response to this promotion surpassed that of previous direct mail, post cards, email, display ad and paid search campaigns.
Another benefit of the campaign, which is currently expanding, is that it allows Pepsi to track the shells since the NFC provides real-time information for each shell, says Kaley Parkinson, Rehrig's director of applied technology sales.
Rehrig is also exploring the potential for the use of NFC data for measuring freshness at Walmart. The NFC data generated could optimize transportation routing and reduce waste.
Parkinson stresses that deploying new technology in the supply chain is not easy. "The art is in the deployment," he says. "It's really in the system implementation, not the technology. If you do it wrong, it's really expensive. It's taken us a while to figure out what its limitations are."
Several grocery retailers are attaching sensors to reusable plastic crates that allow tracking of produce as it's picked in the field, says Marc Wulfraat, president of MWPVL, a Montreal, Canada-based supply chain consultancy firm. The plastic crates replace the corrugated boxes that have to be disposed of. "It's a way of eliminating cost from the system and it works well when the distribution center is positioned geographically close to the farmer's field, " Wulfraat says.
Energy management in warehouses is an area where IoT is expected to have a significant impact, according to Daintree Networks, a Los Altos, Calif.-based provider of building control solutions. By equipping material handling systems, electrical systems, HVAC systems, lighting fixtures, fan controls, water run-off controls with sensors, warehouses can save energy.
Amazon pioneers IoT in DCs
Amazon, with its highly-automated fulfillment warehouses, has pioneered IoT in e-commerce. Electronic sensors allow Amazon's Kiva robots and laser-guided vehicles to navigate throughout the warehouse. The Kiva robots move portable racks, known as pods, for order picking throughout the warehouse. The system has eliminated the need for human order pickers to travel to pick orders.
When an Amazon customer places an order, the system locates the requested product(s) in the DCs. The system assigns priority for each order based on customer delivery needs. The Kiva robots locate the appropriate pod and move it to a picking location to prepare the order for shipping. After the picker takes the item from the pod, the robot transfers the pod back to a storage area or wherever it is needed next.
Such integrations can only work if the wi-fi network is robust enough to carry all the data traffic and the order optimization can handle it, notes John Rosenberger, manager of iWAREHOUSE Gateway and global telematics for Raymond Corp., the Greene, N.Y.-based material handling solutions provider. The warehouse management system (WMS) must know where the lift trucks are in the warehouse and the system must know where all the products are. "You have to have guidance," he says. "You don't want to pick the wrong stuff."
Rosenberger concurs that Amazon has done an excellent job mining warehouse data to improve efficiencies. One measure of this is the number of times a delivery vehicle – be it a Kiva robot or a laser guided vehicle — moves without any product. "Within the warehouse, you don't want to move (a delivery vehicle) empty," he says.
Order optimization is improving because thanks to indoor GPS, the WMS now knows where the lift trucks are at any given time.
Lift truck manufacturers are taking a cue from delivery vehicle manufacturers by introducing onboard computers to enable more efficient management.
The warehouse operation falls under what Raymond Corp.'s Rosenberger refers to as "inside IoT."
Analytics support new applications
The "outside IoT" refers to activity outside the warehouse and is an area Rosenberger says offers a range of possibilities. One example could be the Kroger "smart shelf," a plastic screen beneath the shelf in the store that displays the price and other information that the store can now change remotely. USA Today reported on this test in October.
With the right analytics, the company can choose to change the price for an item to move it faster. "I'm replacing that person having to change the price," Rosenberger says. "I did nothing as a human to make that happen other than program it. It's just software."
IoT has already launched a new phase of factory automation called "Industry 4.0," which describes the digitization of production processes, the McKinsey report notes. This includes using data from production machinery to adjust workflows by remotely tracking, monitoring, and adjusting machinery.
In a manufacturing environment, predictive maintenance deploys sensors to monitor machinery to prevent breakdowns and determine when maintenance will be required, rather than regularly scheduled maintenance. IoT can improve inventory management by automatically restocking bins based on weight or height data recorded by sensors.
IoT can further improve manufacturing productivity by using sensor data to evaluate tasks. By equipping workers with badges and tags, manufacturers can track activity to better understand how each function works.
Predictive agriculture progresses
On the farm, sensors eliminate much of the guesswork from planting and harvesting. Connected via the cloud, sensors report weather conditions, humidity, temperatures and wind speeds. The data enables actionable insights and helps increase crop yields.
A grower can create a barcode or RFID tag for totes holding a newly-harvested crop. The code or tag enables product tracking throughout the supply chain: from the farm to the processing plant; from processing plant to wholesaler; from wholesaler to retailer; retailer to consumer.
In the farming sector, IoT applications are oftentimes known as predictive agriculture. Growers use sensors to monitor production conditions, shipping time, temperature and freshness. RFID tags are a playing a growing role in the food chain.
According to McKinsey, sensor-based data can guide a seeding machine to the optimum depth based on soil conditions at specific field locations and increase yields by up to 25 percent. IoT applications also include using sensors to determine when to irrigate and spray insecticides. Health monitors on livestock can help avoid losses and improve productivity.
There are numerous tools being developed to improve agricultural production. (See story on page XX.)
Arial imaging technology will allow Toronto, Canada-based McCain Foods Limited to know the most opportune times to apply fertilizer and pesticides to potato plants, says Lenny Colborne, manager of enterprise analytics architecture for the company. "More than ever, it is fueling our competitive advantage," Colborne says. "We are not yet a 'big data' company, but we know we have to get there."
Overstock.com, the Salt Lake City, Utah-based e-retailer, has been able to match customer zip codes with farms for its Farmers Market operation using geo-mapping software and census records, says Jeff Sugden, senior business intelligence developer. Visualization software allows the company to gain business insights that would not be available using traditional charts and graphs.
IoT improves safety
IoT also brings health and safety benefits to the f&b supply chain.
McCain Foods Limited has been able to gather and analyze injury information much faster, says Colborne. This enabled them to develop a safety plan that reduced injuries by 75 percent.
Sensors imbedded in rodent traps alert maintenance staff in food warehouses, says Mark Smith, CEO at Bend, Ore.-based Ventana Research.
Toyota Material Equipment Handling's "T-Matics Mobile" and "Command" systems are hosted wireless solutions for managing lift trucks that allow a warehouse manager to monitor peak activity times, impact occurrences, etc. "It leads to awareness, improved safety and cost savings, knowing that impacts are being monitored," says Jewell Brown, national manager, fleet manager/telematics.
More data brings challenges
The growth in sensors is creating more data while new software is allowing businesses to make greater use of the data. One of the biggest challenges for most companies is how to make use of all the new data. SKU proliferation, which is being largely driven by online commerce, further compounds this challenge.
IoT challenges include ROI, technical education, data security and privacy, integration of different databases and software systems, and management and prioritization of geometrically-expanding data.
The biggest challenge of all, according to the McKinsey report, is interoperability of devices and systems. Linking a monitor to an informatics system, for example, can be a challenge that requires coordination on different levels such as technology, capital investment and organizational change.
Companies of all sizes can deploy sensor analytics, Teradata's Collen says. He says companies should first decide what business areas make the most sense. Then a company needs an internal analytics oriented leader who can work with their technology partner(s).
To remain competitive, the McKinsey report notes companies will need to collaborate with technology and data vendors.

Ikea Kitchen Concept 2025 Uses Sensor Technology To Optimize Space
Furniture retailer Ikea's Concept Kitchen 2025, recently displayed at the Ikea Temporary gallery in Milan, Italy, is designed to allow more to be done in a smaller space and to economize the use of natural resources. IDEO, a global design firm with a focus on human-centered design, teamed with design students from the School of Industrial Design at the Ingvar Kamprad Design Centre at Lund University, and the Industrial Design department at Eindhoven University of Technology.
The kitchen appliances are equipped with sensors, CPUs and transmitting devices that enable communication with the user and with each other, creating self-regulating systems.
"You get to the point where your food pantry and fridge almost become redundant: with a short-enough delivery window, the Amazon warehouse essentially becomes an extension of your kitchen," says Marty Brown, IDEO communications design lead. "What are some of the consequences of that? Well, one is that you need less room in your kitchen for food storage, and there's an opportunity to make the food storage that you do have more about optimizing quality – than maximizing quantity."
"The big questions are, how fast does delivery need to be before people don't need any home food storage?" Brown asks. "How does the supply chain flex to allow for these micro-delivery moments? Less waste at home is great, but if all that means is there's more waste in the supply chain, then we haven't really progressed at all."
Overstock.com Deploys Analytics Companywide, Reaps Benefits
Deploying data analytics requires the commitment of a company's leadership and it has to be embraced by everyone. To utilize the benefits that data analytics can bring, an organization usually needs to integrate departments that oftentimes operate independently of one another. This was the experience of Overstock.com, the e-commerce retailer.
Nicholas Humphreys, senior director of enterprise business intelligence, says that a year and a half ago, different departments were working with data analytics. Around this time, the company decided it wanted data to play a role in decision making and enacted structural changes to support this direction.
One change was for analytics to be visible to the company's executive leadership. The analytics managers reported directly to the CEO.
The company also committed to deploying automation in its warehouses.
The use of data visualization tools has allowed the company to not only gain better insights into its business, but to reduce duplication of many tasks.
Data visualization tools have also given employees a stronger sense of ownership for their reports. Humphreys says analysts are now going above and beyond what they are instructed to do in order to find ways to improve company performance.
Advanced Surveying Technology Monitors Salmon Watersheds
The Columbia River Inter-Tribal Fish Commission uses advanced surveying technology to fulfill its goal of improving habitat conditions for salmon in the Grande Ronde River basin in Eastern Oregon. The commission has improved its ability to monitor habitat using total station surveying equipment to create three-dimensional maps of stream reaches.
One worker walks the stream and selects points to measure that outline the general topography of the stream such as the water's edge, the deepest point in the stream, and bars and islands. The worker uses a surveying rod with a prism to identify the location of each measurement point. An additional team member uses a Topcon total station, a type of electronic distance meter to measure the distance and angle to the prism.
The points collected by the total station are uploaded onto a computer and processed using geographical information system (GIS) to create a three-dimensional representation of the stream or a digital elevation model (DEM). This DEM then analyzes with specialized software tools to generate a series of metrics that describe the condition of the fish habitat. The total station surveying equipment provides more accurate and repeatable measurements of fish habitat than using conventional stick and tape methods and allows for efficient calculation of habitat metrics.
Watershed restoration aims to improve fish habitat by creating pools, increasing habitat complexity, providing cover from predators and high flows, reducing water temperature through vegetative shading, and restoring stream processes.
"We can get very accurate and highly repeatable measurements of the stream channel," says Casey Justice, an aquatic habitat scientist for the commission. It allows the team to retest conditions at different times to measure changes.
The commission is participating in a large regional program called Columbia Habitat Monitoring Program, which has collectively surveyed 15 watersheds in Columbia River basin, with a goal of expanding to 26 watersheds in the future. CHAMP has ordered 15 Topcon stations from Rocky Mountain Transit, an equipment dealer based in Salt Lake City, Utah.
Prior to using the Topcon station, the data was less precise and it was difficult to quantify habitat changes, Justice says.
For more information:
ARC Advisory Group, arcweb.com
Dunnhumby, dunnhumby.com
Food Marketing Institute, fmi.org
Gartner, gartner.com
IDEO, Ideo.com
McKinsey & Co., mckinsey.com
MWPVL, mwpvl.com
Raymond Corp., raymondcorp.com
Rehrig Pacific Co.
Teradata, teradata.com
Topcon Positioning System Inc., topconpositioning.com
Toyota Material Handling Co., global-toyotaforklifts.com
Ventana Research, ventanaresearch.com
Companies in this article