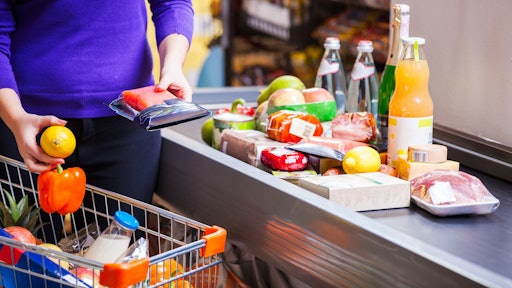 Andrey Bandurenko
From undeclared allergens to metal contamination and the presence of salmonella, listeria or other bacteria, food recalls continue to challenge the food industry today. A reported 1,010 food recalls took place between 2017-2020 that quickly pulled items from shelves, and in 2021, we saw this play out for numerous brands and several meat and vegetable-related products.
For consumers, the impact that a recall can have on their wallets can be quite substantial. If strong demand for products remain high and limited supply is available, prices can skyrocket – just look at iceberg lettuce prices in 2018, where it increased by 168% following a romaine lettuce recall and even salad kit prices even tripled. Of course, increased prices are just one of the few fallouts for shoppers. Fears of risked exposure and sickness, along with wastage can sometimes permanently damage brand loyalty and willingness for repeat purchases.
For food producers and retailers, the cost of a recall can be astronomical. According to a study by Grocery Manufacturers Association, Covington & Burling LLP and E&Y, 77% of food, beverage and consumer product companies can experience as much as $30 million on average in lost sales and direct costs, though some have proven even more detrimental, at $100 million or even $1 billion.
While unexpected recalls are often looming for consumer packaged goods (CPG) brands, grocers and their category managers, there are several ways they can be well prepared for if (and when) an incident occurs.
It's all about the forecast
One of the most important "ingredients" for an effective strategy is deep, relevant value-driven data, which includes rich intelligence that captures everything from sales, consumers, loyalty, retailer EPOS and third-party data – plus any external industry or event-related data. However, many CPGs today are using outdated methods, "black box" off-the-shelf planning solutions, manual numbers-crunching or, more often than not – gut instinct – all of which are inhibiting their abilities to make well-informed decisions surrounding their strategies.
Without the right infrastructures in place to capture data, combined with a lack of smart technology to analyze it at scale and limited visibility and foresight – planning ahead can prove incredibly challenging. Eliminating the need for tedious and resource-draining manual efforts and replacing it with artificial intelligence solutions to create forecasts and continuously process billions of data points in the blink of an eye can provide the much-needed comprehensive view to visualize all current impacts to products and any future changes to a product mix, including that of a potential recall.
To ensure these forecasts are accurate, companies need to have the right inputs and triggers in place, including scenarios such as out-of-stock products, inflation and other price changes, cross-elasticity and omnichannel strategies. With this, they can optimize assortments and shelves, have full visibility into any potential changes to their product mix and quickly take action on the proper steps to swap in alternative items and fill any gaps if a recall or other disruptive event should arise, which is especially important for perishable food products where speed directly correlates to success due to the products' shorter lifecycle. Having this flexibility with the help of artificial intelligence (AI) will, in turn, drive greater optimization, success and even a potential 10% revenue growth. What's more, outside of a recall situation, brands can greatly improve customer experiences by ensuring the right products are on shelves where and how consumers want them.
Evaluating portfolios
Once brands have the right infrastructure in place to capture the most valuable data and the right technology to analyze and action against, they can start evaluating their products on a much more strategic level. By having greater visibility into shopper trends, product performance and impacts to their assortments, they can start analyzing the saturation within the hierarchies of their products, i.e., categories and subcategories and best determine the products that are high-performing and driving greater traction with customers compared to those that are diluting brand equity and holding it back from more optimized results.
Not only will this help companies improve innovation and drive greater profitability on a continual basis – i.e., by replacing, removing or introducing new products – but, in the face of a crisis situation like a recall, they'll also have a deep and clear understanding of the product mix and key trends in order to swiftly and intelligently swap items where it makes the most sense and where it won't hurt their bottom lines or customers' brand loyalty.
Recalls can be a daunting situation for any major CPG brand and the retailers that house their products, but one of the most key components to successfully navigate this is being as prepared for the unknown as possible. With the right technology, data and analytics, category managers can streamline and automate their decision-making process and optimize profitability and brand loyalty to keep consumers coming back.