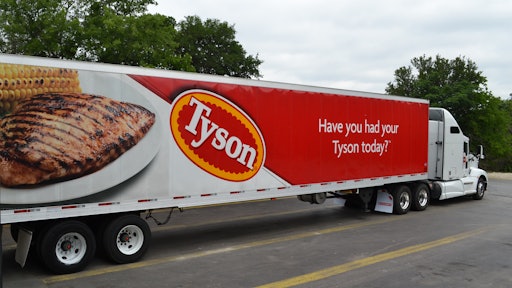 Tyson Foods will leverage FoodLogiQ technology Connect's Manage + Monitor product to streamline its global supply chain visibility, supplier management and quality issue tracking and reporting.
Tyson Foods' selection of FoodLogiQ Connect for its supplier management needs was a natural progression of its developing relationship with FoodLogiQ, says Dr. Scott Stillwell, senior vice president of food safety and quality assurance for Tyson Foods. The meat processors food safety team recently joined a number of well-known food industry leaders as a participant in FoodLogiQ Lab's new Blockchain pilot. Meanwhile, the Tyson Ventures team, the venture capital arm of Tyson Foods, is one of several companies to provide investor funding to FoodLogiQ during its B round of investment. Both teams were impressed by the FoodLogiQ product and its focus on mapping the world's food supply chain.
"Tyson Foods and FoodLogiQ are aligned in our commitment to food quality, safety and transparency," says Stillwell.  "We're both innovators within the food industry, always staying in front of emerging food and technology trends, and both believe in providing superior products to our customers. Tyson Foods strives to work with business partners who help us elevate and enhance our performance, and we look forward to working with FoodLogiQ."
Tyson Foods will utilize the FoodLogiQ Connect platform to:
Centralize supplier documentation to meet Tyson's corporate quality standards and to facilitate new product evaluations.
Track and report on quality issues across their supply chain and address those issues with suppliers directly to drive product quality.
Leverage data-driven reporting to help make informed decisions about food quality issues, supplier performance and expiring documents.
"The name Tyson Foods is synonymous with excellence, and we are proud to add their company to our growing list of customers answering the call for greater transparency from their consumers," adds Katy Jones, executive vice president of sales and marketing of FoodLogiQ. "The ease of use of the FoodLogiQ platform will allow Tyson Foods to realize a return on investment by creating efficiencies in their supply chain while also providing the visual and analytical reporting that will drive strategic decisions for their business."