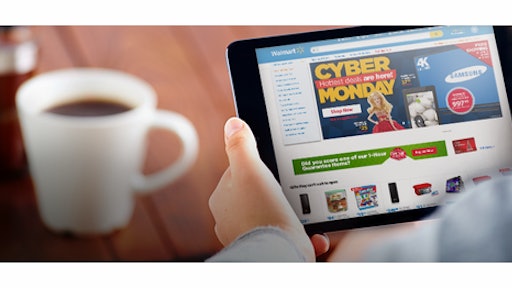 Cyber Monday has come and gone – one of the most exciting days of the year for retailers. But not all retailers. Food and beverage executives oftentimes feel left out of the excitement over Cyber Monday since most online buying is for hard goods versus consumables. There's no denying it. As e-commerce has grown, the food sector has ranked last in online sales among major consumer goods, such as electronics, sporting goods, appliances, apparel, toys and gifts. (Market researchers currently peg food and beverages accounting for 1 to 2 percent of e-commerce sales.) Conventional wisdom holds that online food sales are constrained by issues such as freshness, product damage and low margins compared to other consumer products.
E-commerce sales on Cyber Monday jumped 17 percent from last year, totaling nearly $2.04 billion, research firm comScore Inc. reported Tuesday. That represents the heaviest online spending day in history and the first to surpass $2 billion in sales, said the firm, which tracks online sales. The Wall Street Journal reported e-commerce sales increased 15.6 percent compared to Cyber Monday 2013, according to Channel Advisor, which tracked transaction data for more than 2,700 retailers selling online between midnight and noon Monday.
Great for them, but what about me, you say? Not so fast.
The f&b industry may be missing out on a lot of the sales, but profitability is a whole different issue. More importantly, slow e-commerce growth is sparing f&b some of the pains that accompany fast growth. Which bodes well for f&b's gradual expansion into e-commerce.
E-commerce is a new channel with unique requirements. The players that are less active in e-commerce for the time being may end up learning some useful lessons from those who "tread before them."
The profit picture is less rosy for online sales compared to brick and mortar sales. The Wall Street Journal reported that many retailers earn less or even lose money online after factoring in the cost of shipping, handling and returns. Retailers that outsource web and fulfillment operations incur costs as high as 25 percent of sales.
Walmart, which reported a record Cyber Monday in terms of sales, expects to lose money online at least through early 2016 as it invests in technology, infrastructure and fulfillment networks. Walmart is not the only retailer sacrificing profit to increase sales, The Wall Street Journal noted.
The Wall Street Journal further noted that online sales have more variable costs than brick and mortar sales. For every online order, the merchant must locate the merchandise in a warehouse, pack and ship the item. Returns are also higher for online sales.
Packaged goods marketers are still in the early stages of understanding online buying behavior. They are still learning how to market over the Internet, how to price and promote products, how to best manage inventory, how to ship products, etc. Consultants, marketing firms, logistics providers and other specialists are offering services to help packaged goods marketers with e-commerce.
The f&b industry also has its own unique issues relating to e-commerce, such as freshness, higher susceptibility to damage and exceptionally low profit margins compared to other packaged goods. Hence, it makes sense for f&b retailers to understand the most effective e-commerce business practices before investing heavily in e-commerce.
The November/December Food Logistics will examine the progress of f&b e-commerce and the issues confronting the f&b supply chain.