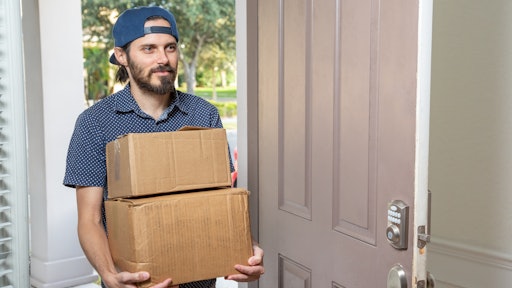 DAVID AdobeStock_360101757
Only 43% of consumers felt retailers were doing a good job of using sustainable delivery practices, according to results from a new study by Descartes Systems Group.
"Compared to our 2022 study, consumers are much more interested in the environmental delivery practices of retailers. They're influenced by these factors when making purchasing decisions and willing to take eco-friendly home delivery options, which are often also lower cost delivery methods for retailers," says Chris Jones, EVP, industry at Descartes. "Retailers need to heed these important trends as they provide more ways to differentiate, grow revenue, create greater customer loyalty and reduce delivery costs."
From Yahoo! Finance:
Over 60%, however, indicated they were quite/very interested in environmentally friendly delivery methods.

Additionally, 59% said they are willing to act if they're not satisfied with retailers' sustainable delivery efforts.

41%

regularly make purchasing decisions based upon the product or company's environmental impact.

38%

believe that convenience and environmental impact are equally important.

27%

have stopped shopping at a company before in response to poor environmental delivery practices.

The top purchases of concern—groceries (

37%) and clothing and footwear (34%)—increased 2% and 4%, respectively.

Delivery to

home was the top choice for online buying at 55%, up 2% from 2022 with in-store pickup second at 25%, down 4% from 2022 and locker-based pickup third at 20%, up 2%.

100% carbon-neutral delivery services was the top choice at

60% quite/very interested, followed closely by combining orders and delivering them at the end of the week (59%) and having the seller recommend the most environmentally friendly delivery option (56%).

33%

of respondents expect a published carbon footprint for deliveries, which is even higher than anticipated in last year's study (in 2022, one-year anticipation was 30%).