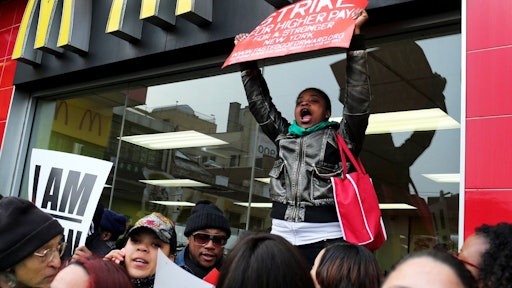 The National Labor Relations Board, in a long-awaited ruling, made it easier on Thursday for unions to negotiate on behalf of workers at fast-food chains and other companies relying on contractors and franchisees, according to The New York Times.
The ruling, adopted in a 3-to-2 vote along partisan lines, was immediately attacked by business groups, who called on the Republican-controlled Congress to overturn it.
Employers like McDonald's and Yum Brands are also likely to challenge the decision if unions manage to organize a group of employees at one or more of their franchises, if not well before that.
The labor board, which is charged with protecting workers' rights to organize, changed the definition of a crucial employer-employee relationship that had held in some form since the Reagan era of the 1980s.
Now, a company that hires a contractor to staff its facilities may be considered a so-called joint employer of the workers at that facility, even if it does not actively supervise them.
A union representing those workers would be legally entitled to bargain with the parent company, not just the contractor, under federal labor law.
"The decision today could be one of the more significant by the N.L.R.B. in the last 35 years," said Marshall B. Babson, a lawyer who helped write a brief opposing the rule for the U.S. Chamber of Commerce. "Depending on how the board applies its new 'indirect test,' it will likely ensnare an ever-widening circle of employers and bargaining relationships."
For more, click here.