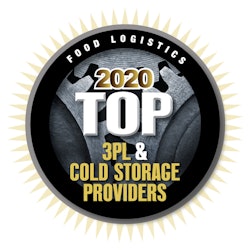 The Coronavirus disease (COVID-19) pandemic has shined a special light on the supply chain – particularly the food supply chain.
In a survey by HelloFresh, seven in 10 Americans said that the pandemic will change the way they shop for their groceries. Sixty-four percent of respondents have reportedly used grocery delivery services, while 55% have tried a meal kit delivery service. Meanwhile, more companies are partnering with 3PLs to help ensure their products get delivered on time.
For example, RJW Logistics saw a 26% jump in functional beverage business alone after the pandemic began in the United States, prompting the company to hire nearly 100 employees in just one week.
"As we're all adjusting to this New Normal, it can be difficult to find a new way to fulfill all of your grocery shopping needs," says Claudia Sidoti, principal chef and head of recipe development at HelloFresh.
With 40% consumers relying on online grocery and stockpiling goods more than ever, there has been an increased need for cold storage and third-party logistics (3PL) services.
According to an April CBRE report, an additional 75-100 million square feet of cold storage space will be needed to meet the demand of online grocery sales over the next five years. The pandemic will only accelerate the need for space as e-commerce grocery will become more widely adopted and consumers grow more comfortable with the ordering process.
"Until recently, consumers were not ordering a lot of perishables online, but that will likely change in a post-COVID-19 environment," says Matthew Walaszek, associate director of industrial and logistics research for CBRE. "Now, we are seeing consumers trend toward buying foods online such as frozen meats and poultry. To meet this new demand, we will need more temperature-controlled space."
With the year 2020 proving to be nothing like anyone imagined, 3PL and cold storage providers have reminded us as to why they are an essential part of the cold food and beverage supply chain. These companies help manage the cold chain and are crucial to protecting and meeting the demands of supply chains at a time where there are many uncertainties.
Each company on Food Logistics' Top 3PL & Cold Storage Providers of 2020 list is a standout in its own way. Despite all that 2020 has thrown at them, these providers continue to improve their skills and adopt the latest temperature monitoring technologies, transportation management systems (TMS) and warehouse management systems (WMS). Moving and storing temperature-sensitive goods requires a commitment to improving operations in order to meet customers' needs, and these companies continue to do so.
Food Logistics is proud to announce its annual Top 3PL & Cold Storage Providers of 2020 award in a new layout that better highlights the services each 3PL and cold storage provider offers. This annual list provides a directory of providers that summarizes their capabilities and can be used as a resource for logistics decision-markers for a potential solution.
Their capabilities are as diverse as the customers they serve, from small local producers to global food manufacturers—all of whom have specific requirements. Here's a list of companies included in our Top 3PL & Cold Storage Providers of 2020 award. To view the complete list of winners and their services, please click here.
URL: choptanktransport.com
Worth Noting: Over the last year, Choptank Transport launched its proprietary, custom-built visibility and analytics platform, Orbit TI. The portal allows the company's shippers to have real-time tracking and other data-driven information on shipments along with market intelligence and customer specific analytics.
URL: genproinc.com
Worth Noting: For over 30 years, Genpro has innovated the freight marketplace by deploying solutions that keep the food supply chain moving forward. The company understands how it is critical to provide visibility, proactive communication and a deep understanding of special requirements when it comes to moving perishables and non-perishable items.
URL: hmbayinc.com
Worth Noting: As one of the country's premier logistics providers for less-than-truckload refrigerated and frozen commodities, H&M Bay has ensured that consolidation centers are strategically located nationwide. These precise locations, along with a host of web-based systems for ordering and tracking, allow customers to manage all of their shipping needs in one centralized system.
URL: its4logistics.com
Worth Noting: ITS Logistics offers personalized supply chain solutions with dedicated fleet and asset-light transportation services. In addition, its innovative omnichannel distribution and fulfillment services total over 1 million square feet.
URL: kellerlogistics.com
Worth Noting: Keller Logistics' commitment to customers allows it to provide award-winning service nationwide. Keller Logistics is family owned and operated, bringing decades worth of supply chain expertise to the food and beverage industry.
URL: mpwus.com
Worth Noting: Metro Park Warehouses is licensed to distribute alcohol, medical devices and veterinary products, allowing for a competitive advantage against competitors. As an asset-based 3PL, it assisted two major companies in expanding and consolidating their inventories by renovating three buildings and storage trailers to a more efficient and lower cost distribution in one building.
URL: phoenix3pl.com
Worth Noting: Phoenix Logistics is positioned to help clients with all of their supply chain needs. As an affiliate of Phoenix Investors of Milwaukee, Wis., Phoenix Logistics has access to a portfolio of approximately 29 million square feet of warehouse and industrial property across 23 states. Phoenix Logistics couples an aggressive investment in warehouse management systems and related technologies with competitively priced space.
URL: rlslogistics.com
Worth Noting: RLS Logistics continues to be on the leading edge of technology and services with its temperature-controlled D2C pick-and-pack unit. The company expanded its D2C fulfillment centers in New Jersey and Utah, increasing output by nearly 125%. In addition, it introduced its new digital customer portal, Anello, which allows customers to have complete visibility and transparency to every aspect of their order.
URL: romarklogistics.com
Worth Noting: Romark Logistics has established itself as a premier 3PL company that supports all facets of the supply chain. For over 60 years, the company has handled logistics operations for a wide range of products, and together with its investments in automation and technology, has blended into a value-added business that provides personalized, dependable supply chain solutions.
URL: sheerlogistics.com
Worth Noting: Sheer Logistics has provided custom supply chain solutions to some of the top food, beverage, consumer products and manufacturing companies for over 10 years. It specializes in selecting and implementing the perfect solution for even the most complex temperature-controlled supply chains. Offering managed freight services, multi-modal capacity solutions, cold storage, TMS and custom reporting, Sheer Logistics maintains a 99% customer retention rate.
URL: tigercoolexpress.com
Worth Noting: Tiger Cool Express provides time-definite, temperature-control intermodal service to shippers nationwide. It serves customers who strive to reduce their own carbon footprint by choosing intermodal as the best sustainable option in transportation. Earlier this year, it launched the CarbonFree Load Service, which calculates purchase carbon offsets for each load generated by the rail service, drayage and reefer unit in transit.
URL: tql.com
Worth Noting: Total Quality Logistics' commitment to doing things correctly includes enhanced GPS tracking of loads through its TQL TRAX service. Meanwhile,it updated produce training, including region-specific market cycles all while improving work-from-home capabilities for improved customer service.
URL: trademarktrans.com
Worth Noting: For over 30 years, Trademark Transportation has specialized in the transportation of temperature-sensitive food and ingredients. Its custom-built technology is tailored to customers' needs, providing the tools needed to drive efficiencies and streamline operations.
URL: transervice.com
Worth Noting: Transervice Logistics has been in business for over 50 years, providing contract maintenance, full-service leasing and logistics service to many companies throughout North America. Its full disclosure and gainshare philosophy has helped secure several strategic partnerships over the last 20 years.
Companies in this article