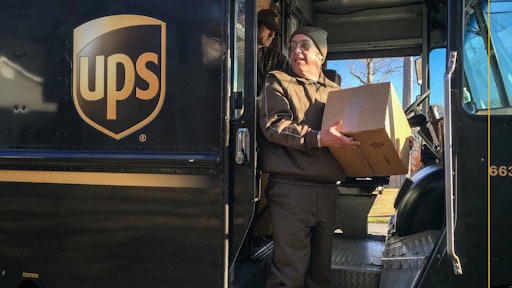 Every year, valuation and strategy consultancy Brand Finance values the brands of thousands of the world's biggest companies. Brands are first evaluated to determine their power/strength (based on factors such as marketing investment, familiarity, loyalty, staff satisfaction and corporate reputation) and given a corresponding letter grade up to AAA+. Brand strength is used to determine what proportion of a business' revenue is contributed by the brand, which is projected into perpetuity to determine the brand's value. The world's most valuable logistics brands are ranked and included in the Brand Finance Logistics 25 2017.
With a BSI score of 83 and brand value of $22 billion, UPS is the most valuable, as well as the most powerful logistics brand. UPS recently invested in 14 Boeing 747s, in addition to some much smaller aircraft, as it joins Amazon in the race to use drones for deliveries. UPS rolled out its What's Your Story? campaign in March last year to further develop its relationship with small business customers. This forms part of its broader United Problem Solvers strategy intended to position UPS as more than a delivery service, but rather as a go-to service to realize business ambitions or overcome hurdles. It humanizes the factual, though (arguably) less engaging We Love Logistics campaign adopted in 2010.
Though still in second place, FedEx saw its brand value grow by an impressive 31 percent. The company increased its spending to $5.1 billion for the year starting June 1, 2016 to update its aircraft fleet and to facilitate growth in e-commerce facilitation. FedEx also recently handed its UEFA Europa League sponsorship assets to the UEFA Foundation and children's charity, Street League, to enable over 100 children the chance to walk out with Liverpool Football Club's players. Though there is a risk that this move will reduce FedEx's awareness scores, the goodwill gesture may improve recommendation and scores for governance and corporate social responsibility (CSR) measures.
FedEx and UPS have been embroiled in disputes over their controversial takeover bid of Holland's TNT Express. UPS was blocked from acquiring the business for $5 billion by European Union (EU) antitrust authorities in 2013 over concerns about market dominance in Europe. Eyebrows were raised, however, when FedEx was subsequently allowed to acquire the business. In a significant decision this month, the EU's general court ruled that UPS's rights of defense had been infringed, opening the door for UPS to sue for damages. UPS, though understandably frustrated, may well have dodged a bullet, however.
FedEx acquired TNT Express for $1 billion less than the previous agreed price and, over the course of the last year, the value of the brand has plunged. Brand value is down 42 percent to $810 million, making TNT Express the fastest falling brand this year. Profitability has been weak for years, but brand value remained high on optimism that the picture would change. Time and optimism have now run out for TNT Express, however, and even FedEx may find maximizing value a challenge.
Royal Mail is another poor performer, down 21 percent year on year. The Brexit referendum has negatively affected many UK brands, but Royal Mail's troubles go beyond this. Its share price has dropped consistently from September 2016 and now stands at a near all-time low. Online migration of ad budgets is hitting revenue from direct mail (despite the best efforts of the great and the good of the UK's advertising and marketing community pitching in for the MailMen campaign), while a continuing fall in letter volumes is weighing heavily on Royal Mail given its Universal Service Obligation.