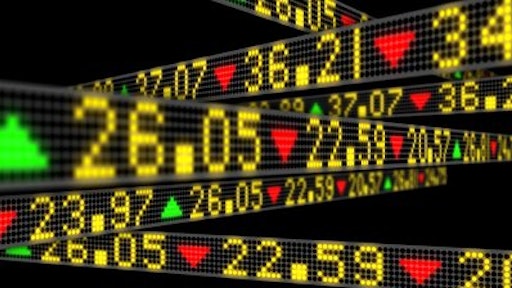 Logistics and transportation companies fell sharply in Monday's global stock market rout, with investors worrying that a downturn in China and other large economies would hurt companies that move goods around the world, according to The Wall Street Journal.
Shares of FedEx Corp. were down about 9 percent in morning trading before mounting a partial recovery to trade 4.9 percent lower at $148.37 Monday afternoon. Other global carriers, including United Parcel Service Inc. and Deutsche Post AG saw declines, with UPS off 3.7 percent at $95.51 and the DHL parent ending down 4 percent at $23.58. The Dow Jones Industrial Average ended down 588 points, or 3.6 percent, at 15871, having briefly fallen over 1000 points.
The slide underscores how much logistics companies stand to lose if global economic growth and trade continue to slow. These companies have seen revenues soar 48 percent in the last five years, to $751 billion in 2014, according to Stifel, as companies have increasingly looked abroad to source and sell their products and supply chains have grown more complex.
http://www.wsj.com/articles/logistics-firms-hit-hard-in-stock-market-swoon-1440441400?mod=djemlogistics
Editors Insight: Global stock market corrections are part of the new global economy reality. The past week has been a rough week and many people are hypothesizing about the stock market's impact on global trade. Today, Tuesday, has the market on an upward trend, so the negative forecasts might have been premature.
China's currency devaluation nonetheless undermines the U.S. export market and helps Chinese exporters. Food and beverage supply chain companies will be affected accordingly.
The oil glut, another major factor in the global economy, benefits the supply chain.
The slowing of global trade doesn't spell doom and gloom for the food and beverage supply chain. It might even be a good thing if it stops companies from investing in growth too quickly. Much of the technology that companies are using takes time to master before it can be deployed effectively.
Long-term, global trade will continue to expand. 8-25-15 By Elliot Maras