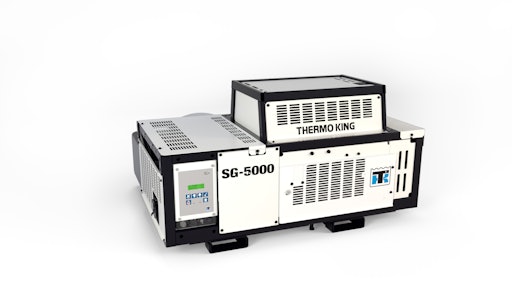 Thermo King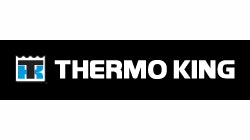 Thermo King, a leader in transport temperature control solutions for a variety of mobile applications and a brand of Trane Technologies, is introducing the SG-5000, the next generation generator set for marine containers. Available in both clip-on and under-mount configurations, the SG-5000 can power all ISO reefers on the market, and ensure complete temperature control and protection of the refrigerated cargo.
Designed and manufactured specifically for the North American market, the new Thermo King SG-5000 gensets are California Air Resource Board (CARB) engine compliant for the lifetime of the product, protecting the customers' investment and removing the need for retrofit or replacement. As with the CARB regulations, the SG-5000 also enables lifetime compliance with Environmental Protection Agency (EPA) Tier 4 standards for off-highway diesel engines.
"Thermo King invests in research and development that correspond with evolving and emerging technologies and allow us to deliver sustainability-driven products and services that offer value, dependable performance and environmental responsibility," said Jessica Poliner, vice president and general manager of Thermo King Global Marine, Rail and Air. "We are committed to supply our customers with the broadest product portfolio for reefers and generator sets today – and to be a trusted partner through the product's lifecycle. The SG-5000 launch is just another step on that journey and plays an important role in helping to ensure cold chain integrity and protect against food loss."
"Temperature sensitive cargo require proven and reliable gensets that can safeguard product quality throughout the entire journey, whatever conditions, temperatures or delays they have to contend with," said Peter Hansen, product manager at Thermo King Marine. "SG-5000 is a complete genset that incorporates a wide variety of innovations and enhanced components to deliver a reliable energy supply and help customers deliver their products in optimum condition. In light of the global events with COVID-19, ensuring that we maintain cold chain integrity is more imperative than ever."
The modular design of the SG-5000 clip-on and under-mount configurations allows to connect to any reefer, and to maximize operational efficiency and help lower lifetime operational costs. Additionally the SG-5000 features an advanced controller that combines simple, easy to use navigation with advanced diagnostics offering intelligence, control and telematics capabilities including:
Automated pre-trip testing
Advanced self-check features, including alarms
Auto restart
Data logging of events, alarms, and messages
Real-time monitoring and management on rail, by road or at terminal
The SG-5000 will be manufactured in USA, in a state of the art production line featuring latest industry automated quality control processes.