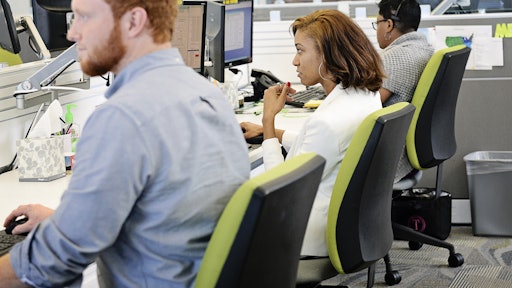 While some companies may have added logistics functions to their internal operations, many have found supply chain management to be time consuming and complicated—say nothing of it being a hard asset expense. Plus there are other layers of the business: import/export regulations; transportation options; inventory management; warehouse bypass programs; consolidation; different handling of product based on its seasonality and place of origin, even blending, labeling, and packaging.
"A local broker might be best, or a larger broker with a national presence that has multiple offices," comments Kenny Lund, vice president of support operations, Allen Lund Co.
Some companies see supply chain management as important to their own businesses. "We're starting to see the title of chief supply officer more than ever before," says Loraine Yalch, vice president of business development at Armada. "They are now part of the executive team."
In fact, businesses now recognize that supply chain is not just a cost center. "It can drive the bottom line profitability of the company," Yalch says. "Ten years ago, companies primarily focused on getting product on time and delivered as cheaply as possible."
Vetting Your 3PL
But one size does not fit all in the 3PL world. For that reason, it's important to vet 3PLs and take a hard look at their capabilities, specializations, and ability to customize solutions to meet specific requirements.
"Make sure they've done it before," comments Mark C. Smith, area vice president for Penske Logistics. "Make sure they have documentation in place to handle the supply chain portion of food, whether refrigerated or ambient, and have document processes for food safety management, along with ways to recall and check."
Frank MuGuigan, president and COO of Transplace, says, "I hear from shippers every day that you have to have a deep first-hand dive into the provider's capability. Ultimately, in the 3PL space, proven capability is king."
To make certain a 3PL meets needs and requirements, it's a good idea to meet 3PLs at their locations to understand how they operate with their food customers and to see what processes are implemented day-to-day.
"Find out how capable the 3PL is in automated execution," Smith says. "Can they actually do what you need to track and trace the product all the way through for your product type? Dry ambient food trailers are different than general freight trailers. Same with warehousing."
Technology capability is critical. Today, there's more sophisticated optimization and shipping rating scenarios than ever that can support real-time management and temperature updates. But, as MuGuigan points out, many systems don't have the scale and depth to support the sophistication that is occurring through SKU proliferation and other demands in the food chain.
Critical also is visibility and guarantee of processes so that the customers and the brand can be comfortable.
"We enable 3PLs to help our customers, particularly those in the cold packaging world, customize their services, convert product to finished goods to create new SKUs for their end customer, and launch them on behalf of that brand," says Jason Tham, CEO, Nulogy. "In doing so, they have to ensure that they have the technology, controls and processes in place. They need a technology provider."
By leveraging cloud technology, Nulogy establishes the processes within the technology for the 3PL and ensures visibility throughout the 3PL's supply chain to guarantee their brand customer that there is automation, compliance, proper enforcement, visibility, transparency, and agility in their customer's distribution and operations.
McGuigan stresses the 3PL should have a proven, lean Six Sigma culture that demonstrates it has the infrastructure to support continuous improvement. "If you buy this service like a commodity and do not vet in the right way, you can go down a very difficult path," he says. "We see that all of the time."
Collaboration is a Must
Collaboration is especially necessary to build trust given the new Food Safety Modernization Act (FSMA). Lund sees collaboration key in establishing best practices between transportation companies and receivers.
"There are so many best practices depending on the products," Lund says. "It's important to work together to establish what information needs to be given to the driver who picks the shipment up, and the loader, because he is the handoff from the shipper to the trucking company."
Information regarding how the product is loaded, as well as timelines, needs to be clear and documented. Information must be detailed and timely.
"This includes the terms if the seal is broken, and whether or not there is even a seal on the load. At what temperature should the shipment go out? Does it need to be protected from freezing?" Lund adds.
According to MuGuigan, Transplace spends some five days with customers to analyze their brands' current and future state before it writes one single line of code. "We visit a cross dock before we do anything," he says. "We have conversations with all stakeholders. That process creates a baseline and roadmap for financial service performance, and user and food safety requirements."
He also insists that the process is ongoing. "If I never formerly re-engage to audit, manage, and measure, then I'm not cultivating a collaborative relationship," he says. "You need to have that institutional engagement to make sure that collaboration continues on an ongoing basis."
Smith maintains that collaboration needs to include metrics and utilize the audit. "Metrics are good because they show you a trend to where things are going," he says. "They give you a reference point if you're getting off track. Audits make sure you are complying."
Yalch warns that one of the challenges in food logistics is managing independent functions such as warehouse operations and transportation providers in "silos."
"Yes, companies need people to help operate warehouses, manage transportation or perform certain other functions," she states. "But if those functions are siloed, you have challenges seeing the big picture," she says.
Armada, which operates as a 4PL, offers a layer of management oversight. "We advocate across the entire supply chain to help define what a company's supply chain strategy should be based on its brand strategy," Yalch explains. "We then design and orchestrate the supply chain to support that."
The idea is to find a partner who can bring technical expertise to the table so that the company does not have to make investments in systems and technology continually.
Such technical support offers visibility into the business's supply chain and analyzes supply chain planning. "For example, the 4PL will look at how the supply chain is functioning today. Where there are inefficiencies," Yalch points out. Once this is done, the network can be engineered and designed to take issues out of the network. "Then you execute what remains," she says.
In the case of transportation services, a company might find that a percentage of transportation functions shouldn't exist in the first place and should be consolidated. "It's worth the time to do engineering and planning work to decide what is optimal design and what you can physically execute," she says.
Yalch also emphasizes the importance of continually examining networks. "Business and brands evolve. So do their logistics," she remarks.
Whereas supply chains were once very linear functions because food products basically were made, warehoused, delivered, and consumed, today's consumption points are changing. Consumers may choose to purchase their food from the grocer, a restaurant, or online. Think omnichannel, Amazon, and Blue Apron.
"The supply chain has to be managed differently to be agile enough to respond to consumption, wherever it happens and however it happens," she says.
For that reason, Yalch sees more and more companies today realizing the value of a 4PL. "It goes counter to putting all of your eggs in one basket," she says. Companies may multi-source distribution relationships on key items because they want redundancy. But in logistics, that can create inefficiencies.
"There is value in having a single entity that can sit over that and see the end-to-end supply chain from a strategy standpoint, and act as strategic partner to help figure out the best way to leverage all of those parties in your supply chain," she says. Sometimes what might appear to be inefficient at one node is being caused some place else. The goal is to find the root cause and collectively develop solutions.
And while Yalch stresses that many foodservice companies should look at how to manage their supply chain in a more demand-driven way, this is not necessary for every single item. "The response for promoted items is very different from the response for staples such as eggs and milk," she explains. "Then there are perishables, even things that don't perish such as packaging—items with a short shelf life and those that are seasonal or promotional. Properly segmenting the items is critical and knowing what is important to manage, and what manages itself, because demand is predictable and consistent over time," she says.
Agility in a supply chain is critical to managing those different segments appropriately. That's because more companies, regardless of industry segment, are competing for the same consumer dollar.
FSMA Impact
Third-party logistics providers also play an important role for shippers regarding the new rules under the Food Safety Modernization Act (FSMA). While FSMA's final wording places the onus on the shipper to have proper documentation and give those instructions to its carrier, 3PLs can assist them in being compliant.
"It's an opportunity for 3PLs to differential themselves, particularly if a brand does not want the headache of doing the documentation work," Tham says. "A 3PL can guarantee regulatory compliance, cost efficiencies, and the ability to provide data and traceability."
Lund points out that while many companies give good information to carriers, there are some who have hidden information from carriers. In these cases, carriers—unbeknownst to them, may find they have a rejected shipment that cannot be inspected at the dock because there is a special contract arrangement between the shipper and receiver that was not communicated to the carrier.
"So now you have an upset carrier with a load that was rejected," Lund says. "FSMA makes sure everyone is transmitting that information to all of the parties."
As far as Lund is concerned, the new FSMA rules do not change Allen Lund Co's practices, since the company already provides a tremendous amount of information to its load tenders as part of its best practices. Some 15 years ago, Allen Lund Co. built into its software the ability to have special instructions based on the community and shipper.
"For example, if we are doing strawberries for someone, it automatically pulls up the handling instructions for strawberries," Lund explains. "Shipper A could have different rules or guidelines for the same product. Some might want it shipped at 33 degrees, others at 35 degrees. We have one shipper who wants it shipped at 32 degrees. Our software has the ability to put in special instructions based on the type of load, and shipper and receiver requirements."
Third-party logistics providers play a particularly critical role in helping companies be government compliant; for example, 3PLs work closely with partners to understand documents and train against government standards to make sure there is proper communication between parties involved.
"We take the requirements that keep the shippers compliant with the federal government and execute them on their behalf," comments MuGuigan. "If you don't have the ability to do that and have methods to communicate to the carrier community, then you are falling off the cliff."
Perpetual Evolution
Going forward, 3PLs appears to be on a course of perpetual evolution. Lund sees big changes in refrigeration and electronic logging devices. Smith sees big changes just because everyone wants their shipments to be "just-in-time."
"Things are changing so quickly: product types, needs, who gets what and when, sizes," he says. "Smaller batches are going to smaller destination points. Shipments used to go to big distribution centers; then retail outlets. Today, brick and mortar buildings are going away and being replaced with shipments direct to people's houses. The final mile is really changing."
The result is increased pressure on 3PLs. Consequently, 3PLs must stay nimble as branding and consumer orientation evolves into one with a "here, now—and for me" mentality. "This increases the requirements of SKU proliferation," says Tham.
"It's a true statement that the requirements of the consumer has made supply chain ethnicity completely necessary for any supplier or shipper to survive," comments MuGuigan. "The consumer wants what they want when they want it, and the market has to figure that out. The 3PL community has to be nimble, have the technology and experience and be able to move as quickly as it can."
With increase brand specialization, 3PLs are customizing their space to take on more valued added services. "3PLs are increasingly leveraging their assets and recognizing this is an opportune time to take advantage of that variability on behalf of the brand by customizing products, offering unique packaging, and taking on more of the supply chain up- and downstream to be able to service that brand that is unique to the market," Tham explains.
After all, it is not only the product that now is being uniquely branded and marketed; it's the channel by which the product is being distributed. "It's all about customer experience," he says.