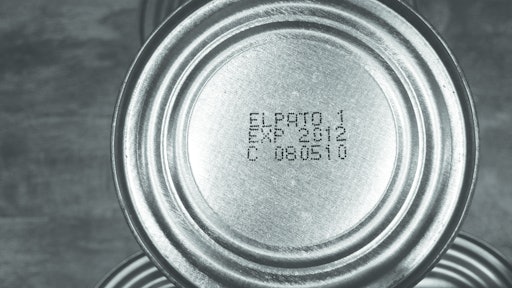 Forward and reverse logistics have much in common. However, recalls, returns and the disposition and disposal of expired products demand a unique set of logistics capabilities. Fortunately, a handful of industry sectors and select logistics providers are amassing considerable experience and expertise in reverse logistics.
"The food and beverage sector, actually most categories associated with the grocery and drug channels, are the more mature sectors when it comes to reverse logistics," notes Steve Dollase, executive vice president of supply chain for Inmar. "They were among the earliest adopters of reverse logistics management programs and establishment of policies between trading partners bringing structure to financial reimbursement and disposition management."
The best-in-class reverse logistics models are designed to maximize revenue, reduce waste and meet changing regulatory requirements, says Dollase, which is achieved through extensive collaboration and partnering with third parties.
For example, "Shared information between trading partners offers rich intelligent data that can benefit all stakeholders," Dollase says. "Our consultants leverage our data and benchmarks from across the supply chain to help manufacturers and retailers understand and address the root causes of supply chain defects, which often result in returns. We see companies in other industries accelerating the adoption of reverse logistics best practices, and are supporting many as they do so."
Not only are other industries taking a closer look at their reverse logistics capabilities, or lack thereof, but all sizes of companies are getting in on the action. "We have actually seen a trend of mid-sized and smaller companies following the example set by the early adopters of such programs," says Dollase.
Raising awareness
According to Dollase, "As reverse logistics management has evolved, it has done so primarily to reduce waste, capture value, and comply with regulatory changes. These practices are in consonance with sustainability and also help reduce risk and improve profit; a motivator for all companies regardless of size."
Mitigating exposure to risk is also prompting companies to improve their reverse logistics programs, Dollase says. "Recall planning and execution requires much more focus for manufacturers to minimize their business risk. Recalls have taken on a different scope with globalization, virtual manufacturing and increased supply chain complexity. Risk mitigation in a recall is the primary objective."
It's also about protecting a brand name. "Recalls demand significant pre-planning and ongoing support to ensure that companies facing potential recall situations can efficiently and effectively mitigate the risk to public safety as well as to their brand," adds Dollase. "A mishandled recall can be devastating to a brand." Furthermore, "Increased consumer awareness of and sensitivity to recalls, and increased regulatory scrutiny, are also driving shifts in recall focus and management."
Regulatory and compliance issues are also raising awareness about reverse logistics. Dollase points out that: "With the Food Safety Modernization Act (FSMA), the FDA has expanded its reach and regulatory powers, with more responsibility being placed on manufacturers and retailers. There are also new controls on imports, enhanced enforcement powers and new fees that can be levied. An appropriate recall plan for manufacturers will address traceability of product distribution, offer a solution to quickly contact customers, remove product from the market expediently, and maintain records to meet FDA requirements. Companies rarely have the internal resources or the systems to manage a recall event effectively as manufacturers' recalls aren't a normal course of business."
Dollase asserts that "one of the best times to think about a product in the reverse supply chain is actually in the design phase." Start by asking questions such as, "Are the components made of recyclable materials? Are there hazardous materials involved?" he advises. "Often the best reverse logistics solutions can come from the concept and design aspects of a product—if you know what can be done with a product at the end of its lifecycle, you can make better decisions at the beginning—including an exit strategy for new products. Retailers want to have exit strategies for products with an unproven track record in the marketplace and this is a consideration for manufacturers as they sell their products to retailers."
Gene Bodenheimer, senior vice president at GENCO ATC and practice leader for the company's unsaleables management services, agrees that proper planning is always recommended to "prevent merchandise having to be returned in the first place." Naturally, some returns are unavoidable, he acknowledges, but the focus should be on prevention.
Unsaleables alone cost manufacturers $2.6 billion annually. "On average, a company needs to sell seven new items to cover the cost of one unsaleable product coming back," says Bodenheimer. GENCO ATC estimates that it has saved companies between 5 to 15 percent annually in costs related to unsaleables. The company even offers a free online unsaleables calculator that can be used to estimate the savings potential with this service.
The e-commerce twist
E-commerce is putting a unique twist on reverse logistics. Surveys indicate that customers care quite a bit about the returns process when shopping online. Simply put, if it's not fast and easy, the retailer will lose them as a customer.
Returns are a significant part of the holiday shopping season. And for retailers, "January and February are the busiest months for holiday returns, equal to about 10 percent of overall sales," says Steve Sensing, vice president for hi-tech/electronics at Ryder Supply Chain Solutions.
Meanwhile, "As more consumers make purchases online, product return rates post-holiday have significantly increased. In fact, returned goods from online sales now make up 20 to 30 percent of all returned merchandise for retailers. All of this activity means that retailers need to find a fast, cost effective and sustainable means for disposing, recycling or reselling the products that are reentering their supply chains," he says.
From Sensing's perspective, "It's all about speed. When a product is returned, it is basically a lost sale. So, retailers have to maximize the value of that returned asset, and they have to do it really fast in order to not take a hit to their bottom lines."
For example, "More than 70 percent of the products returned in the consumer electronics and hi-tech industry have nothing wrong with them. The quicker those products can be repackaged, put back into inventory and made available for sale, the quicker those companies can recover their value."
It's understandable why some companies balk at first when it comes to reverse logistics, says Sensing, because to do it "really effectively can be complex, costly and labor intensive.
"The returns process generally includes logistics and transportation, depot repair, sales and marketing of refurbished products, finance (validating warranty repairs), customer service and channel management." And that's not all, he adds. "There's also a great deal of physical handling of the returned goods to determine the product's disposition (should it be repaired, refurbished, scrapped, recycled, or repackaged) and employees need specialized training depending on the types of goods they are dealing with," whether it's consumer electronics, appliances or apparel, for instance.
Inmar's Dollase also emphasizes the importance of reverse logistics in e-commerce. "Consumers are starting to look at returns policies before deciding on a purchase. A difficult or stringent returns policy could turn away a potential customer. Companies are simplifying returns to combat the potential loss of sales and are using the ease of returns as a selling point for their stores. As a result, reverse logistics has taken a new place of prominence in the sales cycle with a focus on the consumer."
Sustainability and social responsibility
There are many ways that companies benefit from implementing a comprehensive reverse logistics program, including enhanced sustainability and social responsibility.
"Effective handing of returned goods isn't just good for the business, it's also very good for the planet," emphasizes Ryder's Sensing. "Reverse logistics is intrinsically aligned with environmental sustainability. When companies maximize tons per mile, consolidate shipments, reduce returns and optimize the product disposition and asset recovery processes, they are simultaneously reducing harmful emissions and energy usage, while increasing profitability and asset utilization."
While this awareness continues to expand in the U.S., companies and regulators in Europe are a few steps ahead, Sensing points out. "In the European Union, the WEEE (Waste Electrical and Electronic Equipment) and RoHS (Restriction of Hazardous Substances) directives restrict the use of hazardous substances in electrical and electronic equipment and provides for their collection, recycling and reuse. Similar laws are under development in the U.S. and other countries. Instead of carting products to landfills, companies are recovering the value of the assets through a variety of other paths, such as returning to stock, donations, secondary market sales and recycling," he says.
Despite lack of uniform national legislation regarding electronic waste (e-waste) in the U.S., several states have taken it upon themselves to crack down on the disposal of electronics, particularly in landfills. According to GENCO ATC's Bodenheimer, "California, Colorado and Minnesota are among those with more stringent laws," although more are following suit.
The problem is only getting worse. In the U.S., three million tons of e-waste, including computers, printers, mobile phones, cameras, TVs and refrigerators, accumulate annually. Worldwide, e-waste is growing by 40 million tons each year. China is the biggest dumping ground followed by India. And while some e-waste that ends up in these and other developing countries is exported there legally (by the U.S. and others), most of it is not. When it's 10 times cheaper to export e-waste to a developing country rather than abide by safe disposal regulations, it becomes clear as to why the problem continues to grow.
But progress is being made, assures Ryder's Sensing, "especially by companies that have zero landfill goals and strive to work with a logistics partner that can provide proper recycling and disposal of returned products." Ryder is working with some of its customers to co-locate forward and reverse logistics operations under one roof. For example, a company can co-locate the distribution management of finished goods with returns processes, such as technical repair, refurbishment, and repackaging in the same facility, which results in greater speed to shelf, visibility and cost savings.
"A co-location strategy further supports carbon footprint reduction and corporate sustainability goals through fewer transportation miles, lower vehicle fuel consumption and lower building carbon output," explains Sensing, adding that, "A more agile supply chain also decreases product obsolescence and reduces total inventory levels. An effective reverse logistics strategy is actually the ultimate recycling process."
There's definitely a social responsibility angle, too. For instance, GENCO ATC works closely with America's Second Harvest national food bank to donate products that have been returned from grocery shelves. While the food itself has not been compromised and is safe for human consumption, sometimes there are labeling issues that make it unsaleable, Bodenheimer explains.
Inmar also works with its clients to find alternatives to keep food out of the landfills. The company's remarketing services kept approximately 117 million pounds of grocery and consumer goods out of landfills in 2011. Additionally, Inmar's donation program provided about 1.8 million boxes of food product that was used to create approximately 5.5 million meals for those in need in 2011.
At the same time, Inmar's supply chain services, such as packaging studies, have also helped clients reduce product packaging, while helping ensure that new, more environmentally friendly packaging does not increase damage to product and add to the waste stream.
e-Commerce and Returns
A recent survey by voice solution provider Voxware sheds some light on the importance of the returns process for online shoppers. Some highlights include:
84% of respondents stated that the return process is extremely or very important to their future intentions to shop with a retailer
50% of respondents who receive an incorrect item after already returning it once stated that they are much less likely to shop with that retailer online or by phone again for future purchases
25% of respondents who have experienced continuous return process issues with particular retailers stated that they have limited shopping with that retailer both online and in-store
Companies in this article