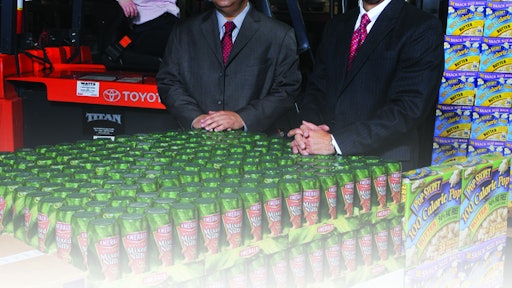 For almost a century, Diamond Foods Inc. has been a leader in the nut business. Founded by a group of California walnut growers in 1912 as a cooperative for marketing nuts, the company has focused on building branded product lines in recent years—Diamond of California culinary nuts and Emerald Snack nuts—in addition to acquiring well-known brands, such as Pop Secret popcorn and Kettle Brand chips.
Today, Diamond Foods is now a leader in the snack food business. Earlier this year, the company announced the acquisition of the Pringles brand from Proctor & Gamble Co., which once the deal closes, would make Diamond the world's second largest savory snack food manufacturer. The acquisition is expected to triple the company's snack business (see sidebar).
While these brand acquisitions have translated into greater product diversity, they've placed greater pressures for around-the-clock demand on Diamond's distribution centers. The company distributes snack products to more than 80 percent of supermarkets in the United States.
As part of ongoing cost management and productivity optimization, Steve Zaffarano, senior vice president of supply chain and general manager of walnut operations, and Gabe Sandoval, director of logistics, focused on the lift truck fleet because of the huge volume and the 24 hour-per-day work cycle at its 550,000-square-foot manufacturing facility in Stockton, CA.
Diamond Foods is the largest processor of the California walnut crop. The 55-year-old processing facility is one of three nut processing and packaging facilities that the company operates.
"I joined the company in 2005 just as we were filing for our initial public offering," says Sandoval, "At that time we had a mismatched fleet of more than 60 trucks that were between five and 20 years old. Steve tasked my team to look outside the box when it came to our fleet, not only to update it but also to get ahead of the curve. With our snack business growing, we needed a more reliable fleet and my original thought was to work with a single lift truck manufacturer so we could minimize replacement parts and simplify maintenance."
Since the majority of the fleet was fueled by liquid propane gas (LPG), Sandoval looked into Toyota Material Handling's lift trucks as the company has a strong reputation around its LPG units. However, after careful evaluation and several discussions with Zaffarano, Diamond Foods decided to switch to a mostly electric lift truck fleet, based on cost savings, performance and environmental factors. This decision not only helped to satisfy growth and productivity needs, it also helped—the company get prepared to meet the upcoming 2010 California Air Resources Board (CARB) emission standards.
"Toyota's trucks had the lowest emissions on the market and had the variable lifting capacities that we needed in our facility. They also offered safety features that no other manufacturer had, such as their System of Active Stability (SAS)," says Sandoval.
Using technology originally developed by Toyota's automotive engineers, the SAS is able to electronically monitor and control lift truck operations, helping to reduce the risk of accidents. When the system detects instability, it locks a hydraulic cylinder on the rear axel, changing the lift truck's stability footprint from triangular in shape to rectangular. The resulting increase in stability reduces the likelihood of an overturn.
Believing that Toyota lift trucks could handle its increasing workload—and also save costs in the long run—Diamond Foods enlisted Watts Equipment Co. Inc., an authorized Toyota equipment dealer in Manteca, CA, to secure a new fleet of equipment in 2007.
Instead of purchasing the vehicles, Diamond entered into a three-year lease deal with Watts Equipment. Zaffarano understood the company's potential for growth and the difficulty that maintaining a fleet might become. "We saw how much we were growing here and knew how hard we'd be working the trucks, and we wanted to be able to turn our trucks over as soon as the hours got to a predetermined number," says Sandoval. "Plus, we had an in-house staff of four mechanics and we really didn't want to be in the forklift business. We wanted to focus on our core business, which is food processing."
Evaluating The Facility
Watts Equipment assisted Diamond in replacing its mismatched lift trucks with the right mix of electric lift trucks for warehouse applications and LPG lift trucks for outdoor use. "Our materials handling team and Watts went through our facility department by department to determine what our current and future needs would be," says Sandoval. "We knew that our snack division was growing, so we had to build up in that area and we also knew our non-retail business was going to remain level. So we determined what type of equipment was needed for each area and also looked at cross-functionality."
"After Diamond evaluated its fleet, the company realized it could reduce its fleet down to 45 units," says Shirley Perreira, vice president, Watts Equipment. "When you have trucks that old, you basically need a backup truck in case one goes down, so you wind up with a lot of idle units. Diamond has absolutely no wasted equipment—they leaned down their fleet and streamlined their operations."
The first Toyota lift trucks were brought into the Stockton location in both the distribution and the operations area of the facility. Sandoval said it was immediately apparent the Toyota lift trucks were built to survive hours and hours of hard work in high-traffic environments.
"This facility runs 24 hours a day, and we cannot have equipment down for any extended period of time," he says. "We soon found the Toyotas were workhorses and could withstand the long hours and hard driving conditions that take place in our plant."
To further increase productivity, Sandoval, his team at Diamond Foods and Watts Equipment worked together to decentralize the in-house maintenance of its lift truck fleet to achieve additional cost and labor savings. "We no longer needed the four mechanics on staff to maintain the lift trucks," says Sandoval.
Instead, Watts Equipment sends a representative to Diamond Foods each month to perform hour meter readings and a technician checks in every morning to check on the fleet. "If we see that any units have gone over the allotted hours per month, we tell them to switch the unit," says Perreira. "We had their entire fleet down to zero overtime by the end of the three years. We're in this together—we don't want to charge Diamond Foods overtime."
Sandoval says he's found no disadvantages to leasing. "If we break down at midnight, we may have to wait to get Watts in here since we no longer have an onsite mechanic. But they've been very good at having a mechanic on standby and it has worked out very well."
Charging Ahead
Once Zaffarano and Sandoval came to a decision on the type of fleet, Zaffarano then challenged the team to turn this into a cost efficient program that would generate a ROI in less than 18 months.
Looking for additional cost-savings for Diamond, Watts proposed the company integrate fast battery charging systems for its electric lift truck fleet. The idea was to eliminate the battery room area and free lift truck operators from the cumbersome task of frequently changing and charging batteries. Using just one battery per lift truck, the return on investment for this efficient product addition saved the company a great deal of time and money.
Fast charging recharges batteries at opportune times during the work shift when the lift truck is idle, such as operator breaks, lunches and shift changes. Each lift truck needs only one battery and the battery is charged while in the lift truck. Charging at significantly higher rates than traditional chargers, a Minit-Charger restores battery capacity quickly to allow operators to perform their duties throughout the workday, stopping for only scheduled breaks.
During a break, the operator connects the truck directly to the fast charger for about 15minutes, using connectors mounted on the lift truck. While the operator rests, the Minut-Charger performs a battery health check and automatically determines the battery voltage, capacity and state of charge and then delivers the necessary charge.
Using Toyota lift trucks, along with the Minit Chargers, has saved 30 minutes to one hour of productivity per employee, per day, according to Sandoval. With no battery changes and an unprecedented reliability, Toyota lift trucks have given the company the cost savings and dependability that are vital to smooth day-to-day operations.
Between outsourcing the maintenance of the fleet and integrating the fast charging system, Diamond was able to free up a large usable space inside the facility. "With our old fleet, we had a battery graveyard back there," says Sandoval. "About 40 of our old lift trucks were electric and we had about a hundred batteries on site. Now we've eliminated the battery bench and the charging area and we've gained about (12,000) square feet combined which we're using for additional storage. This was a benefit that we weren't anticipating and it's worked out really well for us."
In addition to the increased space, there were other benefits as well. For example, Diamond was able to reduce its staff. "By refining our process when we evaluated our facility," says Sandoval. "And the cross functionality of the trucks allows forklifts to go into the various departments to help with different needs. In the past, we had to have lift trucks stationed everywhere, so we've been able to decrease the number of forklifts and our staffing at the same time."
And the warehouse associates really appreciate the new trucks. "The Toyota's are plush compared to our old lift trucks," says Sandoval. "They enjoy driving them, and they are ergonomically better and much safer."
Thanks to the impressive results, Diamond Foods is renewing its lease with Watts Equipment for another four years. "Now that we've been able to evaluate the results, we believe we can get an additional year out of the trucks, which will help drive down costs."
"We take responsibility for the equipment in this facility and for any downtime," says Perreria. "The transition from where Diamond Foods was before and where they are today is significant. As a team, we looked at every avenue to get to the leanest, possible product on the floor and then spend the least amount of money. Now they have a great lift truck fleet and are saving a lot of money as well."
Watts Equipment, Toyota and Diamond Foods are working together to achieve the highest industry standard possible through utilization of one brand, increased productivity and decreased down time and by decreasing carbon emissions, just to name just a few.
Companies in this article