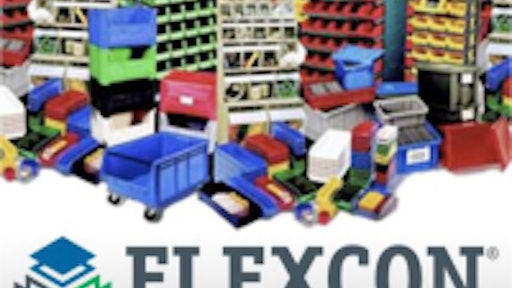 Flexcon

Flexcon Container exhibited its new Universal and automated storage and retrieval systems (AS/RS) tote boxes, divider systems and pallets.
Flexcon's totes and divider systems can handle, store and protect an infinite range of products in any automated, semi-automatic or manual system with maximum space efficiency.
Flexcon also debuted its Rapid 3-D Prototype System, which builds models of molded totes to help innovate the latest designs.
Flexcon also featured its newest AS/RS totes, which are compatible with virtually any robotic system. Their AS/RS totes have unique reinforced bottoms that resist deflection under heavy loads to enable their clients' AS/RS systems to be more space efficient, permit higher product density and to run faster.
Other new products include "X-Corr" triple-strength totes and pallet-sleeve systems and a new line of molded plastic pallets.
"We will also display several major client-based product innovations in our booth this year," according to Ken Beckerman, president and CMO. "Flexcon now has the perfect containers, pallets and dividers for any part of any client's supply chain. All of our containers, divider systems and pallets help protect and organize our clients' products throughout their supply chains."