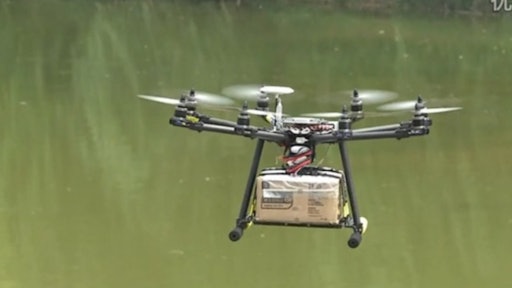 Walmart applied Monday to U.S. regulators for permission to test drones for home delivery, curbside pickup and checking warehouse inventories, a sign it plans to go head-to-head with Amazon in using drones to fill and deliver online orders, according to Reuters.
The world's largest retailer by revenue has for several months been conducting indoor tests of small unmanned aircraft systems – the term regulators use for drones – and is now seeking for the first time to test the machines outdoors. It plans to use drones manufactured by China's SZ DJI Technology Co Ltd.
In addition to having drones take inventory of trailers outside its warehouses and perform other tasks aimed at making its distribution system more efficient, Walmart is asking the Federal Aviation Administration for permission to research drone use in "deliveries to customers at Walmart facilities, as well as to consumer homes," according to a copy of the application reviewed by Reuters.
The move comes as Amazon.com Inc., Google and other companies test drones in the expectation that the FAA will soon establish rules for their widespread commercial use. FAA Deputy Administrator Michael Whitaker said in June that the agency expected to finalize regulations within the next 12 months, faster than previously planned. Commercial drone use is currently illegal, though companies can apply for exemptions.
The FAA will review Walmart's petition to determine whether it is similar enough to earlier successful applications to be fast-tracked, or whether it would set a precedent for exemptions, requiring regulators to conduct a detailed risk analysis and seek public comment, agency spokesman Les Dorr said. The FAA normally aims to respond to such petitions in 120 days. Amazon has said it would be ready to begin delivering packages to customers via drones as soon as federal rules allow.
To read more, click HERE.