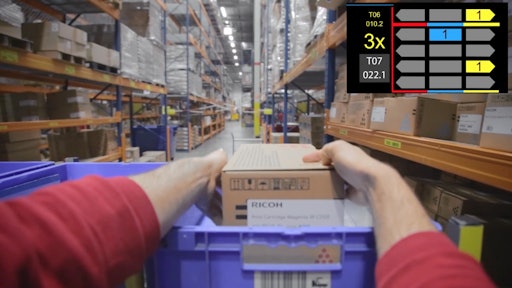 A recent pilot project in the Netherlands by DHL and Ricoh has successfully tested smart glasses and augmented reality in a warehouse. The technology was used to implement "vision picking" in warehousing operations, according to the Materials Handling Industry.
Workers were guided through the warehouse by graphics displayed on the smart glass to speed up the picking process and reduce errors. The pilot proved that augmented reality offers added value to logistics and resulted in a 25 percent efficiency increase during the picking process.
"Vision picking enables hands free order picking and greatly increases productivity. The technology significantly supports our staff and brings exciting value to our customers. However, this is just the first step in our innovation journey as we believe augmented reality will become relevant for even more supply chain areas," said Jan-Willem De Jong, business unit director of technology at DHL Supply Chain Benelux.
The pilot's objective was to gain insights on the technology's benefits and limitations. For three weeks, warehouse staff in Bergen op Zoom was equipped with head mounted displays such as Google Glass and VuzixM100.
The displays showed the respective task information during the picking process, including aisle, product location and quantity. Overall, 10 order pickers used the equipment and picked more than 20,000 items, fulfilling 9,000 orders within the given time frame. As a result, staff was able to operate much faster and error free. Currently, DHL and Ricoh are jointly evaluating the roll-out of the solution.
To read more, click HERE.