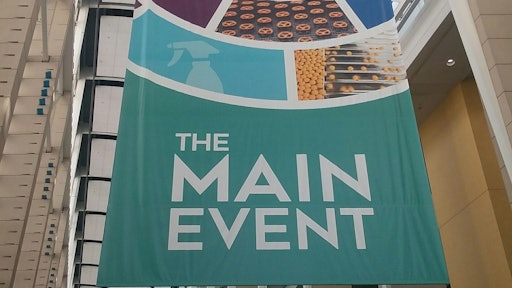 Mackenna Moralez
Pack Expo International opened to historic attendance this week, amid forecasts of growth in the packaging industry. Based on The Association for Packaging and Processing Technology's (PMMI) newly released State of the Industry U.S. Packaging Machinery Report, packaging machinery shipments are forecast to grow to $10.5 billion.
Per the State of the Industry report, the value of domestic shipments of packaging machinery rose 6.4 percent to $8.2 billion in 2017—and are forecast to grow at a compound annual growth rate (CAGR) of 4.1 percent by 2023.
Food represented the largest packaging machinery sector in 2017, accounting for 36.6 percent of shipment revenues, followed by beverage at 22.1 percent. The pharmaceuticals sector is expected to grow the fastest at a CAGR of 3.5 percent by 2022. While the largest machinery type category in 2017 was case handling at 15.1 percent, bottling line machinery is forecast to grow the fastest, with a CAGR of 5.3 percent by 2023.
E-commerce has influenced much of this market growth, with the first quarter of 2018 e-commerce sales accounting for 9.5 percent of total retail sales, according to PMMI's recent report, E-Commerce: Think Inside the Box.
"Across all demographics, from Baby Boomers to Generation Z, a growing number of people are purchasing a large portion of their products online with greater frequency than ever before," says Paula Feldman, director of business intelligence, PMMI. "E-commerce operations need advanced equipment in order to keep up with demand, and manufacturers are investing in smarter, automated functionality to achieve a greater level of machine flexibility."
Here are a few highlights for this year's exhibitors: 
ESKO Enhances 3D Packaging Design with Virtual Reality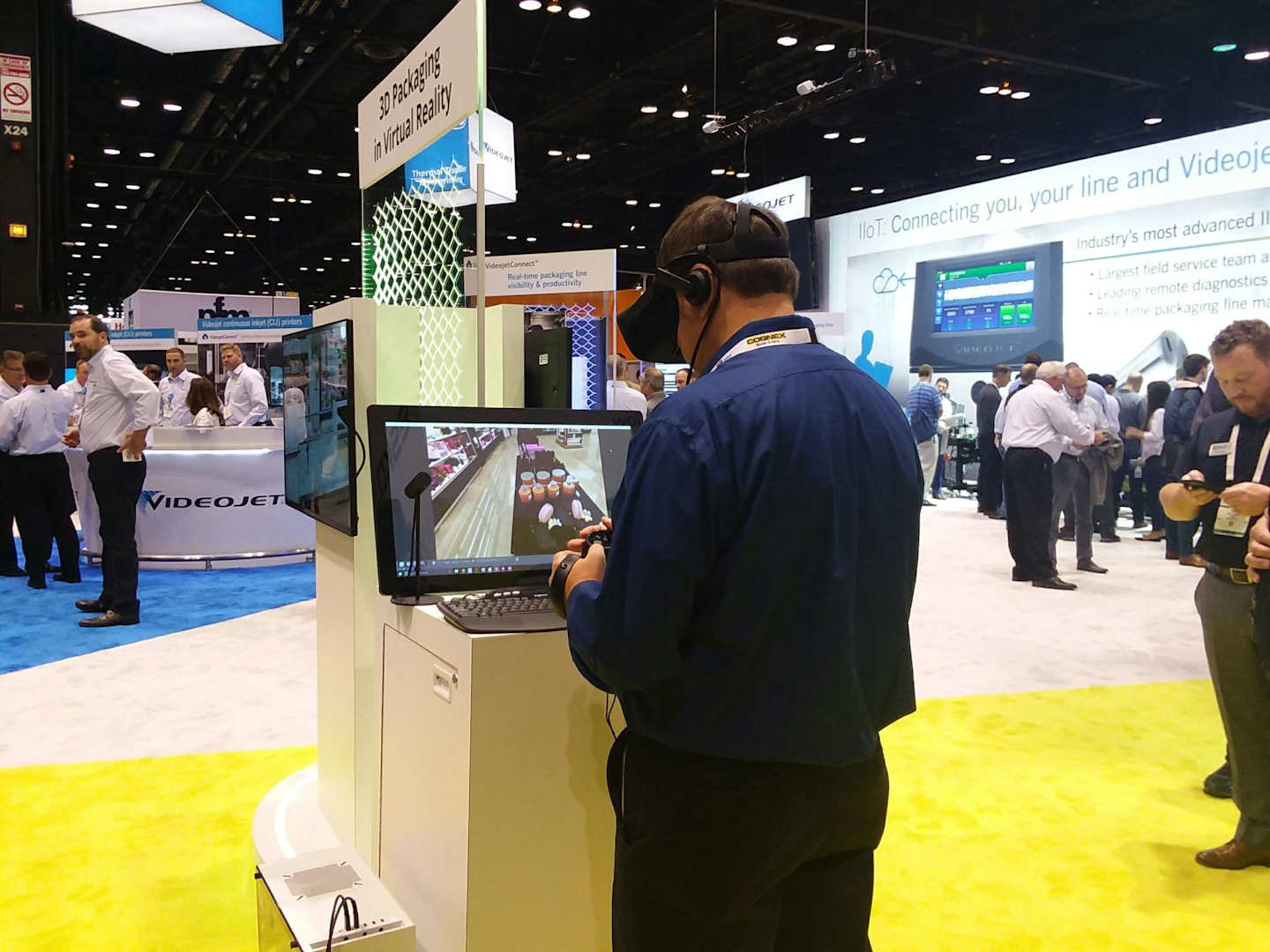 The Studio Store Visualizer is ideal for use in store planning and category management.Mackenna Moralez

ESKO gave attendees the opportunity to strap on goggles and walk through a virtual store with its Studio Store Visualizer Advanced program. Like most stores, there were randomly placed items and darkened shelves. The life-like animated details on screen enabled users to grab their desired products and add them to their virtual shopping carts. 
The Studio Store Visualizer enables manufactures to see their packaging, displays and other branded items on virtual store shelves next to the competition. Companies are able to test their products virtually before physically releasing it in stores. 
ESKO's stereoscopic rendering also makes it possible to test the visual impact of your latest design in the environment where it all happens: the store. The technology allows users to view the virtual store on a 3D screen, so they can become completely immersed in the digital narrative.
Omron Unveils Collaborative Robot for Easy Product Customization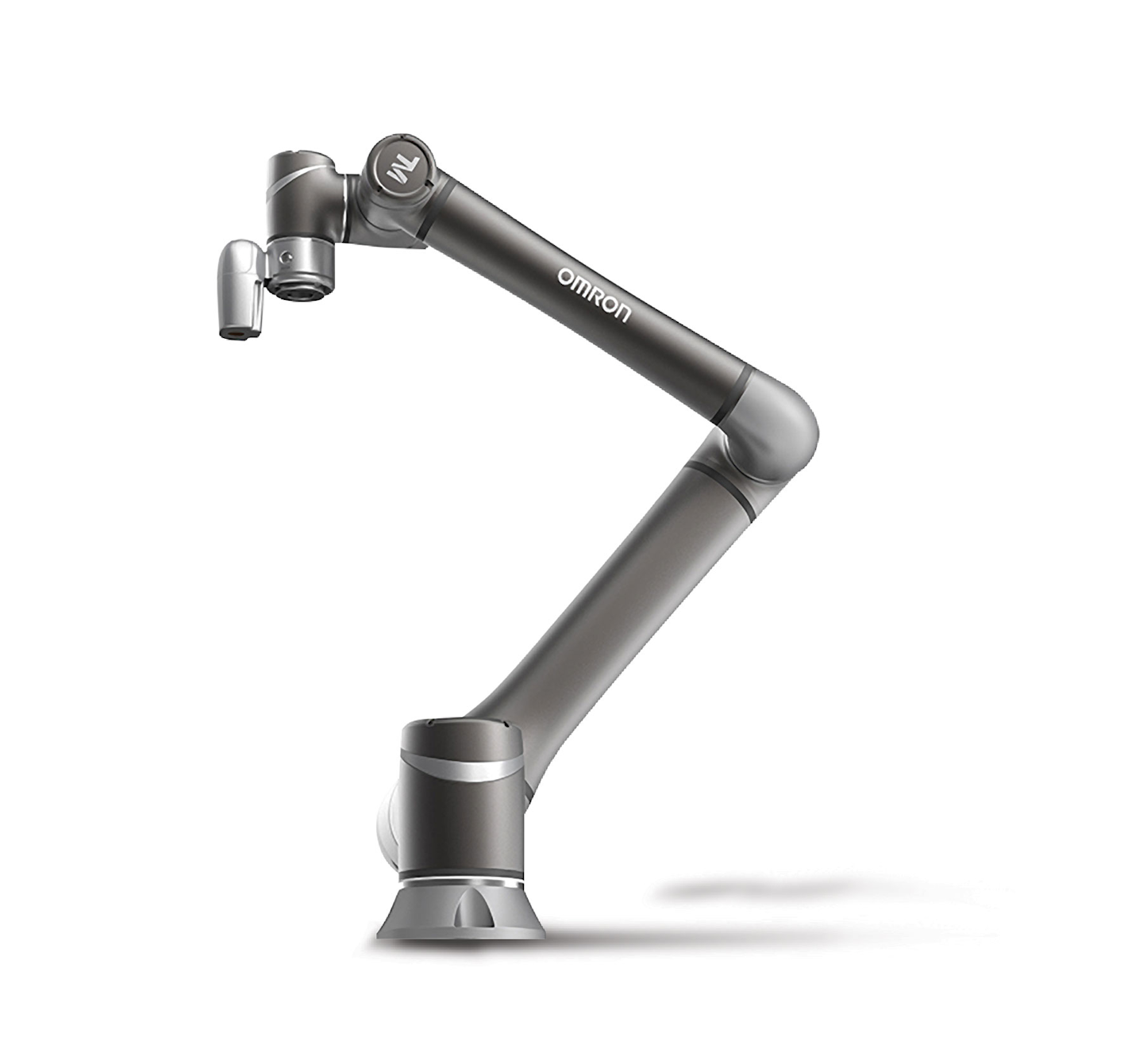 Omron's new line of TM-series of collaborative robots represent a big step toward creating an intelligent manufacturing environment where humans and machines work in harmony.

Omron displayed a host of new technologies, including sensing, control, safety, vision, motion and robotics intended to help manufacturers upgrade their traceability systems and streamline their flexible production lines. 
Flexible manufacturing and customization in the packaging industry has become critical, as companies consistently demonstrate how the ability to diversify and personalize packaging can sharpen their competitive advantage. 
Omron's new line of TM-series collaborative robots can be easily integrated with other equipment to create an intelligent manufacturing environment where humans and machines work in harmony. It's high-speed, high-precision Quattro robot offered a demonstration on how manufacturers can facilitate customization and coordinate flexible product loading. 
R.A. Jones New Cartoner Provides Flexibility for Growing Product Variety
Coesia Group showcased 18 innovative technological solutions by 10 Coesia companies, featuring nine new products. Among its new integrated solutions was an expansion of R.A. JONE's line of carton technology, the Criterion CLI-100, which can process up to 200 cartons per minute. The intermittent motion cartoner offers the largest range of carton size capabilities in the industry to meet the demands of today's growing SKU counts and a range of different product types.
R.A. JONES specializes in the design and manufacturing of primary and secondary packaging machinery for the food, pharmaceutical, dairy and consumer goods industries. 
Yale Showcases Robotic Counterbalanced Stacker Lift Truck
In an age of increasing demand and limited workforce availability, operations are turning to robotic solutions to optimize workflow and enhance labor efficiency. Yale Materials Handling Corporation highlighted the latest addition to its robotic lift truck lineup, the Yale MC10-15 counterbalanced stacker driven by Balyo's autonomous technology.
The counterbalanced stacker model can move from point-to-point both horizontally and vertically, allowing it to autonomously retrieve or deposit pallets from elevated spaces. This opens a variety of tasks for automation, including transferring pallets from floor-level staging areas to conveyor lines, loading and unloading in cross-docking applications, and stacking pallet loads onto elevated storage racks. 
Baylo's software is tied into the standard truck's infrastructure, meaning operators can easily switch the stacker from automatic to manual mode to handle unplanned challenges or fluctuating demands. 
In addition to the MC10-15 counterbalanced stacker, Yale offers two other robotic lift truck models integrated with Balyo technology—the Yale MO70T tow tractor and MPE080-VG end rider models. 
ORBIS Offers Grocery Pallet to Meet Changing Industry Needs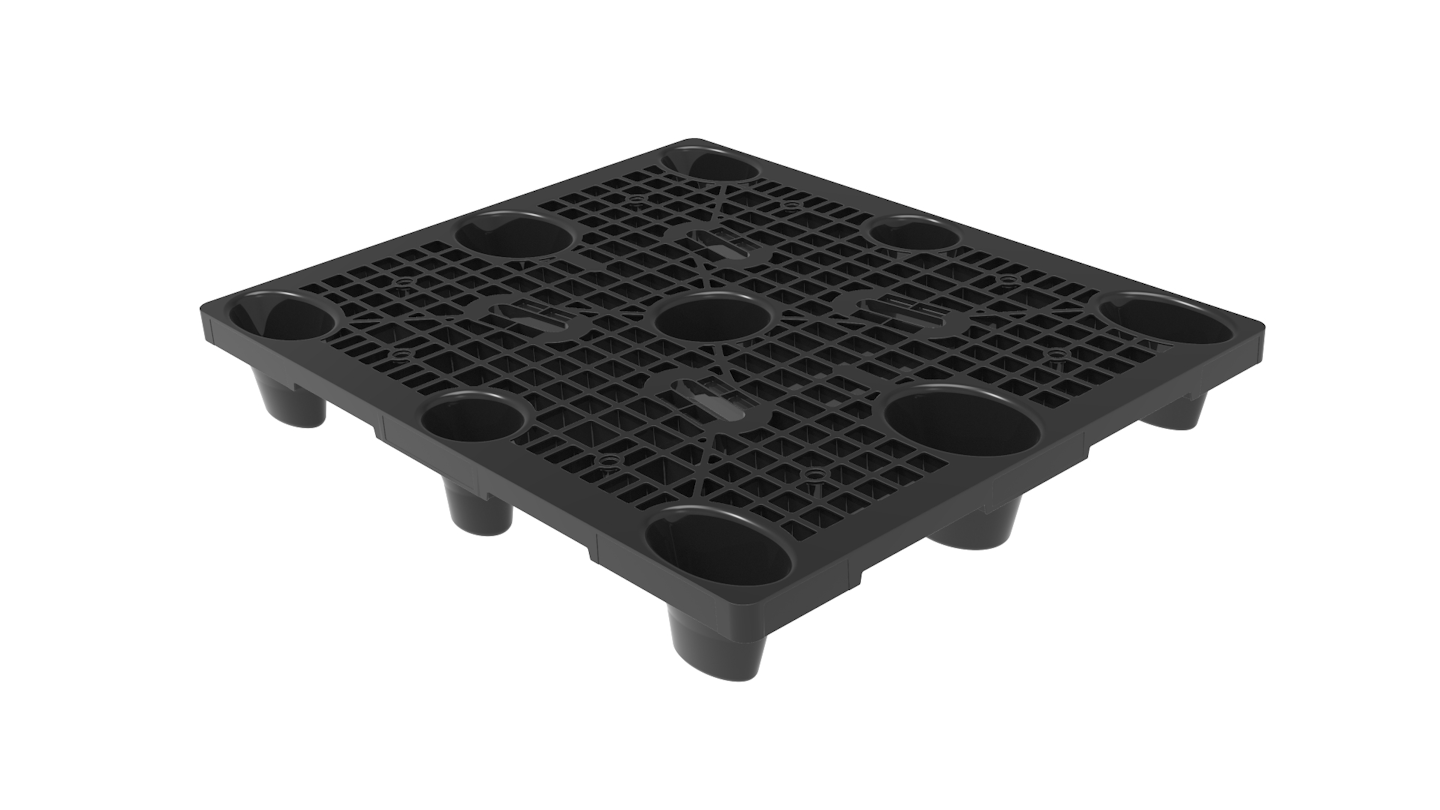 ORBIS Corporation's new XpressPal Grocery pallet features an upgraded round leg design and slip-proof surface texture.

Much of the innovation showcased at this year's PACK EXPO focused on the continued evolution of packaging to meet changing consumer demands. ORBIS Corporation's new XpressPal Grocery pallet was designed with a similar theme in mind.  Designed to ship finished goods from distribution centers to retail, the pallet offers the grocery and foodservice industries a new option for handling high-demand products like fresh food.
The most impressive features of the pallet include a new round leg design, making the pallet compatible with similar pallets on the market and increasing the pallet's impact performance in rugged grocery environments. The pallet is also manufactured as one piece, eliminating areas where contaminants can collect, and features a new molded-in texture on its top surface to increase friction and a common complaint of slipperiness with plastic pallets.