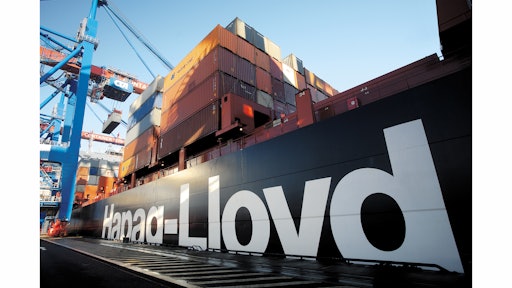 FedEx To Acquire TNT Express To Boost International Reach
FedEx Corp. and TNT Express N.V. reached an agreement whereby FedEx will acquire TNT Express at an implied equity value of approximately $4.8 billion. The combined companies would be a strong global competitor in the transportation and logistics industry, drawing on the considerable and complementary strengths of both FedEx and TNT Express. The combined companies' network would benefit from the combined strength of TNT Express' European road platform and Liege hub and FedEx's strength in other regions globally, including North America and Asia. TNT Express customers would also benefit from access to the FedEx portfolio of solutions, including global air express, freight forwarding, contract logistics and surface transportation capabilities. n.
Cold Train Officials Sue BNS For Ruining Its Intermodal Service
Steven Lawson, the former president/CEO of Cold Train and Mike Lerner, the former managing member of Cold Train, have filed a $41 million lawsuit against Burlington Northern Santa Fe (BNSF) Railway in the US District Court in Spokane, Wash. as a result of damages incurred for having to shut down the Cold Train Express Intermodal Service in August of 2014. The shutdown of Cold Train was caused by a significant slowdown in BNSF's service schedules on its Northern Corridor line beginning in the fall of 2013 because of increased rail congestion as a result of BNSF hauling larger volumes of oil and coal from the Northern Plains region, Cold Train claims.
Jet Airways Launches Cargo Service To And From India
Indian passenger airline Jet Airways will launch dedicated freighter operations (subject to regulatory approvals) in April, becoming the first private Indian passenger airline to offer all-cargo services, the company announced. The freighter services will operate using an A330-200F aircraft wet-leased from strategic-partner Etihad Airways and will have an operating base in New Delhi.
Chinese Slowdown Drives Bulk Shipping Rates To All-Time Low
Dry bulk shipping charter rates remain well below break-even levels, pushing vessel scrapping to record highs, though some market improvement is expected in the second quarter, according to Herman Billung, the CEO of shipping firm Golden Ocean, reported The Maritime Executive. Day rates have plunged as China's slowdown reduced its iron ore imports while the market is flooded with brand new vessels entering the market, sending the Baltic Dry index to an all-time low of around 500 points in February from around 1,600 points a year ago..
How Will Panama Canal Expansion Impact The Cold Chain?
The $5.25 billion Panama Canal expansion project, when completed and operational in 2016, will add a deeper and wider third lane and a new system of locks to accommodate the new massive vessels that steamship lines are increasingly deploying, according to the Global Cold Chain Alliance. Transshipment activity through Panama will grow strongly once the canal expansion is completed. The expanded canal is also expected to benefit shipping lines by reducing transportation costs per cargo unit. What remains uncertain, however, is how much the shifts in trade patterns will impact new business.
Port of Portland Loses Container Business; Will Puget Sound Boost Carrier Rates?
Container business at the Port of Portland may take a serious hit as the port stands to lose another major container carrier, according to reports. Although German-based Hapag-Lloyd has not made an official announcement that it will no longer call on Terminal 6, the company's current schedule contains no calls for the port in the near future. This comes shortly after Hanjin Shipping, the port's largest carrier, pulled out in February, leaving the port with 80 percent less business. Hanjin stopped calling on Terminal 6 in the midst of the continuing labor disputes and backlog it caused. Hanjin was the only shipping company exporting Oregon goods directly to some of the state's biggest clients.
E-Commerce Drives Investment In European Warehouses
European warehouses attracted record investment last year as Internet retail growth boosted demand for storage space close to the homes of online shoppers, Reuters reported. Investment climbed by 28 percent to 21.7 billion euros ($22.9 billion), according to Jones Lang LaSalle Inc. Anticipation of a prolonged rise in Internet retail has sparked competition for assets, causing average yields to narrow to 7.8 percent last year from 8.9 percent in 2013, according to broker DTZ Holdings Plc. Average yields for the best offices in Europe stand at about 5 percent.
Penske Logistics To Acquire Transfreight North America
Penske Logistics has reached an agreement to acquire Transfreight North America, a provider of third-party logistics and supply chain solutions, from Mitsui & Co., Ltd. Financial terms were not disclosed. Transfreight North America currently operates from 27 locations across the Midwest, Canada and Mexico with headquarters in Erlanger, Kentucky, and in Kitchener, Ontario, Canada.
 Three Asian Container Lines Unveil Latin America Service
A new service linking Asia and Latin America is being launched by three of Asia's leading container lines this summer, in spite of the recent fall in freight rates in this market, according to reports. Hyundai Merchant Marine (HHM), Hanjin Shipping and Yang Ming Marine Transportation Corp. are due to start the West Latin Express (WLX) service on July 11. It will be operated with 10 vessels of 5,500 TEUs, according to Lloyds List. "Partner carriers believe that the introduction of this new service will improve transit times and provide extensive port coverage from Asia to the West Coast of Latin America including Mexico, and vice versa," HMM said in a statement.
U.K. Port Expansion To Make One Of Europe's Largest Reefer facilities
A specialized $29.6 million, state-of-the-art temperature controlled refrigerated distribution center is to be built at London's Port of Tilbury, according to reports. The development is between port owners Forth Ports Ltd. and Britain's market leader in chilled food distribution, NFT Distribution, and is scheduled to open in late 2015.
Port Strikes Help Drive Air Cargo
Global air cargo traffic surged in February as a result of the timing of Chinese New Year, coinciding with congestion at U.S. West Coast Ports, according to the International Air Transport Association (IATA). Air cargo traffic increased 11.7 per cent in February this year over 2014. North American carriers grew 8.7 per cent year-on-year, driven largely by congestion at West Coast ports, while Latin American air freight volumes dropped 9.6 per cent.