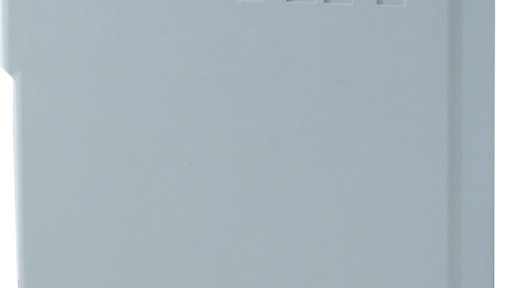 Nigeria's Apapa Container Terminal to Use GPS System
APM's Apapa Container Terminals, the largest container terminal operator in West Africa, has introduced a GPS container location system that provides 99.5 percent accuracy for spotting containers in the terminal. According to Longshore & Shipping News, the GPS system is the "first of its kind in the world, [and will] aid multi-level container inspection facility for physical examination of containers by Custom operatives."
The managing director of Apapa Container Terminals, Dallas Hampton, added that, "The GPS system will also enable the use of further technologies such as NAVIS Prime Route and Expert Decking, which are advanced real time IT systems that can improve terminal yard efficiency. These systems combined will enable the terminal to have pedestrian-free yards and provide truck service times for delivery in less than 45 minutes on average."
Nigeria is unique because up to 70 percent of containers require Customs' inspection in the terminal, while most other countries typically inspect less than 10 percent.
U.S. Senators Aim to Reverse Railroads' Antitrust Exemption
Senator Amy Klobuchar (D-MN), the new chair of the Senate Judiciary Committee's antitrust subcommittee, along with Sen. David Vitter, (R-LA), have introduced legislation that would strip railroads of their exemption from antitrust laws. The lawmakers claim the policy has led to higher costs for agricultural and other goods.
"This legislation makes commonsense reforms that will require the railroad industry play by the same antitrust rules as other industries and will help keep costs down for businesses, farmers and consumers," said Sen. Vitter is a statement.
Railroads say antitrust exemption is necessary for their survival. However, rail shippers, especially power companies that use coal, argue that rates for rail transportation have risen sharply.
UNFI Plans New DC in New York, Rich Products Expands in Georgia
United Natural Foods Inc. (UNFI) announced plans to build a 525,000 square-foot distribution center in New York's Hudson Valley, which will be the second-largest facility in the company's network and the first in the state once it's completed next year.
The company is investing $55 million and will receive another $3.6 million in job creation tax credits through New York's economic development agency. UNFI distributes natural, organic and specialty foods.
Meanwhile, Rich Products is expanding its Waycross, GA food manufacturing facility by 40 percent and adding 55 new jobs. The plant primarily makes dough-enrobed appetizers and snacks, such as mozzarella bites and mini stuffed-pizza slices, for the company's foodservice division and its Farm Rich consumer brand.
Rich Products maintains 36 manufacturing locations on six continents, including 19 plants in the U.S.
Study: The Prettier the Wrapper, the Better the Taste
Professors Charles Spence, Betina Piquer-as-Fiszman and Carlos Velasco studied 48 individuals from Colombia and the UK to see how color and packaging on chip bags played a role in how individuals perceived taste.
The result, according to the study, was that the visual design on the packet generally dictated how a person perceived the flavor of the chip.
Furthermore, the same color can be associated with different tastes depending upon the culture. For instance, the color green in Colombia represents lemon. In the UK, though, a lemon taste is depicted with the color yellow.
Research shows that understanding color and flavor is key when designing food packaging from a marketing perspective.
C.R. England Partners With Online Recruiting Site
C.R. England, the largest refrigerated trucking company in the world, has partnered with the online recruiting service TruckingUnlimited.com.
"While the Internet offers unlimited exposure to today's generation of truck drivers, specialty job sites such as TruckingUnlimited.com immediately capture the niche target audience of truck drivers, rather than general job boards combining thousands of jobs and thousands of applicants into a sea of hit and miss. Trucking employers such as C.R. England recognize these job sites are becoming as essential to recruiting, as good drivers are to their business," stated C.R. England in a press release.
Port of Miami Gets Cozy with Chilean Produce Shippers
The Port of Miami enjoys a good relationship with Chilean produce shippers who view the Port as a key gateway for their exports, but Port officials see even greater opportunities in the trade lane.
"Expanding agricultural trade with Latin the liner's current schedule, which includes a Friday sailing from Jacksonville (FL) and a Tuesday sailing from Port Everglades.
According to Crowley, "The new Saturday sailing day will give customers an additional option for the transport of their goods, including groceries, retail merchandise, building materials, refrigerated (reefer) products, and vehicles from Port Everglades to Nassau each week. The Monday vessel arrival in Nassau also aligns well with the logistical needs of the local market."
Global Foodservice Slows in Q4, But Spending Up
Global foodservice trends reveal a slow-down in the last quarter of 2012, even though spending was up in many countries, according to research firm The NPD Group.
Although China experienced an 8 percent rise in traffic, most countries experienced traffic declines and no country posted an increase in visits greater than 1 percent, reported the firm, which tracked commercial foodservice trends in Australia, Canada, China, France, Germany, Italy, Japan, Spain, the UK and U.S.
At the same time, foodservice spending was up in Australia, Canada, China, Germany, the UK and U.S.
Google Ventures Into Groceries
Internet giant Google is entering the online grocery segment with the launch of a new service called Google Shopping Express, according to a report from the Associated Press.
The service will initially provide same-day delivery of food and other products purchased online for consumers in San Francisco and neighborhoods south of the city.
"We hope this will help users explore the benefits of a local, same-day delivery service, and help us kick the tires on the new service," Google said in a statement.
The company's research shows that the more time consumers spend online, the more apt they are to use Google's search engine or other offerings, like YouTube and Gmail, which in turn increase advertising opportunities.
Online grocery shopping has its challenges, however. Amazon.com and eBay have encountered difficulties on the delivery side, while online grocer Webvan was forced to close down in 2001.
Simply put, consumers are unwilling to wait days for products to arrive once they're purchased online. Consumers want same-day delivery, especially for grocery items.
In a related development, UK's Morrison Supermarkets also announced last month that it would launch an online shopping site. The news was significant because Morrison's has publicly questioned the viability of Internet- based food retailing for years. One of its competitors, Waitrose, reported that its online grocery sales grew by 49 percent last year.