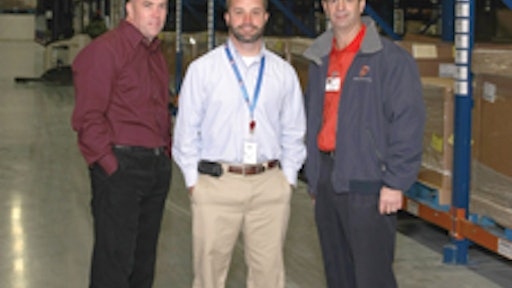 In times of constrained capital spending, when it can be difficult to get new construction projects green-lighted, companies may actually face greater dangers from missed opportunities than of becoming over-extended.
But a good idea, executed by the right design and development team, can fit an opportunity so well that it starts paying dividends from day one.
Such is the case with a new distribution facility just completed by Oakwood, GA-based Wayne Farms LLC, one of the top five vertically-integrated chicken processors in the U.S., with annual sales over $1.3 billion.
The opportunity presented itself as the company was recently expanding a processing complex it has been developing in Decatur, AL, over the last 10 years.
Wayne Farms originally built one plant on a parcel there in the mid-'90s. Known today as Decatur East, it now runs six lines. In 2006 the manufacturer added a second plant with two initial lines, designed to be expanded up to six. The next year the new Decatur West plant already got a go-ahead to add an additional line. This expansion was completed in April 2008.
With Decatur West running three high-speed lines today, the larger capacity Decatur East plant is humming along with six lines. Eventually, when the third phase of Decatur West's expansion is complete, the joint operation will have 12 lines.
Until September, all this product was shipped out to several cold storage facilities within a hundred-mile radius of the two plants, explains Chander Narula, Wayne Farms director of engineering.
The company's brainstorm was to realize it could sandwich a cold storage facility on the same campus as the processing facilities, right between the two plants. This approach would not just consolidate shipping operations from the plants but also reduce transportation costs.
By incorporating automated material handling equipment to shuttle pallets from one plant to the DC, and tightly integrating operations between the three separate facilities, which are physically connected and located "cheek by jowl," Wayne Farms in Decatur was able to actually eliminate an entire shipping layer from its supply chain.
This meant saving not just transportation costs but also virtually all the labor involved in loading and shipping finished goods from the plants to distribution, plus the money that was spent on outside storage.
In addition, the arrangement would provide harder-to-quantify, but no less real benefits in terms of product quality and control, since all product would now move quickly from each processing line directly into the cold storage freezer, without ever exiting the facility into a non-temperature-controlled environment.
The Challenges
Narula's immediate challenge was to quantify how much Wayne Farms was spending on moving its product into third party storage, to determine what kind of investment it could justify in an on-site DC. He discovered there was a multimillion dollar difference between the plants' total annualized costs to transfer and store all of its product in outside facilities, vs. the cost of building a DC on site.
"That meant if we invested in a facility right now, we would get a payback within two years," he points out.
One decision the company made quickly, he adds, was to outsource operation of the proposed cold storage facility to a third party.
"We knew we didn't have the resources and capabilities to manage this warehouse. We were not going to learn on the job and add 40 to 50 new people who didn't know anything about operating cold storage," Narula comments.
After considering several candidates the company settled on Richmond Cold Storage, Richmond, VA. One reason it was critical to select a third-party logistics (3PL) partner right away, Narula adds, was that the processor wanted the warehouse operator involved in the project from day one, right from the design phase, since they would be the ones actually operating the proposed DC.
The project opened ahead of schedule, in early September, 2008.
TEAM PRIMUS: Primus had successfully completed two other projects for Wayne Farms.

Gunderson

Jones

Auer

Johnson

Grenier
A Tricky Fit
Justifying the project turned out to be the easiest of the challenges. The tricky parts were designing the DC to fit the allotted space and connect seamlessly with both processing plants; then managing this complex construction project without impeding operations at the two plants, which continued to operate at full bore throughout the entire process.
Wayne Farms entrusted this responsibility to Primus Builders, Woodstock, GA, which successfully completed two other projects for the company, including the phase 2 expansion of Decatur West.
The initial concept was actually sketched out on a napkin by Narula and Paul Grenier, Primus' vice president of sales and marketing. Then it was turned over to the Primus design team, led by Michael D. Jones, president, Primus Design Services LLC.
"Foremost, we tried to maximize the space between the East and West plants to put in the largest usable footprint of a building possible, to maximize utilization of the available acreage. We probably went through at least 15 to 20 design iterations before we settled on how the final footprint would shake out. All three parties were instrumental in developing the final blueprint," Grenier comments.
The first puzzle in designing the cold storage center was how to accommodate the difference in grade between the two manufacturing plants of about 25-30 feet, Narula notes. The team chose the option of building the cold storage at the same elevation as the higher West plant. The lower-situated East plant would be connected to the DC via an overhead tunnel, which trucks shipping product from the DC could pass underneath.
"The project required a 20-foot high full-length retaining wall--which runs along the whole side of the plant--to provide a level surface for the facility," says Jones.
To move product between the East plant and the new cold storage facility, Wayne Farms installed automated conveying equipment leading directly from the processing lines to pallet elevators. These would transport pallets of product two at a time up to the cold storage facility, and deposit them into a small staging area, from where they would be picked up by the DC's RF-directed fork truck operators for putaway. From the West plant, which is at the same level as and directly connected to the cold storage operation, pallets from the lines are taken to a small "handshake area" where they are dropped off by plant personnel and picked up by warehouse employees.
"The elevated walkway required refrigeration to maintain product integrity, which added to the design challenge," adds Jones.
Other problems inherent to the challenge of sandwiching a new DC in between two existing plants included the need to relocate working utility lines, including high voltage electricity lines, that ran beneath the site, as well as multiple sewer lines, points out Erik Gunderson, vice president, Primus Builders.
"In addition, because the new building was in direct conflict with the existing shipping dock on the West plant, we had to create a new temporary shipping dock on the plant's south side before we could begin construction of the DC," notes Primus's senior project manager, Mark Auer.
Finally, everything, from relocating sewer and power lines to constructing and demolishing docks, to connecting the finished building to the plants on either side, to testing the equipment before going operational, had to be accomplished while both processing plants continued to run at full capacity.
Construction began November 1, 2007 and the finished DC was turned over to owner Wayne Farms on August 29, 2008, Auer says.
Wayne Farms and Richmond Cold Storage spent one week inspecting and testing all the installed systems, including the pallet conveyance and lift equipment, ensuring the building was maintaining correct temperature, and working out any start-up operational issues. At the start of the second week in September, Wayne Farms and Richmond Cold Storage in Decatur were ready to handle finished product.
"The entire project was seamless," says Brad Blackmon, Wayne Farms East plant manager. "From the initial design phase through the actual construction, the product flow never suffered through the process. We never had an interruption between the East and West plants."
Communication And Coordination Make For Success
Among the biggest challenges in building the cold storage warehouse was managing the extensive construction without disrupting the processing plants' ongoing operations.
"Communication, extensive engineering and active, frequent coordination were paramount in the success of continued operations and 'fitting' in the new work," notes Erik Gunderson, vice president, Primus Builders.
"Our activities immediately impacted their existing shipping area on the West plant. We had to demolish all of their pavement outside the shipping dock, move the permanent dock to a temporary location, temporarily shut down the sanitary and process utility services so we could tie in the new services and relocate the old ones," explains Mark Auer, Primus's senior project manager.
All this required tremendous levels of coordination on-site. To smooth the process, notes Heath Loyd, Wayne Farms West plant manager, the company designated a single Wayne Farms project manager, Mike Fields, "who partnered with Billy Johnson (project superintendent) and was instrumental in keeping all parties on the same page and coordinating all activities."
In addition, Auer notes, there were several remote groups involved in the project: Wayne Farms corporate headquarters in Oakwood, GA, the Primus design team in Atlanta, and the warehouse operator, Richmond Cold Storage, based in Virginia.
To help keep all these parties in the loop through every phase of the development and construction process, all job drawing files and other key documents were stored electronically in a central location on an FTP site that all team members could access via the Internet, to see the most up-to-date design information as soon as it was updated.
Beyond that, the project succeeded through a massive coordination effort using every available communications tool, including emails, on-site meetings, and conference calls, "to make sure everyone was up to date on the latest developments and progress of the project," Auer says.
"Primus did such a great job with the coordination and execution, that when they finished, there were virtually no pending items to be addressed. Every detail and issue was taken care of as the construction progressed," says Chander Narula, Wayne Farms director of engineering. -C.C.
Project Statistics: Wayne Farms
Dimensions:
• DC totals 135,000-square-feet, with 108,900-square-feet dedicated freezer storage, maintained at -10 degrees F;
• 17,800-square-feet available for dock with 13 shipping doors; maintained at 35 degrees F;
• 4,200-square-feet dedicated to product corridors and pallet preparation;
• 7,000-square-feet of offices;
• Balance hosts miscellaneous support functions such as battery charging and maintenance;
• Ceiling height is 45 feet in freezer, for total of more than 4.9 million cubes of storage, up to 14,600 pallet positions.
Equipment:
Material Handling:
• 250 feet total of pallet conveyor linking East Plant and DC, designed to move 35-40 pallets/hour;
• Primary pallet elevator handles two tandem pallets in sequence, at rate of up to 250 pallets/hour;
• Main tandem lift has redundant drives and is further backed up by a single pallet elevator capable of handling East plant's full output.
Refrigeration:
• High efficiency, two stage, central ammonia refrigeration system with two compressors and PC-based control system.
Lighting:
• T5 energy-efficient fluorescent fixtures with individual occupancy sensors.
Other "Green" Features:
• VFDs (variable frequency drives) on all large motors within refrigeration and other systems;
• Dock openings with state of the art dock seals for improved thermal performance;
• Glycol under-floor warming system;
• During construction debris was segregated into recyclable containers and land fill containers; local fill materials used to minimize trucking;
• Building materials were sourced as close to project site as possible where it made economic sense, to minimize transport.