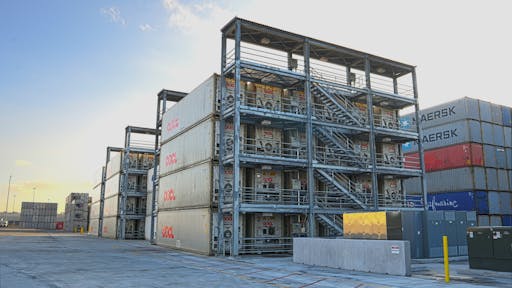 As leading containerized carriers continue to grow their market share of refrigerated cargo, major box ports across the United States are likewise responding by improving their offerings to support imports and exports of chilled and frozen cargoes moving via container.  
We asked representatives at major box ports what they believe are the primary challenges facing beneficial cargo owners (BCOs) of reefer cargo right now, and how their port is tackling those challenges. 
Changes throughout the trucking industry are affecting all BCO shippers, especially those in the refrigerated food sector, notes Matt Pesavento, South Carolina Ports Authority regional manager, Atlanta office.
Furthermore, now that the soft enforcement of electronic logging devices (ELDs) has moved into full enforcement as of April 1, the already critical driver shortage problem "may pose a challenge in trucking capacity, especially for cold chain BCOs who source drivers from a smaller, specialized pool within the trucking market," he explains.   
Meanwhile, "SCPA's new inland facility, Inland Port Dillon, is coming online just in time to play a key role in alleviating that challenge for many of our reefer customers," says Pesavento, referring to the inland facility that opened April 16, which aims to convert approximately 45,000 container moves from truck to rail in the first year of operation.
"A large concentration of our pork and poultry exporters located in North Carolina will benefit from the daily rail service between Inland Port Dillon and the Port of Charleston, as it allows their drivers to handle multiple container moves per day between their plants and Inland Port Dillon, rather than just a single container move per day to Charleston. We expect the utilization of rail to become particularly useful for the optimization of cold cargo supply chains."
Pesavento adds that, "An additional challenge is more regional—the management of the tremendous volume growth of reefer cargo in the Southeast, including the increased need for port infrastructure and operational flexibility as well as private sector cold storage capacity."
Charleston has worked diligently on both fronts, he says.
"Several years ago, we expanded our weekday gate hours and added Saturday gates, which allow our cold chain clients greater flexibility and an additional day for reefer processing. We also added reefer racks and opened a new refrigerated cargo service area in July 2017—a $14 million investment that enhances reefer processing for shippers, truckers and ocean carriers."
Complementing SCPA's on-terminal investments are more than 660,000-square-feet of cold storage and blast freezing capacity that have been built or committed by the private sector in response to the port's cold cargo growth, Pesavento says. Local cold storage providers include Agro Merchants Group, Lineage Logistics and New Orleans Cold Storage. 
"Port Houston is deeply involved in the food business," emphasizes John Moseley, senior director, trade development. "After all, we are the international port of Texas, the second most populous state in the U.S. with 28 million hard working people who have strong appetites."
The port works closely with retailers, importers, exporters, the USDA, Customs and Border Patrol (CBP), cold storage operators, logistics companies, associations like the Produce Marketing Association, the Houston Fresh Fruit and Vegetable Association, the Houston Food Bank and even with growers overseas, says Moseley.
The port also meets frequently with growers and other stakeholders to understand their needs.
"We've been at plantations in Costa Rica, Guatemala and Chile, and have met with producers in places like Thailand, regarding the food supply chain to Texas, to see how the port can improve and better serve our customers," notes Moseley.
"There are many challenges in the cold chain because the product is valuable, time-sensitive and very important, because of course, it is what men, women and children put in their bodies. For this reason, two challenges that our food BCOs have brought to our attention are food safety and supply chain visibility."
 He says that Port Houston currently ranks as the sixth largest container port in the United States, and is the fastest growing of the Top 10 ports.
However, one of the differentiators is the Port Houston is not a landlord port. For example, they operate both of their facilities: Bayport and Barbours Cut container terminals.
"Port Houston is proud of its performance in those areas we consider to be at the core of what we do as a terminal operating port. We lead the country in velocity and efficiency with no congestion, no lines, the fastest truck turn times and probably the most productive ship to shore operations in North America," Moseley adds.
At the same time, the port remains focused on addressing the service needs of reefer BCOs and is adding more reefer plugs and will open a new USDA testing lab this year, which will further enhance food safety.
On the supply chain visibility front, Moseley says that, "Port Houston has embraced technology and innovation as opportunities to further improve the customer experience and create greater value for our customers, the BCOs."
This year, Port Houston became the first port in North America to join the new IBM/Maersk Global Trade Digitization/Blockchain initiative, joining other participants in the first-of-its-kind pilot program.
"This important milestone is a first step for us in what we hope to be new opportunities to respond to BCOs' needs, particularly food safety and improved supply chain visibility," says Moseley. 
Frank Camp, director of cargo sales at JAXPORT, sees "speed through the supply chain" as the leading challenge for reefer shippers.
"Every link in the supply chain needs to effectively move cargo while in its care and custody onto to the next part of any cargo's journey to market," he points out, adding that, "Avoiding delays and pinch points is especially important for refrigerated cargoes with a limited shelf life."
 Therefore, ports must provide adequate waterside infrastructure at the terminals in the form of available berths, sufficient channel and berth depth, and cargo handling equipment to work modern vessels. They must also provide refrigerated plug infrastructure and an efficient gate complex to efficiently move trucks through the terminal complex, he says.
"Strong relationships with local government officials with jurisdiction over refrigerated and agricultural commodities are also crucial to maintaining an unbroken transport supply chain for reefer cargoes," adds Camp.
Several recent investments at JAXPORT are helping to accommodate the growing volume of cargoes moving through its facilities, including an investment in container berth modernization and three super post-Panamax container cranes. In addition, the Army Corps of Engineers recently began deepening the St. John's River to 47 feet, while the State of Florida has invested heavily in the upgrading of highway interchanges surrounding JAXPORT's terminals.
With agriculture being a key industry within Florida, Camps says JAXPORT "hopes these investments assist our local producers to reach global markets, while at the same time allowing shippers to use our port to reach the growing consumer population in the southeast." 
For reefer shippers, in particular, freight reliability and visibility are two key challenges, according to Philip Sanfield, spokesperson for the Port of Los Angeles.
"The Port of Los Angeles has 20 weekly service strings with Asia and Latin America and an additional two service strings with Hawaii," he says, which give reefer BCOs plenty of diversity and options. "It's important that shipping lines maintain a regular service, and the Port of Los Angeles is responsible for a reliable freight transfer throughout terminals."
Furthermore, Sanfield says "continual infrastructure improvements, process management assessments and technology upgrades provide reliability."
On the visibility front, the Port of Los Angeles and GE Transportation recently launched the Port Optimizer, a first-of-its-kind information portal designed to digitize maritime shipping data for cargo owners and supply chain stakeholders through secure, channeled access.
"Port Optimizer enhances supply chain performance through real-time, data-driven insights in a single portal," adds Sanfield.  
Specifically, GE's Port Optimizer is a cloud-based solution that enables ports and the supply chain to operate more efficiently and helps cargo owners bring their goods to market in a more predictable and timely manner. By integrating data from across the port ecosystem and combining machine learning and deep domain expertise, it helps the port supply chain monitor and respond to dynamic conditions, align people and resources, and proactively communicate across functions—enabling maximum port throughput and delivery performance. The result is higher throughput, increased asset utilization and improved delivery performance. 
In May 2017, the Port of New Orleans announced that it received approval by the USDA for inclusion in the Southeast U.S. In-Transit Cold Treatment Pilot Program. Participation in the Animal and Plant Health Inspection Services (APHIS) pilot program means select time-sensitive products can be treated to meet customs compliance in-transit rather than after it arrives to the United States.
Brandy D. Christian, Port of New Orleans president and CEO, stated that, "Participating in this pilot is a significant gain and highlights Port NOLA's ongoing commitment to developing new business." In addition, "This program gives current and future port shippers additional options to transport refrigerated cargo, while reducing transit time from origin to the consumer."
Last month, Port NOLA welcomed the launch of Sealand's new Gulf Ocean Express (GOEX) service that connects Central America, Panama and Columbia with the U.S. Gulf Coast. Frozen meat is among the U.S. export cargo targeted by the GOEX service, while U.S. imports include agricultural products such as fresh fruits.
As for challenges facing the reefer sector, a Port NOLA spokesperson explains that, "Like any commodity, when there are spikes (in the supply chain), sometimes equipment becomes an issue, and that includes available reefer containers and chassis. The good news, however, is increased ocean carrier options and capacity are helping with the equipment situation."
Two of the port's main chassis providers are also boosting their fleets in New Orleans throughout 2018.
The Northwest Seaport Alliance ranks as the fourth largest container gateway for containerized cargo shipped between Asia and major distribution points in the Midwest, Ohio Valley and the East Coast. Apples, hay and frozen french fries are among the main export commodities at NWSA.
Sue Coffey, director of business development, commercial team, acknowledges that, "Cold storage and reefer transload capacity can be a challenge, especially with the unpredictability and uncertainty of any given salmon (fishing) season." However, she says "NWSA remains engaged with our cold storage and transload warehouse facilities, including those near our terminals."
Coffey adds that, "As a port we strive to provide accurate and current information for BCOs looking for capacity or specific capabilities, and connect shippers with the facilities that meet their business needs."
For french fries shippers, in particular, Coffey notes that exporters of this commodity "face challenges with consistent (reefer) equipment availability."
For instance, depending on the time of year, Coffey says some ocean carriers may not reposition as many containers to the gateway. "While we rely on ocean carriers to make this decision, we try to communicate with them the demand and ascertain reasons behind supply for the shippers," she adds.
NWSA also works closely with marine terminals to expand reefer plugs to handle increasing volumes of imported fruits from BCOs such as DelMonte Fresh, she says. 
The Port of New York and New Jersey wrapped up 2017 with a record 6.71 million TEU handled at the port complex, a 5.3 percent increase over the previous record 6.37 million TEU handled in 2015. And refrigerated containers are an important part of the cargo mix, confirms a port spokesperson, with 237,000 import units handled last year.
The top issues facing reefer BCOs are not unique to the Port of NY/NJ, explains the spokesperson, who listed the following as industry-wide challenges:
Road weight limits: The combined weight of the genset, along with the weight of the internal insulation (which also reduces capacity by approximately12 percent) and the weight of the cargo itself, tends to make loaded reefer containers heavy and/or overweight. The Port Authority continually works with State DOTs and local municipalities on the designation of overweight truck routes
Genset availability: Ocean carriers are divesting themselves of gensets just as they did with chassis. The Port Authority is making land available for genset exchange, most often associated with chassis depots.
Government Inspections (CBP, USDA, FDA): Overall, there is a lack of sufficient federal resources and facilities. The Port Authority is always working with the federal agencies to identify the resources required and ways to streamline the inspection process. 
Meanwhile, the Port Authority supports the terminal operators' initiatives to attract and grow the reefer sector, including assistance with marketing efforts and adding additional reefer plugs (the Port Authority currently boasts nearly 5,000 reefer plugs port-wide), adds the spokesperson. 
 "For chilled cargo importers that aim to serve the U.S. Southeast, speed to market and the cost of overland transit have been traditional challenges," says GPA's Chris Logan, senior director of trade development, beneficial cargo owner sales.
The introduction of the USDA's Southeast In-Transit Cold Treatment Pilot program about five years ago started to change that, however.
"The previous regulatory environment required produce from South America to enter the U.S. through one of three regions: South Florida, Philadelphia/New York, and LA/Long Beach," notes Logan. "Since 2015, the U.S. Department of Agriculture has allowed the Port of Savannah to serve as a new entry point for cold-treated produce. Furthermore, this year, the Port of Savannah's Garden City Terminal became the only port in the Mid-Atlantic and Southeast region to sign a compliance agreement allowing in-transit containers to complete the cold treatment on-terminal."
Previously, cargo undergoing cold treatment had to complete the process and be certified prior to arrival in Savannah. This meant additional days of transit and reductions to shelf life. The new rule allows produce destined for southeastern markets to avoid third-country layovers, and because Savannah is hundreds of miles closer to major southeastern markets such as Atlanta, Logan says "landing chilled cargo at Garden City Terminal cuts transportation times by five to seven days, saving fuel and reducing emissions."
Logan adds, "This opens the door for more customers—including large retailers and producers—to take advantage of faster, more cost-effective transit options to serve U.S. consumers with fresher produce via the Port of Savannah. GPA's expanding chilled cargo portfolio includes South American blueberries, mangos, citrus, grapes, avocados, bananas, apples, pears and plums."
Besides lower costs and faster deliveries, the shorter overland transit also helps to offset challenges related to driver capacity and the need for the expedited delivery of perishable commodities, he says.
For example, Brian Kastick, CEO of PortFresh Logistics, a chilled cargo distribution center, says customers who serve the southeast via Savannah could reduce transit costs by $1,700 per truck. 
 In February, Port Logistics Refrigerated Services, the port's newest tenant and the operator of a new 135,000-square-foot, state-of-the-art cold storage facility, received its first shipment of perishable products—over 3,900 pallets of Chiquita brand bananas from Ecuador.
The PLRS cold storage was completed last fall. It features 102 reefer plugs, 6,348 racked pallet positions, on-site dedicated fumigation facilities, USDA and Customs and Border Protection (CBP) inspection areas and a lab, all on deep water.
Despite important developments such as Port Tampa Bay's PLRS to help support the global cold chain, challenges remain.
Wade Elliott, vice president of marketing and business development at Port Tampa Bay, remarks, "The biggest issues we hear from BCOs relate to rising trucking costs driven by the availability of drivers, rising fuel costs, and compliance with the federal hours-of-service and electronic logging device regulations."
Yet, for Port Tampa Bay Elliot says those challenges have become a benefit. "For us, it has worked to our advantage due to our proximity to the major grocery and food and beverage DCs in the Tampa Bay/Orlando I-4 corridor, versus traditional routes to serve these customers via more distant ports," he notes. "It has also contributed to our growing refrigerated business with Mexico, as the all-water container services provided by Linea Peninsular and TransGulf Shipping continue to see strong growth." 
From his perspective, the Port of Virginia's spokesperson, Joe Harris, sees reefer equipment availability as a top issue for BCOs. Specifically, "There is not enough equipment to keep up with demand," he says.
In response, the port is taking several steps, notes Harris, including working with the steamship lines to make them aware of reefer equipment demand in our market. Active dialogue and awareness helps to convince steamship line equipment control to position more assets to the port.
In December, the port put into service a portable, 40-plug central power unit that can be mounted on the Richmond Express barge and a specialized, heavy-lift forklift that will be used in the cargo operation at Richmond Marine Terminal (RMT).
According to John F. Reinhart, CEO and executive director of the Virginia Port Authority, they are several current and potential users of RMT that are in the food and beverage, refrigerated and discount grocery industry who have expressed interest in using the barge to move reefer (refrigerated) cargo.
"The power unit enables us to provide a more comprehensive level of barge service to current and potential customers and continue to serve as a catalyst for commerce in the Richmond metro area and beyond," he adds.
The port also focuses on servicing equipment to keep it in good working order. For example, it works with maintenance and repair vendors contracted by steamship lines to create special areas within marine terminals to effectively repair containers and pre-trip them prior to export dispatch. The port has also created a Reefer Service Area (RSA)—centrally located within the port complex—to facilitate high-volume reefer servicing and dispatch.
There are other ways the port is supporting reefer BCOs, notes Harris.
In the immediate Port of Virginia area, there are 11 private facilities that have the cold/freeze capabilities and there are seven such facilities that are in the area of Richmond Marine Terminal. And, while fewer motor carriers are eager to haul heavy reefer equipment, particularly on chassis pool assets, Harris says that, "Our chassis pool has specifically addressed this by adding a large number of tri-axle chassis to the pool fleet, which are better suited to heavy loads." 
The new Port of Wilmington Cold Storage, which boasts roughly 3 million cubic feet, is the only on-port cold storage in the State of North Carolina.
Hans Bean, NC Ports' vice president of trade development, says the facility "provides cold BCOs the ability to take advantage of value options on multiple fronts—proximity to a significant supply base and market without congestion (many truckers prefer Wilmington's quick gate turns, especially given new ELD regulations) and the ability to optimize logistics spend with cold re-handling on-port (for tailored shipments and maximum load-ability over the road)."
This addresses the first challenge that Bean says confronts cold BCEs, which are costs. More precisely, "The unnecessary and inflated costs related to long distance inland moves to and from historical East Coast cold gateways. Not to mention—traditional cold gateways are often saturated and congested."
Optimization is another challenge, he says. BCOs want to utilize best access points to and from market supply and demand, and they need ample truck power. "In short, BCOs want to be closer to their customers and their sourcing points, with nimble options to serve," Bean says.
For that reason, he says "NC Ports' Wilmington Gateway is well positioned to service the South Atlantic's expanding demographic for imports, especially the fresh grocery sector, allowing BCOs to optimize how they seize and serve cold chain opportunities. On the export side, Wilmington's cold supply base (produce, protein and more) enables cold BCOs to pack and ship extremely close to North Carolina sourcing points."