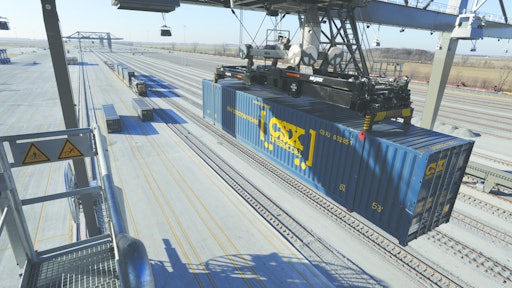 12 Nations Sign Trans-Pacific Partnership, Await U.S. And Japan
The Trans-Pacific Partnership (TPP), one of the world's biggest multinational trade deals, was signed by 12 member nations in New Zealand, but the massive trade pact will still require years of tough negotiations before it becomes a reality, according to Reuters. The TPP, a deal which will cover 40 percent of the world economy, has already taken five years of negotiations to reach Thursday's signing stage.
The TPP will now undergo a two-year ratification period in which at least six countries - that account for 85 percent of the combined gross domestic production of the 12 TPP nations - must approve the final text for the deal to be implemented. The 12 nations include Australia, Brunei, Canada, Chile, Japan, Malaysia, Mexico, New Zealand, Peru, Singapore, the United States and Vietnam.
Admiral Clarifies Coast Guard Policy On Weight Containers
Admiral Paul Thomas of the U.S. Coast Guard stated that U.S. exporters and ocean carriers loading their cargoes at U.S. ports have been compliant with the Safety Of Life At Sea (SOLAS) convention and will not require domestic shippers to make changes in existing practices. The Agricultural Transport Coalition (AgTC) welcomed the comments and noted they are consistent with the position being taken by other countries. The Admiral stated that the SOLAS Container Weight Certification Amendment provides flexibility pertaining to various ways carriers can get verified gross mass, and how they do so is a "business practice." Current practice is for shipper/exporter to provide accurate gross weight of its cargo- but not the container which is controlled, maintained, owned/leased by the ocean carrier.
Southern California Container Terminal Closes Over Driver Costs
Hub Group Trucking has closed its Southern California terminal serving the ports of Los Angeles and Long Beach just over a year after converting its local fleet from independently-contracted drivers to full-time employees, according to The Wall Street Journal. In an emailed announcement to customers last week, Hub Group Inc. Chief Executive David Yeager said the company will now employ "a core group of high-service outside carriers" to bring container loads from the ports to nearby warehouses and rail yards, a service known as drayage.
The move comes as many drayage providers at the region's ports are coming under pressure from groups of drivers who believe the independent contractor model that is prevalent at the port is unfair. Several drayage companies have lost million-dollar judgments before the state labor commissioner.
U.S. And Cuba Restore Air Travel 
U.S. and Cuban officials signed an agreement in Havana that provides for the reopening of scheduled air services between the two nations for the first time in more than 50 years, according to Nasdaq. The move is expected to set off a scramble among U.S. carriers to win route rights to serve Havana, which will be capped at 20 round trips a day from anywhere in the U.S.
Despite the restoration of diplomatic relations between the U.S. and Cuba last year, the U.S. government still doesn't allow its citizens to visit Cuba strictly for tourism. Passenger and cargo carriers can apply, U.S. government officials said, and there is no restriction on aircraft type or size. The government expects to make its decision this summer and carriers could begin selling tickets on those flights in the fall. The new aviation protocol doesn't affect the charter flights now linking the U.S. and Cuba, and those flights can continue with unlimited frequency. 
Hapag-Lloyd Becomes First Ocean Carrier To Participate In Cloud-Based Collaborative Stowage
XVELA, creator of the world's first cloud-based vessel stowage and collaboration platform for ocean carriers and terminal operators, and Hapag-Lloyd, one of the world's largest liner shipping companies, have entered into a pilot program to carry out the first real-world trials of the XVELA platform. Hapag-Lloyd is the first ocean carrier to sign on for the pilot program of XVELA's next-generation solution, underscoring the company's long-standing commitment to innovation.
The XVELA platform allows carriers and terminals to work together to improve visibility and increase efficiency throughout the vessel stowage planning and execution process. The pilot program provides Hapag-Lloyd the opportunity to gain first-hand experience of XVELA's cloud-based collaboration and real time information-sharing solution.
AGRO Merchants Group To Build Temperature-Controlled Facility At Port Of Houston
The first phase of a 300,000-square-foot temperature-controlled cargo facility will be built at the Port of Houston Authority's Bayport Container Terminal by AGRO Merchants Group, which provides cold supply chain operations globally. Upon completion, the new facility will add significantly to the state-of-the-art infrastructure that's already in place at Bayport, which opened in 2007 and is one of the newest container facilities on the Gulf Coast.
Negotiations between the Port Authority and AGRO Merchants Group regarding construction and operation of the refrigerated cargo center had been under way for some time and were successfully concluded recently. Plans call for the new cold storage facility at Bayport to be a multi-use building that will include state-of-the-art warehouse space to handle storage and the import and export of chilled and frozen meat, fish, poultry, fruits and vegetables.
FMCSA Proposes Training Standards For Entry-Level Commercial Drivers
The U.S. Department of Transportation's Federal Motor Carrier Safety Administration (FMCSA) has proposed a set of comprehensive national prerequisite training standards for entry-level commercial truck and bus drivers seeking to obtain a commercial driver's license (CDL). This notice of proposed rule making (NPRM) presents the hybrid approach adopted by the Entry-Level Driver Training Advisory Committee (ELDTAC), combining a required minimum number of behind-the-wheel (BTW) hours (range and public road) with a prescribed theory curriculum for which no minimum number of hours is required. The NPRM incorporates performance-based concepts by requiring that driver-trainees demonstrate proficiency in both the BTW and theory portions of the curricula.
The ELDTAC included FMCSA and a cross-section of representatives from motor carrier transportation, highway safety, driver training, state licensing, law enforcement, labor unions, and insurance organizations.  
Trucking Firms Press Congress To Prevent Driver Lawsuits Over Back Pay
The trucking industry is stepping up efforts to pass legislation that would curb the ability of states to regulate the business and make it harder for drivers to sue their employers for back pay, according to The Wall Street Journal. A group of drivers from some of the largest carriers in the country, including Ryder System, Inc., U.S. Xpress Inc., Swift Transportation Co., J.B. Hunt Transport Services Inc. and Werner Enterprises Inc. with Democratic senators from the Committee on Commerce, Science & Transportation. They are trying to convince lawmakers to include the trucking language, which would bar states from enforcing laws that go beyond federal rules governing trucking routes and freight rates, in a bill reauthorizing aviation programs.
Container Shipper Container Trade Faces Historic Overcapacity
The containerized-ocean-freight industry suffered in 2015 and its continuing financial woes accelerated because nearly all key financial indicators declined from 2014, consultants AlixPartners LLP said in a report. At the heart of the industry's problems, a persistent global supply-and-demand imbalance is to blame. All signs point to a continuation of that theme into 2016 and beyond. The most-recent forecasts expect global container fleet capacity to grow by 4.6 percent in 2016, and another 4.7 percent in 2017, though spot prices for major routes have dropped 21 to 44 percent from a year ago because of plunging demand, now about half the current growth forecast. 
Canadian Pacific Railway Revives Bid For CSX Corp.
Canadian Pacific Railway Ltd., which is pressing an unwanted takeover bid for Norfolk Southern Corp., recently revived a $20 billion-plus effort to combined with CSX Corp. in the latest sign of its eagerness to bring consolidation to the industry, according to Nasdaq. The western-focused railroad sees value in combining with Norfolk Southern or CSX, given the stronghold each has in the eastern U.S. Although Canadian Pacific remains committed to its about $30 billion bid to acquire Norfolk Southern, the Canadian company is determined to build a transnational railway and wants to keep its options open. In 2014, Canadian Pacific made its first bid to buy CSX and was rebuffed then, too.
By connecting Canadian Pacific's rail network with a carrier such as CSX or Norfolk Southern, Canadian Pacific has argued that time-consuming bottlenecks in busy hubs such as Chicago could be eliminated. CSX and other rail operators have been beset by factors including a decline in commodity prices and coal traffic, but there are formidable hurdles to any consolidation that could ease those pressures. For one, it is unclear whether regulators, including the powerful U.S. Surface Transportation Board, would bless any such marriages.