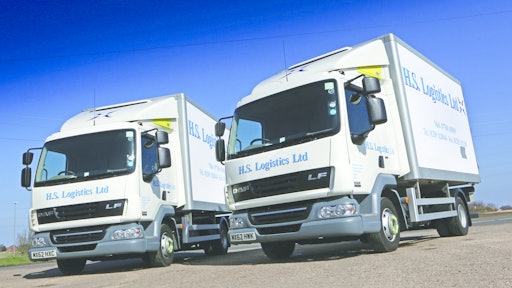 Lineage Operating Tennessee Cold Storage Facilities for Rich Products
Lineage Logistics has begun operating two cold storage facilities in Arlington and Murfreesboro, Tennessee. The warehouses are for its client, Rich Products Corporations, which specializes in non-dairy frozen foods.
According to Refrigerated Transporter, the Arlington facility was built in 2005 and is 4.3 million cubic feet. The facility in Murfreesboro was built in 2002 and offers 5.3 million cubic feet of space. Both facilities are located close to Rich Products' production plant.
Hong Kong Dockworkers Stage Strike
An estimated 450 "May Day" strikers in Hong Kong called for better working conditions and higher wages at a protest earlier this month. Specifically, workers were looking to secure a 15 to 18 percent pay raise. Previously, they had rejected a 7 percent pay hike offered during tense negotiations.
A scheduled pay hike will go in effect this month, bringing the minimum wage to HK$30 or US$3.90. That represents a seven cent pay raise above the current minimum wage rate.
A representative for Hong Kong International Terminals said that workers are employed by subcontractors and therefore could not be directly involved in salary negotiations.
U.S. Pushing WTO to Improve Food Safety
During the last WTO meeting, the U.S. discussed how agricultural policy reform affects food safety, and are committed to take a proactive position to examine "the full range of trade-related government measures" that can contribute to the goal of enhancing food safety.
Agricultural policy reform has been a long-standing controversy within the WTO. In 2001, the global trade body attempted?to cut farm subsidies and tariffs on agricultural goods, but this goal was never met, in part because of U.S. insistence that more advanced developing countries, such as China and Brazil, offer up better deals in exchange for proposed cuts to U.S. farm subsidies.
U.S. Ambassador to the WTO Michael Punke hopes there can be some agreement when WTO member-nations meet in Bali this year. In particular, he said the new proposal should "examine the effectiveness of pubic stockholding and administered prices in addressing food security concerns, as well as how to improve food security though better-functioning markets."
Maersk Launches Triple E Ships
Maersk's new "Triple E" vessels will soon begin navigating the Northern Sea trade lane. The new generation of vessel is 400 meters long and 59 meters wide, making the Triple E the world's largest container ship and capable of carrying up to 18,000 TEUs. Despite its enormous size the vessel is also incredibly energy efficient. The Maersk Triple E emits half the CO2 of conventional container ships. The vessel is also designed to sail with a maximum cargo load at a slow steaming pace, which reduces "negative effects on the environment," according to Maersk.
The Triple E also has an energy-saving waste heat recovery system, which captures and recycles up to 25 percent of energy released by the ship's engine.
Maersk's new target goal is to reduce its total CO2 emissions by 40 percent by 2020.
Europe Testing New Aerodynamic Trucks
A new aerodynamic truck is being tested in Europe that would reduce carbon emissions while "giving a boost to the struggling auto sector," claim EU officials.
Siim Kallas, European Transport Commissioner, explained that, "a brick is the least aerodynamic shape you can imagine," when referring to the current box shape of most trucks. "That's why we need to improve the shape of our trucks on the roads."
Seventy percent of Europe's freight is carried by road transport and the new design has the potential to set a standard in design stability and ultimately save money.
For example, the trucks feature a uniquely curved windshield, which not only adds to the aerodynamics, but improves driver visibility.
If the EU chooses to adopt these trucks, they will begin operating by 2018-2020.
Watch Commercials Right From Your Shopping Cart
Washington state-based Yoke's Fresh Markets will start using RFID-tagged shopping carts to promote items in one of their test stores. As customers walk down an aisle in Mead, Washington their carts will trigger advertisements that play on a seven-inch screen attached to the shelves.
There are currently 18 to 20 RFID readers strategically placed around the test store, which can track customer movements and feed data back to Yoke's cloud-based network.
After the advertising is triggered, the customer is prompted to touch the screen. As the customer goes to purchase that item they will automatically be given a discount at the counter.
The RIFD technology allows companies better access to customers' purchasing habits and in-store behavior, which will help retailers improve the placement of merchandise and develop more effective marketing techniques.
Possible Dole Deal for Port of Hueneme
Japanese trading house Itochu decided not to close a vegetable oil deal with the Port of Hueneme in Ventura County, California. However, the Port has high hopes that it?can secure business from two units of Dole Foods, which was recently purchased by Itochu.
Currently, Dole has a 24 1/2 year lease with the Port of San Diego, and it's unclear whether there is an early escape clause built into that contract.
Oxnard Harbor Commissioner Jason Hodge, said, "We are actually in a better position with Dole now than we have been in the past...now is the perfect time to try and bring them on as a future business." This deal could potentially make the Port of Hueneme one of the largest food processing centers in the world.
11,700 New Trucking Jobs Added
The total unemployment rate dropped to 7.5% in April. 114,000 additional jobs were added in March. This year trucking has added a total of 11,700 new jobs.
In March the trucking industry had lost 6,300 jobs. This number is still 600 fewer job losses than February's total of 6,900.
Within the transportation sector the total number of jobs added amounted to 4,200 in the month of April. March reported a decline of 2,800.
*Transportation sector employment also factors in trucking jobs
Illegal West African Tuna Shipments Seized
Tuna shipments imported into the UK from West Africa were seized recently amid fears they had been caught illegally. The Department for Environment, Food and Rural Affairs warned seafood companies in February that there were "serious concerns about the contamination of the EU supply chain and IUU (Illegal, Unreported & Unregulated fishing) fisheries products." In particular, officials suspect the West
African tuna may have been imported using false documents. The UK receives approximately 10 percent of its tuna from Ghana, which totals £27million annually.
The complaint prompted action from other EU states. Spain, for example, has become more vigilant and has rejected shipments of tuna from Ghana, suspecting it was also procured illegally.
Air Cargo Germany Forced To Declare Insolvency
Air Cargo Germany declared itself insolvent closely following the suspension of its German operating certificate on April 18th by the LBA (Luftfahrt-Bundesamt). Airline debt had many worried that overall safety might be compromised.
Prior to the declaration of insolvency an unnamed source discussed the possible future of Air Cargo Germany in the Loadstar.com, "I think it won't come back, the current market environment appears to be unfriendly to all-cargo-airlines, in particular those outside of niche markets."
Air Cargo Germany is hoping that there will be an opportunity for company restructure. CEO Michael Schaecher wrote, "All options will be taken into account to restore customer confidence."
Panama Canal Loses Out To Suez
Authorities at the Panama Canal anticipate a 2.4% decline in cargo volume this fiscal year. Traffic at the Panama Canal has dropped off as some ships have decided to re-route through the Suez Canal citing the cheaper cost.
Maersk Line, whom once was the Panama Canal's top customer, decided to route some of their ships through the Suez Canal this March. The trip adds 11 days to the journey but ultimately will save the company money.
The Panama Canal is still undergoing a $5.25 billion expansion and should open in 2014-2015.