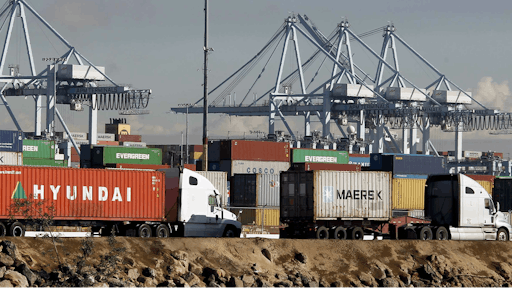 The heads of the Pacific Maritime Association (PMA) and the International Longshore and Warehouse Union cut off early negotiations unexpectedly yesterday without reaching an agreement on a new contract extension.
The two sides met Tuesday in San Francisco for what was scheduled as a two-day discussion, but the second day was postponed, according to a joint statement. Neither group would comment further on why the negotiations were cut short and it is starting to look like there are no signs they are coming closer to an agreement.
Meanwhile, nearly two dozen members of Congress signed a letter urging for a speedy resolution. "We simply cannot have a repeat of the 2014 contract expiration," according to the letter, addressed to ILWU and PMA.
The 2014 and 2015 slowdown rippled through the nation's economy, hurting retailers unable to stock shelves, produce farmers whose food rotted waiting at the docks and manufacturers who couldn't fulfill orders. By some estimates, the slowdown cost the economy more than $7 billion.
"The impact was not simply limited to the West Coast, but was ultimately felt by communities across the country and the larger economy," stated the letter signed by Ed Royce, R-Los Angeles; Jim Costa, D-Fresno; and David Valado, R-Hanford, among others, including supporters of a federal bill that would give governors the ability to seek an injunction to halt slowdowns.
To read more, click here.