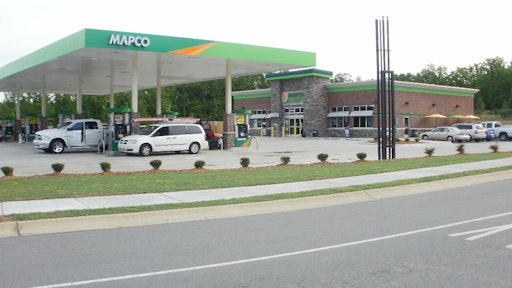 Compañía de Petróleos de Chile COPEC S.A. (COPEC) and Delek US Holdings, Inc. (Delek) have entered into a definitive agreement, whereby COPEC through its U.S. subsidiary Copec Inc. will acquire 100 percent equity interest in MAPCO Express, Inc., and certain related affiliated companies, for cash consideration of $535 million.
The transaction has received unanimous approval from both boards of directors and is subject to customary regulatory and closing conditions. The transaction is anticipated to close by year end and will be funded by cash on hand.
MAPCO is a convenience store chain with 348 corporate stores operating primarily in Tennessee, Alabama and Georgia, with additional presence in Arkansas, Virginia, Kentucky and Mississippi. MAPCO operates company stores under the banners MAPCO Express, MAPCO Mart, East Coast, Fast Food and Fuel, Favorite Markets, Delta Express and Discount Food Mart. In addition, MAPCO provides fuel to 142 dealer locations as of July 31, 2016, and provides logistical fuel transportation to MAPCO and third parties with approximately 50 tractors and trailers.
COPEC is one of the largest companies in Chile, operating in fuel and lubricants distribution and convenience stores. COPEC has an existing presence in the convenience stores with the largest convenience store network in Chile and approximately 53 percent of Chilean gasoline market share with 626 company and dealer operated service stations, 82 Pronto-branded convenience stores and 220 Punto-branded convenience stores, an industry innovator with Pagoclick (mobile pay), Zervo (self-serve fueling dispenser) and leading convenience store developer with multiple formats for urban, suburban and highway locations. In addition, COPEC has a majority ownership stake (58.9 percent) in Organizacion Terpel S.A. which is based in Bogota, Colombia, and accounts for approximately 45 percent of Colombia's fuel market share. Terpel has 1,949 Terpel-branded gas stations in Colombia and 233 stores in Panama, Ecuador, Peru and Mexico under store brands Altoque and Deuna selling Terpel-branded fuel. COPEC will generally retain MAPCO's current retail team to provide for a seamless entrance into the U.S. convenience store market.
Lorenzo Gamuri, CEO of COPEC, said "The acquisition of MAPCO represents an important step for COPEC's entry into the U.S. convenience store market, which has been identified as a key strategic growth opportunity. MAPCO's assets are located in a geographic zone with interesting demographic attributes and with the size for a proper competitive operation in the US market. After buying into the control of Organización Terpel in 2010, this is the second significant step to transform Copec into a broader company in the fuel retail and convenience store market."
Uzi Yemin, chairman, president, and chief executive officer of Delek, said, "The sale of MAPCO to COPEC allows Delek to simultaneously unlock the value of these assets and gain a continuing competitive partner in retail fuel sales. We believe this transaction will provide Delek with increased financial flexibility as we explore future opportunities and creates an exciting opportunity for the MAPCO brand and its employees as it becomes part of COPEC's growth strategy."