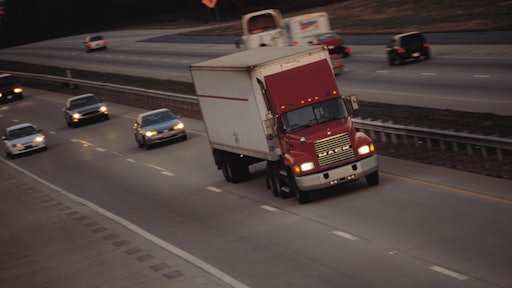 Trucking companies are pushing Congress to weaken age limits for drivers, which they say will reduce a recruiting shortfall, according to The Wall Street Journal.
Under federal law, states can grant anyone over 18 a commercial drivers' license, the main qualification to drive a truck. However, few drivers start that young because they need to be 21 to haul freight across state lines. Trucking executives say the age limit is making it hard to find enough drivers, with the most severe shortage is in long-haul trucking, which typically requires drivers to cross state lines.
"Drivers today can drive from San Francisco to San Diego, but can't cross the street in Texarkana," a city on the Texas-Arkansas border, said Rob Abbott, vice president for safety policy at the American Trucking Associations, an industry group. "That's an imaginary boundary. It's illogical."
The highway funding bill working its way through Congress contains language that would weaken those barriers. Both the House and Senate versions of the legislation would create a pilot program allowing groups of states to create "compacts" permitting truckers under 21. The Senate version lowers the minimum age to 18, while the House bill allows drivers older than 19-and-a-half.
The prospects for the provision are uncertain. The Senate passed a long-term transportation bill in July with the pilot program included. But the House has yet to vote on its own legislation, and the two bills must then be merged and passed again in both chambers. Congressional aides said this week that because there is so little time before the current highway funding authorization expires Oct. 29, lawmakers are likely to pass another short-term extension, which would leave the trucker age limits intact.
http://www.wsj.com/articles/trucking-industry-let-teens-drive-1445508000?mod=djemlogistics
Editors Insight: The driver shortage remains one of the biggest challenges the food logistics industry faces. Both the House and Senate versions of the highway funding legislation would create a pilot program allowing states to create "compacts" permitting truckers under 21. This would be a sensible way to alleviate the driver shortage and at the same time create excellent employment opportunities for tens of thousands of young men who need work.
This is one of several reasons the House needs to take action on the transportation bill the Senate passed in July. The country's best interests are being hijacked by lawmakers' laziness and stubbornness.
The Highway Trust Fund, which expires Oct. 29, needs to be extended to address the nation's crumbling infrastructure. A handful of opponents in Congress are holding up passage.
Food and transportation industry organizations both need to continue to pressure lawmakers to see that the necessary funds are forthcoming. It is a challenging task, but the entire food supply chain depends on a sustainable transportation infrastructure. 10-22-15 By Elliot Maras