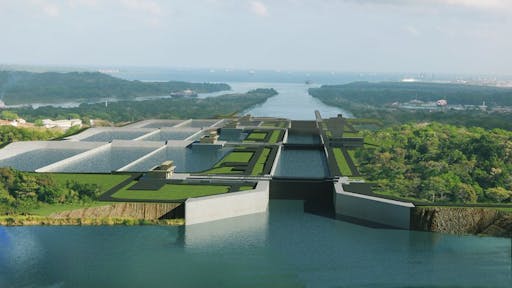 FIRST PAGE:
Panama Canal Shipping Boom Set To Let Loose
Shipping analyst Drewry Maritime Research expects transhipment activity in Panama to grow strongly once the expansion of the Panama Canal is completed, according to fruitnet.com. The expansion project, which is due to be completed next year, will enable 14,000 TEU vessels to pass through the canal, increasing demand for transhipment options. Drewry is forecasting a double-digit jump in transhipment activity for 2016 and annual growth of 5 per cent thereafter, leading to Panama Pacific coast throughput of 6m TEU by 2024. Transhipment activity in the wider Central America/Caribbean region is also set to grow as a result of the expansion.
Dimensional Weight Pricing Surprises Online Merchants
Close to a third of online merchants who ship orders via FedEx and UPS are unaware of the significant changes to rates that took effect at the beginning of this year due to dimensional weight pricing, according to Endicia, a Palo Alto, Calif.-based company that helps businesses with USPS shipping.
Endicia surveyed 700 businesses and found that 28 percent of online businesses hadn't heard of dimensional weight pricing that will hit the rivals of the U.S. Postal Service.
Maersk Line To Close Pacific Shipping Service
Maersk Line will close down its Trans-Pacific 5 (TP5) U.S.-flag service operated by its Maersk Line Ltd. affiliate as part of a strategy to eliminate unprofitable Pacific services, according to Hellenic Shipping News.
The end of the current TP5 service from North Asia to Los Angeles-Long Beach and Oakland, Calif. using five older Panamax, U.S.-flagged container ships will not produce a significant reduction in the overall container ship capacity on the route, according to experts, because it is a relatively small service.
The five ships on the route include four 4,300-TEU vessel formerly owned by Sea-Land Service and one ship chartered from Mediterranean Shipping Co.
Lineage Logistics Acquires Columbia Colstor
Lineage Logistics has acquired Columbia Colstor, a third-party warehousing and logistics company headquartered in Moses Lake, Wash. With the acquisition of Columbia, Lineage doubles its presence in the Pacific Northwest to 11 locations.
UASC Orders 2,000 Reefer Containers
United Arab Shipping Co. (UASC), a container shipping line and global carrier, has ordered 2,000 reefer containers from Daikin, according to TradeArabia.com. The order marks the first milestone in the expansion of UASC's reefer services and underpins the company's ongoing investment in the cutting-edge, energy-efficient solutions for the carriage of frozen and chilled cargoes.
SECOND PAGE:
Alibaba Drones Fly Over Beijing While Amazon Pleads for U.S. Tests
Alibaba Group Holding Ltd. is making its first trial drone deliveries in China, as e-commerce rival Amazon.com Inc. struggles to start a similar program in the U.S., according to Bloomberg News. Asia's largest Internet company is partnering with Shanghai YTO Express Logistics Co. to deliver ginger tea packets to 450 Chinese customers who volunteered for the one-time drone tests, according Alibaba. Remote-controlled helicopters were expected to distribute 50 parcels from Alibaba's Taobabo Marketplace in Beijing before moving to Shanghai and Guangzhou.
Tiger Cool Express Expands Container Fleet
Tiger Cool Express LLC, a transporter of produce and food products in temperature-controlled intermodal containers, has added 35 domestic containers to its fleet, according to Railway Age. The new acquisition marks an increase in the fleet size by 17.5 percent, to 234 containers.
The new containers match Tiger Cool Express's current specifications. They are Hyundai boxes with Carrier X4-7300 refrigeration units and iBright telematics. The insulated containers are built to hold temperatures to minus 20 degrees Fahrenheit.
There are four internal sensors that measure temperature, including a coring thermometer, to manage and monitor the environment inside the container and record that information during the entire trip. Additional sensors monitor door openings and closings. Cellular sensors monitor location speed and direction; they are equipped with geo-fencing capability to alert us and the customer if the equipment is out of route.
New York Considers Ending Container Freight Charge
Legislation to eliminate the container freight charge (CFC) has been approved by the New York Senate Corporations, Authorities, and Commissions Committee. The bill, SB 2648, has been referred to the senate finance committee, according to Maersk Line. The legistlation has also been introduced in the New York State Assembly, A 2070. The Port Authority of New York and New Jersey (PANY/NJ) is the only port in the U.S. to impose a cargo facility charge on all containers, including empties, according to Maersk Line. $4.95 is charged for 20-foot containers, $9.90 for 40-foot containers, and $1.11 per unit for vehicle cargo.
Swiss WorldCargo Partnership To Enhance Temperature-Controlled Air Freight
Swiss WorldCargo, the airfreight division of Swiss International Air Lines Ltd., and its partner ground handling companies Cargologic AG and SATS, have concluded a memorandum of understanding (MoU) aimed at further enhancing their cargo handling and information services. The MoU, which was signed in Zurich recently, outlines the basis for the partners' future collaborations and alignments in areas such as quality, e-initiatives, temperature-controlled transport management and specialized handling solutions. Within the new alliance, Swiss WorldCargo, SATS and Cargologic will share knowledge and best practices and will collaborate in the fields of information technology, facility development, joint training, staff/management attachments and joint workshops.
'Uber For Logistics' Lalamove Gets $10 M For China/Southeast Asia Expansion
Lalamove, an Uber-like service for logistics, has raised $10 million to expand its presence across Asia, where it already operates in six cities, according to Tech Crunch. The company, which began in Hong Kong in December 2013, offers iOS and Android apps that allow customers to move items across a city using its network of "regular" drivers. Its business model is basically akin to an "Uber for logistics" since anyone with a valid license and car can sign up to be a driver.
The $10 million round is led by China's Crystal Stream Capital, and it includes participation from Geek Founders, Mindworks Ventures, Sirius Venture Capital and Aria Group. Lalamove said a number of unnamed individual investors also took part.
C.H. Robinson Will Acquire Freightquote
C.H. Robinson announced has reached an agreement to acquire Freightquote.com, Inc. for $365 million in cash. The agreement is subject to certain customary closing conditions, including regulatory approval. Closing of the acquisition is expected to occur in the first quarter of 2015. C.H. Robinson will likely increase its existing revolving credit facility to finance the acquisition.
Freightquote is a privately-held freight broker providing services throughout North America. Freightquote's calendar 2014 gross revenues are projected to be approximately $623 million,
Teamsters Cite Foodservice Distributors' Safety Violations
In analyzing safety violations of broadline foodservice distributors based on Federal Motor Carrier Safety Administration (FMCSA) data, the Teamsters claim the data reveals that Performance Food Group (PFG), the third-largest competitor, has the highest number of violations in most categories when compared on a per-driver, per-truck or per-inspection basis over a two-year period, while Reinhart Foodservice tops the list of vehicle maintenance violations on a per-vehicle basis.
FedEx Corp. To Acquire GENCO
FedEx Corp. has signed an agreement to acquire Pittsburgh, Pa.-based GENCO, one of the largest third-party logistics providers in North America for an undisclosed sum. With a comprehensive portfolio of supply chain services, GENCO's expertise will expand existing FedEx service offerings in the evolving retail and e-commerce markets. Terms of the transaction were not disclosed.
Thermo King: New Technology To Let Exporters Can Reach New Destinations
Thermo King's new Magnum Plus Optima active technology is designed to slow down the ageing and ripening process of fruit and vegetables during shipping Recently showcased at a trade event in Rotterdam, the technology appeals to global exporters looking for cost-effective atmosphere control options for perishable cargo.
"The Optima unit is a controlled atmosphere using active technology, a point we like to stress because there are a couple of other so-called controlled atmosphere units on the market, but we are proud that our units are a genuine active system," said Michel van van Roozendaal, vice president for the company's global marine, rail and bus segment. "The whole idea and notion of this product is that it brings the atmosphere inside the container, for let's say fruit or vegetables, very quickly to the desired mixture between nitrogen, oxygen and carbon dioxide so that you can control the ripening process."
DHL Acquires Mayne Logistics Loomis in Canada
DHL Worldwide Express the completed its purchase of Mayne Logistics Loomis. Under the DHL Canada banner, the newly combined company will become the third largest express transportation provider in Canada. The acquisition is in step with DHL's plans for expansion of its North American presence. Eric de Maat, existing president of DHL Canada, will assume this role for the newly-reorganized company. Representatives from both DHL and Loomis will lead the combined organization.