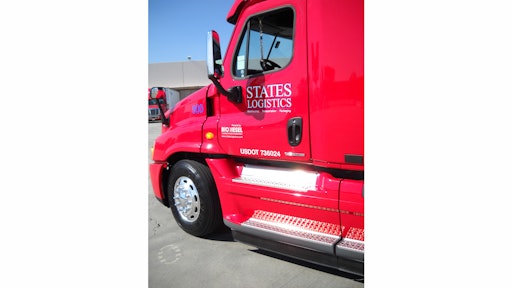 ATA Seeks Hours Flexibility For Port Truckers
Truckers serving certain ports may soon have some flexibility in compliance with federal hours-of-service rules, if a push by the American Trucking Associations and some ports is successful. ATA intends to petition FMCSA in the coming weeks to allow port truckers waivers for some parts of Federal Motor Carrier Safety Administration (FMCSA) hours-of-service provisions, says Curtis Whalen, director of ATA's recent Intermodal Carriers Conference. What provisions they may receive waivers for, however, is not yet clear, Whalen says, and will be fleshed out as ATA crafts its petition.
Infinity Transportation To Launch Expedited Refrigerated Intermodal Service
Infinity Transportation (IT) will launch a new expedited refrigerated domestic intermodal container service operating from the Pacific Northwest to the Midwest and East Coast. IT's new intermodal operating platform, Infinity Logistics (ITL), is headquartered in Atlanta, Ga. Daily operations will be managed from a dedicated location in Kansas City, Mo.  ITL will launch its new service in mid-November 2014 with state-of-the-art, 53-foot refrigerated containers built for domestic service. The primary focus of the business will be moving frozen foods and other refrigerated products from Washington State and Oregon to the Midwest and the East Coast, with return service to Washington and Oregon. The service will be the only regularly scheduled refrigerated domestic intermodal service from Washington State to the Midwest and East Coast.

Global Food Cold Chain Council Forms At U.N. Climate Summit
United Technologies and Carrier joined the Alliance for Responsible Atmospheric Policy in supporting the formation of the Global Food Cold Chain Council at the special United Nations Climate Summit 2014. The Global Food Cold Chain Council will convene refrigeration system manufacturers, food suppliers, ocean and road transportation providers and food retailers to accelerate the transition to energy efficient transportation and stationary refrigeration systems using lower global warming refrigerants.

Buffalo Niagara International Gateway Organization To Create Western New York Logistics Hub
The steering committee of the Buffalo Niagara International Trade Gateway initiative announced the creation Buffalo Niagara International Trade Gateway Organization (ITGO), a not-for-profit entity created to guide the implementation of the ITGO strategic plan, released in August, 2014. The primary goal of ITGO is to create a globally-known logistics hub in Western New York.

Long Beach Port Drivers Petition For Wages And Conditions
Drivers and their supporters appeared before the Long Beach Board of Harbor Commissioners to ask them to do whatever they can to help them fight against area trucking companies that misclassify them as independent contractors instead of employees, according to The Contra Costa Times in Contra Costa, Calif. The designation, they argue, allows them to avoid labor laws and deduct fuel, maintenance and other fees from paychecks, leaving drivers with little to no money left to survive. Harbor commissioners said that while they sympathize with the truckers' plight, they said they are limited in what they can do to help.

U.S. Postal Service Wants To Test Grocery Delivery Service
The U.S. Postal Service has asked the Postal Regulatory Commission for authority to expand a test with Amazon (which it entered into for Sunday package delivery) into a broader test to include delivery of groceries, the USPS inspector general has said. Retailers would drop off their grocery orders in color-schemed tote bags at local post offices between 1:30 a.m. and 2:30 a.m., then postal officials would map out the day's deliveries and then city carrier assistants would load the trucks and deliver the totes between 3am and 7am, leaving them at front doors, according to FEDweek.
South American Vessel Alliance Brings More Capacity To JAXPORT
A new shipping alliance in the South American trade is bringing more big ships into JAXPORT. The agreement, between Hapag-Lloyd, CSAV Group, Hamburg Süd, Aliança, Yang Ming and NYK shipping lines, offers additional capacity for the port to attract cargo moving between the U.S. East Coast and ports in Brazil and Argentina. The ocean carriers will be phasing in larger capacity vessels for use in the weekly service. As part of the new service, Hamburg Süd's 5,500 TEU Monte Rosa called on JAXPORT's Talleyrand Marine Terminal for the first time this week.

More Supermarkets Roll Out Pickup Service
Several food retailers have introduced pickup grocery service.
Walmart recently unveiled a pickup grocery service to registered customers in Northwest Arkansas, according to The City Wire. Consumers who want to use the service must first register online with an email address. Wal-Mart said it will begin extending invitations to try the same-day service via email.  Registered shoppers can order from the online site which contains roughly 10,000 grocery and consumable items including fresh meat, dairy, produce and common household products. The consumer then schedules a pickup time ranging from two hours to three weeks after the order is placed. The shopper then drives to one of the kiosk stations at the pickup grocery site at the scheduled time and notifies the attendant who will bring their order to the car. Orders are paid for online.
Loblaw Companies Ltd., based in Brampton, Ontario, Canada, is preparing to pilot a grocery click-and-collect program, which will allow shoppers to order online and pick up their completed order at stores, according to The Toronto Star.
Hannaford Supermarkets, based in Scarborough, Me., is proposing to add a curbside grocery pick-up service in the parking lot of its store at 137 Portsmouth Ave., according to The Portsmouth Herald in Portsmouth, N.H. The new "Hannaford-to-Go" is a service that would allow customers to place orders online. Employees would then pack their groceries.

Savannah River Deepening To Begin With Raising Of Confederate Ship
Work could begin as early as December on deepening the Savannah River shipping channel, according to Bluffton Today in Bluffton, Ga. Divers hired to raise a Confederate ironclad sunk 150 years ago could be on site for the anniversary of the intentional sinking which prevented its seizure by Union forces. The CSS Savannah sits on the river bottom, requiring its removal for clearing the way for machines to dig the channel deeper to accomodate lower freighters at low tide.

United Arab Shipping Co. To Expand Reefer Business
United Arab Shipping Co. (UASC) plans to make significant investment in new reefer units, the company announced at WOP Dubai, the international perishables expo for the Middle East. The company said that the expansion of its fleet of refrigerated units and enhanced geographic access to the South America trades – following the carrier's recently announced cooperation with Hamburg Süd – will ensure that its customers now have access to the important South America trades, including those moving refrigerated cargo.

Reefer Designed For Banana Shipping
After the release of the Reefer RoRo Ship design in September last year, Knude E. Hansen A/S, a Denmark-based naval architecture firm, has continued the development of the new Reefer RoRo Ship design, version II. The ship is intended for world-wide operation as a Reefer RoRo Ship in the banana trade, with emphasis on a low box rate by fast and efficient cargo handling in port, which enables slow steaming. In order to optimize cargo handling on the under deck areas, the bridge and engine in version II have been positioned forward of the ship. Recognizing back-haul cargo potential to Central America, the company increased the height of the four inside decks to allow for general RoRo cargo. On the back haul, the ship is an ordinary RoRo ship.
State Logistics Enhances Its Sustainability Measures
Buena Park, Calif.-based State Logistics introduced several sustainability initiatives recently. The company recycles the unused plastic in one packaging operation and has recycled more than 1.3 million pounds per year. Solar roof panels were installed at the company's new Arizona facility while the corporate office in Buena Park, Calif. has a 363 kilowatt DC solar power system on the roof that produces up to 82 percent of the facility's electricity. All facilities have undergone an energy audit to review potential energy savings, utility rebates, lighting efficiency and an improved environment. The company has reduced energy consumption on its lighting grid by up to 65 percent by installing fluorescent lighting systems with motion sensors. At the Tolleson, Ariz. facility, a Kanepi wireless system consists of 730 nodes, two gateways and approximately 102 occupancy sensors. During daylight hours, the facility uses 10 percent of the lighting fixtures. The system provides zonal control and the utilization of ambient light. The company has also begun to convert its transportation fleet to B99 biodiesel fuel, a blend of 1 percent diesel and 99 percent diesel, which yields environmental benefits. The biodiesel reduces sulfates, carbon dioxide emissions, nitrated polycyclic aromatic hydrocarbons and total unburned hydrocarbons.


McKay Transcold Ends Refrigerated Rail Service
McKay Transcold, a refrigerated rail provider based in Edina, Wis., has ended operations, the company has advised Food Logistics Magazine and other trade sources. The company earlier this year announce an agreement with BNSF Railway operating a hub-to-hub dedicated refrigerated boxcar unit train bi-directional between Wilmington, Ill. and Selma, Calif. McKay began the service with two trains pulling 50 refrigerated boxcars in each direction.